Families
---
Honored Kid Kylee was a little girl who made a BIG impact. Read on to learn how this 7-year-old with brain cancer inspired her dad to rally hundreds of people to shave their heads and fundraise for children's cancer research over the past 10 years — and counting!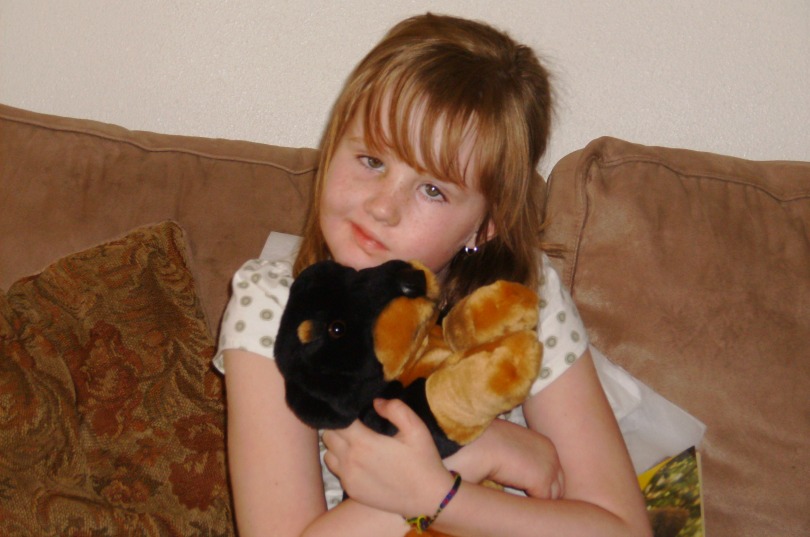 Kylee LeSourd squeezes a stuffed animal tight. She was a big fan of her stuffies and she loved animals.
It started with a little girl's wish, riding on a penny she tossed into a fountain.
It's been said that wishes don't come true if you tell someone, but it was just too big of a wish to keep to herself. So she told her dad that night, "My wish is that no other kid gets cancer."
When she was 7 years old, Kylee LeSourd was diagnosed with a brainstem glioma, which is a type of tumor that starts in a delicate part of the brain which controls everything from breathing to swallowing. That year, she watched her dad and her twin brother, Kasey shave their heads at a St. Baldrick's event. She vowed that she would shave with them the next year.
---
Families
---
Honored Kid Joseph Burken is two years post-treatment for a brain tumor, and he's shaving his head with his family this weekend. Read on to learn about his childhood cancer journey and why funding research is so important to the Burkens.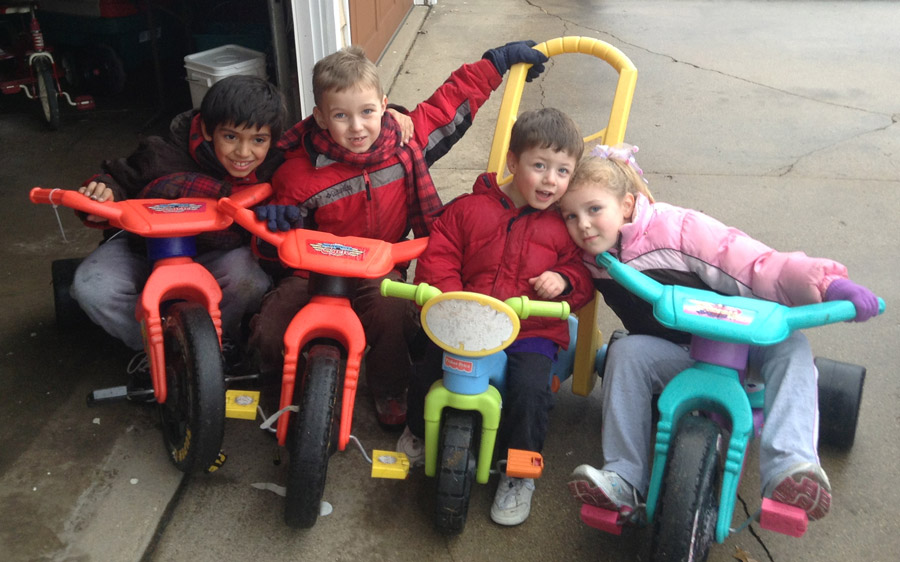 Joseph, second from left, riding bikes with his siblings.
If you were to watch Joseph in motion, you'd see a normal 8-year-old boy running, laughing, riding his bike, and building Legos with his siblings. You'd probably never guess there was a tumor lying dormant inside his head.
In fact, until he was diagnosed with an inoperable brain tumor nearly four years ago, his parents never would have guessed it either.
---
News
---
Scientists might have found a way to starve off cancer cells in some pediatric brain tumors. Help support childhood cancer research like this by donating today.
Previous studies have shown that a particular signaling pathway, mammalian target of rapamycin (mTOR), is turned on in low-grade gliomas. Scientists don't know exactly how it gets turned on, according to
Eric Raabe, M.D., Ph.D.
, assistant professor of pediatric oncology at the Johns Hopkins University School of Medicine and a St. Baldrick's Scholar. "It's not just a mutation in one particular gene. There might be four or five different genes that could be mutated individually that would then lead to this pathway being turned on, and it might be different in different tumors," he explained.
So we can't stop the pathway from being turned on — at least not at this point. But we might be able to stop it from working, as Dr. Raabe and his team have shown in a study published in the December issue of the journal Neuro-Oncology.
---
&nbsp