Advocacy
---
I will never forget the evening of Sunday, December 14, 2014, when the ER doctor and the pediatric neurologist on call entered our triage room and told us that our sweet eight-year-old girl had a huge brain tumor and life-threatening obstructive hydrocephalus. That moment left an indelible mark on my heart. The fear, the heartache, helplessness, and especially the unyielding desire to eliminate our baby's pain and suffering were soul-crushing.
"Supergirl Julia" today
---
Events and Fundraisers
---
Ambassador Julia is a volunteering powerhouse. Bake sales, bingo, fun runs, speeches — she does it all. Why? In honor of Volunteer Week, read on for a heartwarming Q&A that will give you all the answers and leave you wanting to give back too. Join Julia and get involved!
Ambassador Julia goes gold for childhood cancer awareness.
1. What's your favorite volunteering position and why?
My role as St. Baldrick's ambassador has become a favorite, but I love any of the volunteering I do that helps sick kids. That's most of the volunteering I do lately. Helping sick kids is my favorite, because I'm helping them like people helped me when I was on treatment and having so many surgeries. Also, when I grow up I want to have a foundation that helps create programs that make sick kids who are in the hospital happy. In fact, I want to perform for kids in the hospital when I grow up.
2. What is it like being a St. Baldrick's Ambassador? What's your favorite part?
It's really exciting being a St. Baldrick's ambassador! I get to make fun videos talking to people about childhood cancer and what St. Baldrick's does, and I REALLY love going to shave events! There's always a lot of action, everyone is really nice and I get to make speeches. The shave events are definitely my favorite part, along with knowing that I'm helping raise money for childhood cancer research.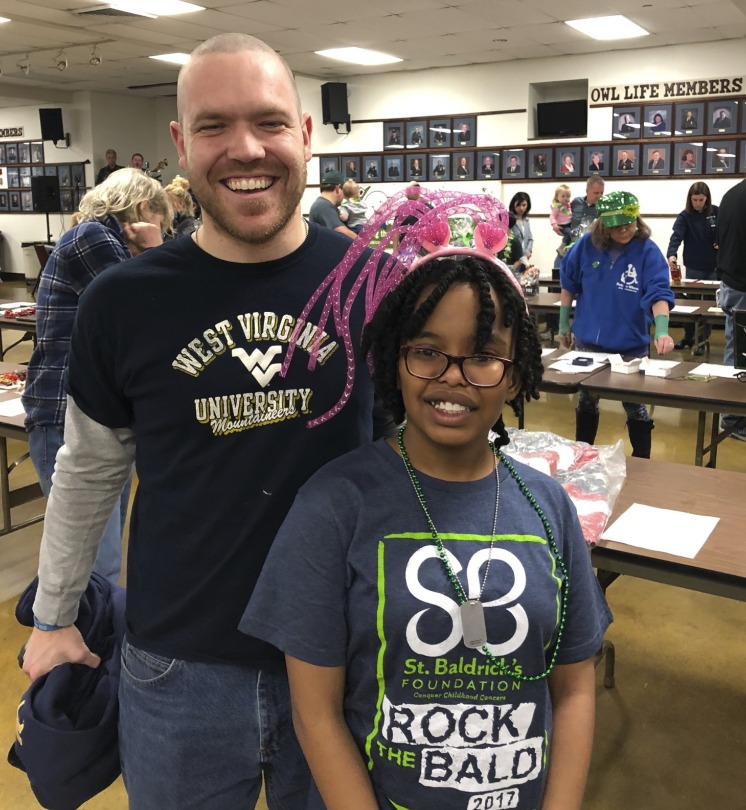 Ambassador Julia smiles with a shavee at the Occoquan-Woodbridge-Lorton Volunteer Fire Department head-shaving event in Virginia.
3. Where else do you volunteer and how often do you volunteer?
I volunteer at least once or twice a month for several organizations in my community. Once a month, I visit a local assisted living facility with my music teacher and other students from the studio. We spend an hour performing for the residents. I play the piano and sing, and I really enjoy making the older people happy.
---
Families
---
When you meet Julia, you know right away there's something special about her. Perhaps it's her bright smile or her exuberant joy and compassion for others. But this 11-year-old girl is super!
In fact, that's her family's favorite nickname for her — "Supergirl Julia" — given in honor of her courage and determined spirit during her cancer journey.
---
&nbsp