---
---
---
---
---
---
---
---
Research
---
What do researchers Dr. Alex Huang and Dr. Carl Allen have in common? Passion, curiosity, drive, brilliant ideas, a desire to help kids — the list goes on! And now there's something else. They are both recipients of the first St. Baldrick's Innovation Award. What do they want to do with this unique grant? Read on to find out.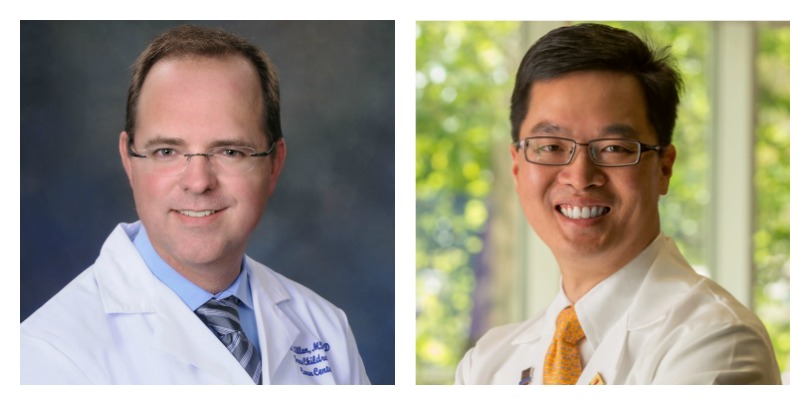 Dr. Carl Allen (left) is an associate professor at Texas Children's Cancer Center and one of the investigators involved in the North American Consortium for Histiocytosis (NACHO), which received a St. Baldrick's Consortium Grant. St. Baldrick's researcher Dr. Alex Huang (right) is a professor of pediatrics at Case Western Reserve University School of Medicine and a 10-time shavee with St. Baldrick's.
St. Baldrick's researchers Dr. Alex Huang and Dr. Carl Allen work on different projects, in different labs about 1,300 miles away from each other.
Dr. Huang primarily studies how immunotherapy can help kids with cancer, while Dr. Allen studies Langerhans Cell Histiocytosis or LCH, which is caused by out-of-control immature white blood cells. The disorder can cause inflammatory tumors, damage organs and even cause brain degeneration in some patients.
The two researchers may work in different areas on different projects, but since the start of their careers in medicine, they've shared a goal — to help sick kids get better. And now they have something else in common.
---
---
« Newer Posts
Older Posts »