Do What You Want
---
Head-shaving events have been a core part of the St. Baldrick's fundraising experience for nearly two decades. Today, St. Baldrick's has funded more than $258 million in grants for childhood cancer research, with much of that money raised through head-shaving events. The research and clinical trials funded by these events have saved kids' lives.
But we need more money to fund research to save lives. Cancer continues to rob kids of their childhoods and, in too many cases, their lives. We simply cannot accept that, worldwide, a child is diagnosed with cancer every two minutes and that, in the U.S., one in five of those kids won't survive.
Whether you're new to the St. Baldrick's Foundation or a seasoned fundraising pro, we know that our signature head-shaving events might not be for everyone. Did you know there's another way to join us in the fight against childhood cancer, that doesn't require you shave your head?
---
Do What You Want
---
February is a month that celebrates love — love between people, love of the game and love of celebration! This February, what could be better than sharing the love by fundraising for childhood cancer research? Check out these 8 fundraising tips to get started…
2015 Ambassador Sam holds a special valentine.
1. Touchdown for Kids With Cancer 
Watching the big game? Turn it into a fundraiser! Bring out your donation jar and every time there's a touchdown, field goal, or safety during the Super Bowl, ask friends to contribute.
---
Do What You Want
---
Ah, the holiday season. We know fundraising might not be at the front of your mind during the busy holiday season, but you can easily raise money for kids' cancer research with fun holiday activities that are sure to get you into a festive mood. Check out these 9 ideas below.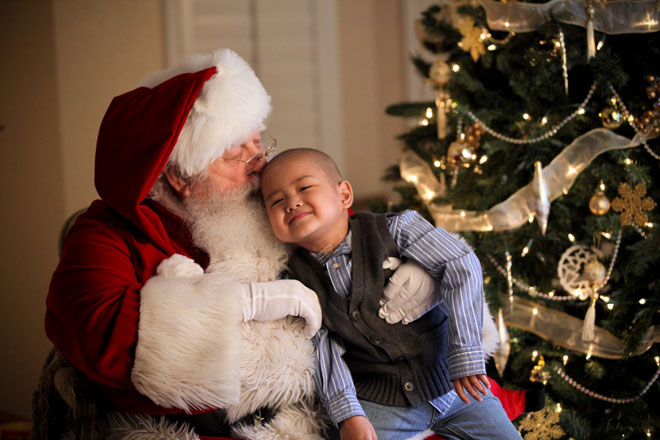 2014 Ambassador Alan gets a kiss from Santa Claus during a special photo shoot, a month before he passed away. The 5-year-old fought childhood cancer for most of his life after being diagnosed with a rare sarcoma in his hip.
1) Ditch the gift exchange!
Turn your company holiday party into a fundraiser. Instead of buying gifts, ask co-workers to "fill the stocking" with donations, pay for entry into the "Ugly Sweater" contest or create your own fun activity. Then see if your company will match your contributions!
---
« Newer Posts