Meet Zein, a goofy, laid back kid with a sunny attitude. Despite his ongoing battle with neuroblastoma, he'll be VIP at the St. Baldrick's Ever After Ball fundraiser this weekend. But honestly, he's a VIP in our hearts all the time. Read on to learn why…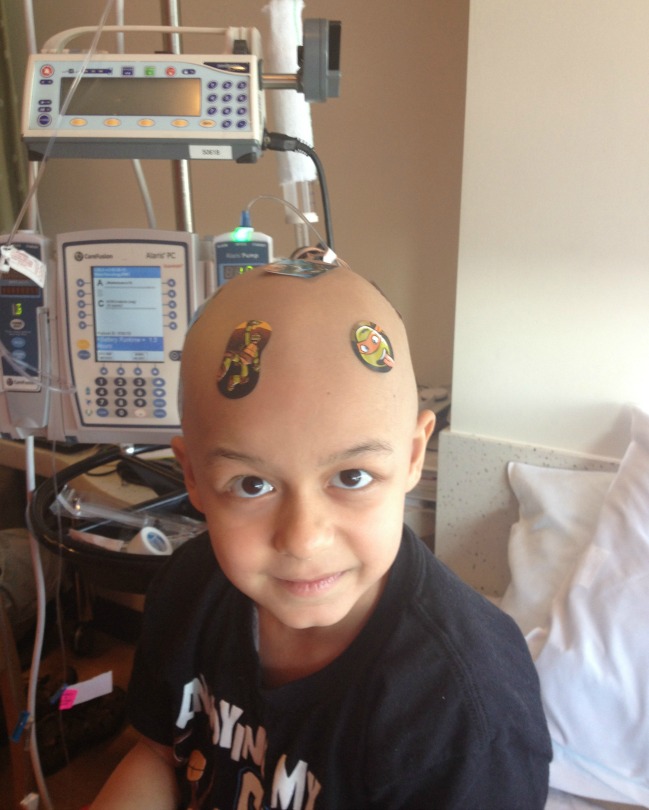 Zein goofs around at the hospital during treatment for neuroblastoma.
When Honored Kid Zein grows up, he wants to invent a food that heals cancer and allows kids to get better without getting sick from chemo or having to swallow pills.
This very cool idea is brought to you by a 10-year-old boy that his mom, Radwa, called "the most chill kid" you'll ever meet. Zein is "silly, humble, super kind and loves to be there for everybody else," she added.
Even before the cancer.
Zein's diagnosis of stage 4 neuroblastoma was hard fought. Despite several trips to urgent care, doctors reassured the family that his symptoms of low energy, low appetite and high fevers were caused by nothing more than a virus.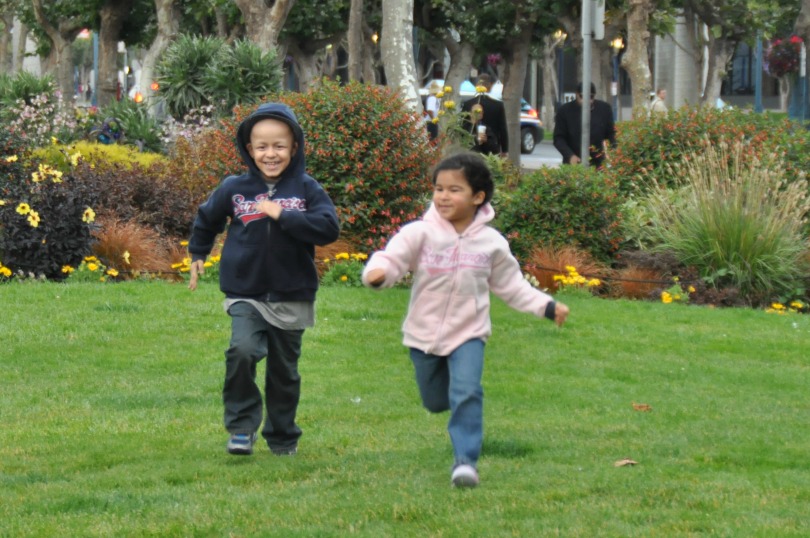 Zein runs in the grass with his sister and best buddy, Malak. Malak comforts him when he's having a rough time, plays games with him and brings him a bucket when he feels sick.
It wasn't until Zein woke up with severe leg pain, screaming in the middle of the night, that Radwa insisted on full blood work. Within a few hours, a CT scan and a biopsy confirmed there was a tumor in his chest.
It was the toughest day of Radwa's life.
"We were devastated," she said. "You do everything right for your kids to make sure they are healthy and then you discover they have a cancerous tumor. Not knowing and not having the answers was frustrating."
After his diagnosis in 2013, Children's Hospital Los Angeles took on Zein's case with a proactive treatment plan from day one. He had tumor resection surgery, six cycles of chemotherapy, radiation, a stem cell transplant with MIBG therapy and two clinical trials, one for relapsed neuroblastoma and an immunotherapy trial.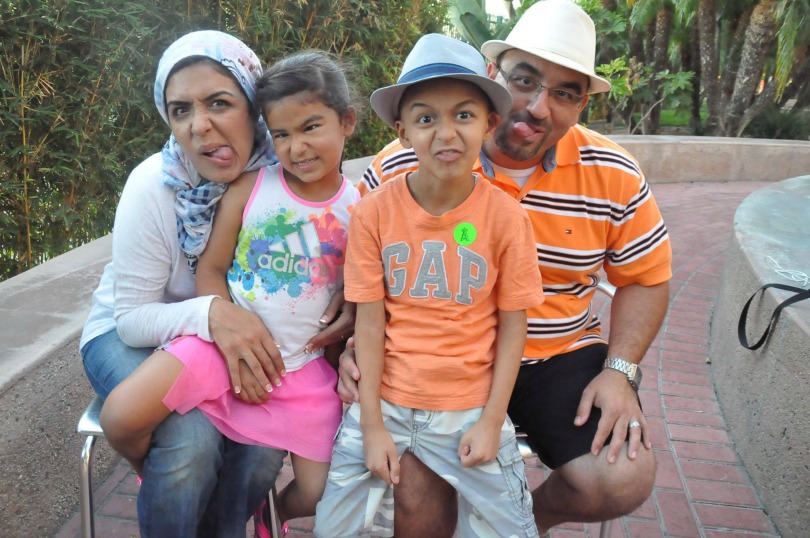 Zein's family gets silly for the camera. From left to right: Radwa, Malak, Zein and Tamer.
To help the 5 ½ year old understand what was happening to his body, his parents created a scenario Zein could understand.
They told him, "God tasks only those who are super strong with this kind of fight. He picked you to teach others through this battle. There is an army in your body. The medicines you take are soldiers bringing down the mean king [the tumor]. You have to help them fight."
And he did. He fought courageously and was declared in remission.
But after two months, he relapsed in June 2014. This time the tumor was in his brain and doctors recommended a risky brain surgery.
Radwa says there was no question about it.
"As a parent, you cannot have a chance for a cure for cancer and not take it. We can work through anything and we did," she said.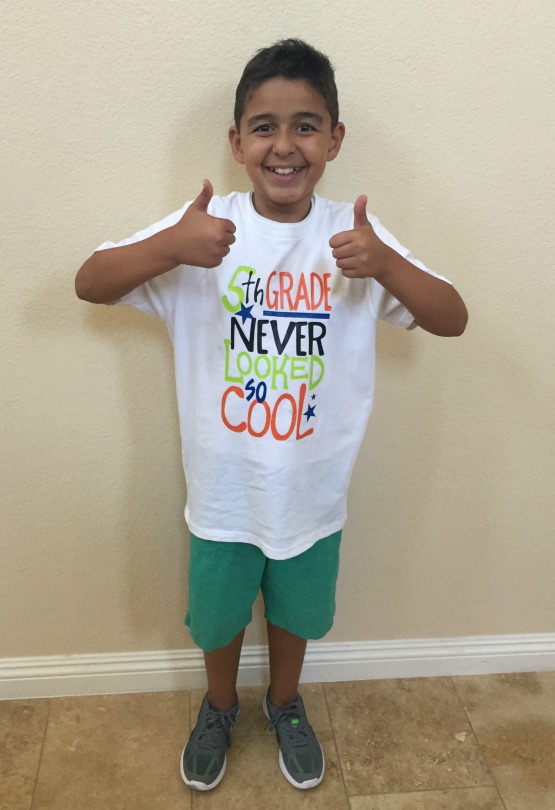 Zein gives his signature thumbs up on his first day of fifth grade.
Sadly, for many kids who go through intense treatment protocols like Zein did, there are side effects. He suffers from partial paralysis and loss of motor skills due to a stroke during brain surgery. His hearing and speech are impaired. He has permanent peripheral blindness in his right eye.
Yet through it all, Zein remains upbeat and positive, always with a beaming smile and a thumbs up.
It's one of the reasons he's being honored on August 26 at the St. Baldrick's Ever After Ball at the CBS Studio Center in Studio City, California.
The other reason is that Zein has a good friend in Honored Kid Hazel H., whose mom, Lauren, is organizing the successful fundraising gala for the second year.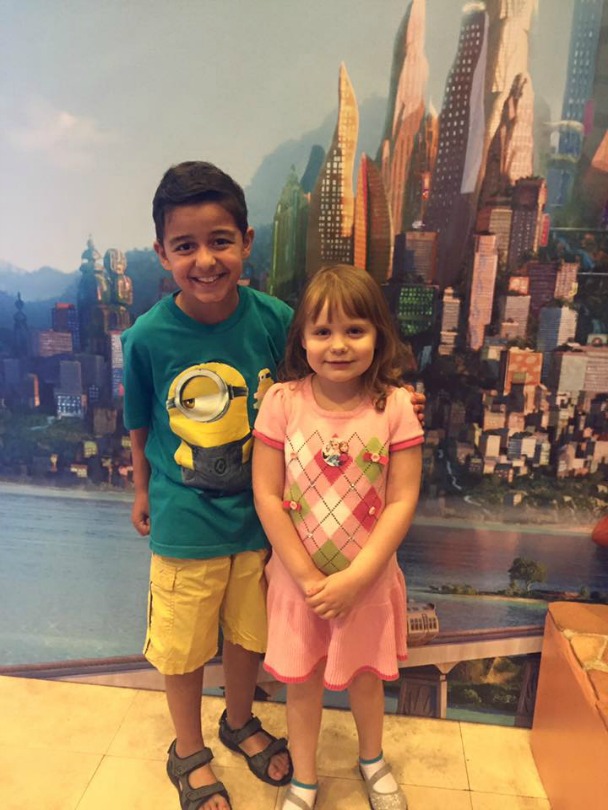 Zein and Hazel hang out together.
Hazel and Zein met at CHLA while going through treatment there. Their moms bonded right away.
"We thought we were the only neuroblastoma family," Radwa says with a smile. "And then when I met Lauren, my eyes lit up. We began talking and sharing tumor photos."
The families have supported each other throughout their cancer journeys and honoring Zein at the ball seemed like a fitting way to celebrate the friendship.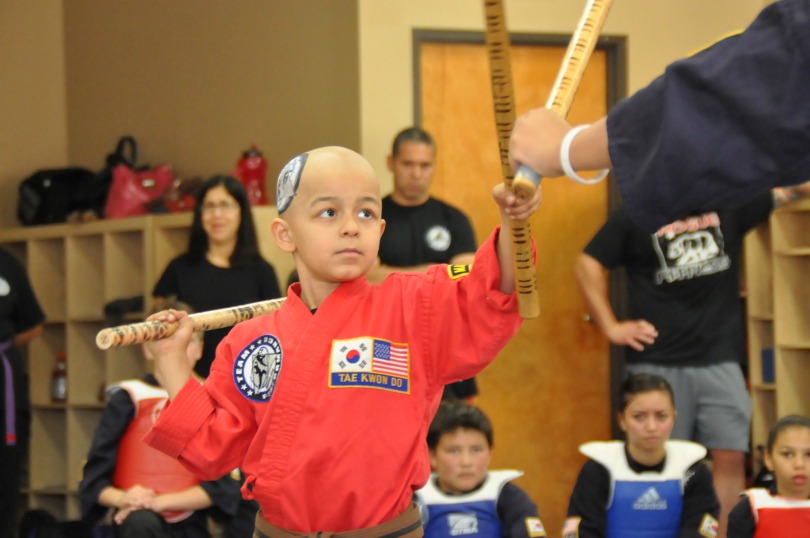 Zein nearly received his black belt in taekwondo, but his diagnosis got in the way. Nicknamed 'The Master of Taekwondo,' Zein now has an honorary black belt, which was awarded to him this summer.
Although the Youssef family had heard about St. Baldrick's, this is the first event they will attend. But they are already staunch advocates of the need to fund childhood cancer research.
Radwa was appalled to discover how little of the federal budget for cancer research goes to childhood cancer.
"When I found out my child was getting the same chemotherapy used 16 years ago, it blew my mind. There are no new meds because there's no funding for research," she said.
Money raised through the Ever After Ball will fund much needed research for new cures and better treatments for kids with cancer.
Zein is excited to be there. He's looking forward to dressing up and seeing Hazel, plus maybe doing a few cool moves on the dance floor.
It'll be a great night for the two friends to laugh, have fun and just be kids dancing the night away!
Help kids with cancer get back to being kids. Fund lifesaving childhood cancer research today.
Donate
Read more on the St. Baldrick's blog: