"I don't need to be reminded of how terrible it is when a child is sick," writes Bill Gerber, St. Baldrick's board member and father to 2012 Ambassador Teddy. Read on for why this cancer dad is tired of seeing sad cancer commercials — and how St. Baldrick's is giving his family hope.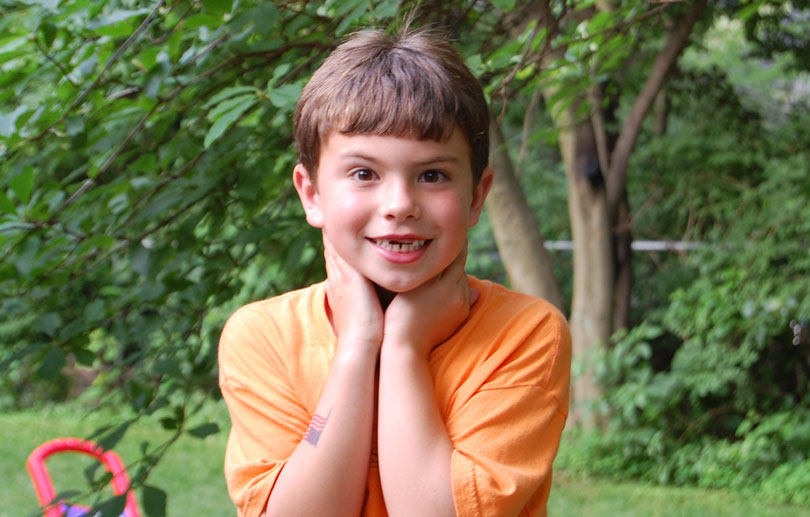 Teddy was one of St. Baldrick's 2012 Ambassadors.
I'm watching TV and a sad commercial comes on. A young child with no hair, gaunt and weak, hooked up to an IV. A solemn voice is about to ask me for money.
I turn the channel.
I don't need to be reminded of how terrible it is when a child is sick. My son Teddy died in my arms from childhood cancer.
Until his very last breath, even while his heart was crashing, something deep inside me irrationally thought that God could not let such a perfect child die — he was too special, too bright and too beautiful to leave this world so soon. Surely God would realize that Teddy's place was right here, on Earth, with his family and friends, schoolmates, teachers, teammates, future colleagues and future wife and kids.
But he did die, at the age of 9. So please don't think I'm cold for turning the channel.
Desperate for some kernel of good to come from Teddy's passing, my wife and I tried to donate any part of his body that could improve the life of another child. Because of his cancer, however, only his corneas could be used, so we donated them.
We tried to donate his tumor to research but, unbelievably (while researchers across the country are desperate for tumor tissue), even our highly rated hospital did not have established procedures to prepare, preserve and ship pediatric tumor tissue for cancer research. There was very little silver lining on this front.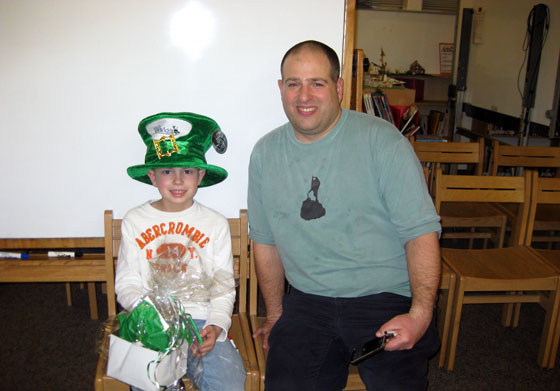 Teddy and Bill at a St. Baldrick's event in 2010.
The St. Baldrick's Foundation has helped us find the silver lining we were looking for.
While Teddy was still able to get around on his own, his schoolmates held a St. Baldrick's event in his honor. The atmosphere was electric. Teddy smiled from ear to ear for the duration. Normally the hood of his sweatshirt was up to hide his baldness from chemotherapy, but once his friends' heads were shaved Teddy turned to his mom, took down his hood and said, "I don't need this anymore. My friends all look like me!"
This was the last purely fun evening that Teddy had with all his friends. The event was not sad. It was a celebration, and Teddy was the special star.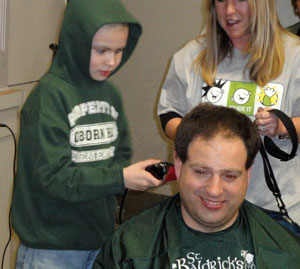 Teddy helped shave Bill's head at the event.
The St. Baldrick's Foundation is, from our standpoint, the ultimate celebration of life. Death is always sad, but the death of a child unbearably so. Human beings do have the power and the intellect to eliminate much of this suffering. It gives us hope knowing there are thousands of volunteers all over the world raising money to fund the research that will give kids like Teddy the happy childhoods they deserve.
Cures for diseases start with science, and science means research. Research is enabled by money. Money allows brilliant scientists to buy lab equipment and materials, hire staff, and study pediatric cancers. Money allows their findings to be published, shared, and explored further by a multitude of researchers.
Money then allows scientists to construct new therapies. Money allows these therapies to be tested for safety and efficacy, for clinical trials to be opened, for hospitals to identify and register patients. Money allows for the staff, equipment and tests to monitor them closely. Money allows researchers to prove (or disprove) that these new therapies work, and that the benefits outweigh the risks.
This is the painstaking, incredibly complicated battleground of childhood cancer research that will, step by step, bring an end to each form of pediatric cancer. There is no other way to get the job done.
There will not be one institution that "cures cancer." There will be many institutions that share and build on each other's knowledge. Each of the hundreds of types of cancer are different and may arise from different cell types, genetic mutations or environmental factors. The St. Baldrick's Foundation has one goal — to fund the most-promising pediatric cancer research — the kind that stands a chance to move the field towards improved therapies, regardless of where it takes place.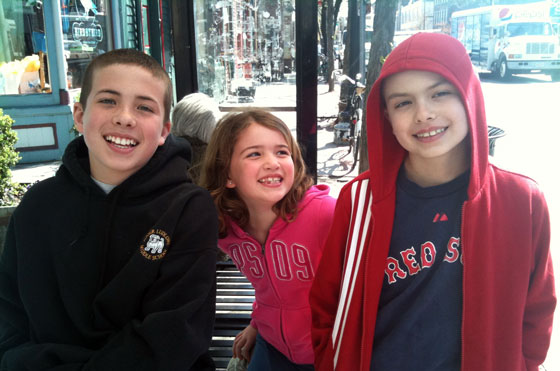 The Gerber siblings (left to right): John, Gillian and Teddy.
When I think of Teddy, I try to think of all the fun we packed into his short nine-year life. I think of him and his older brother, John, trotting off to play hide and seek with the neighborhood kids every summer night when it wasn't raining (and even some when it was). I think of Teddy, John and their sister, Gillian, racing marbles and screaming at John because his marble somehow always won. I think of them painting each other's faces with Magic Markers, telling ghost stories, swimming in the pool, getting slammed by waves at the ocean, playing balloon volleyball in the house for hours. I think of the armpit farts — hours of armpit farting. That always brings a smile to my face.
Kids are so special. They deserve treatments for the specific types of cancer they get. They deserve treatments that are not decades-old hand-me-downs used to treat adult cancers. They deserve to grow up, to get a full education, a first kiss, to get married and have children, to travel and to have a life full of experiences.
So don't show me pictures of sick kids. Just show me what you're really doing on the battlefield of pediatric cancer research.
Kids are special — and we treat them that way. Join us and help fund research to find treatments just for them. 

Read more on the St. Baldrick's blog: