This is part two of an excerpt from 2015 Ambassador Chase's mom's new book, "Chase Away Cancer." Read along as she gives an inside look into their family's life during Chase's childhood cancer treatment, and then head over to our shop to grab a copy of her book so you can read the rest. 100% of the proceeds from books bought on our shop will help us fund childhood cancer research!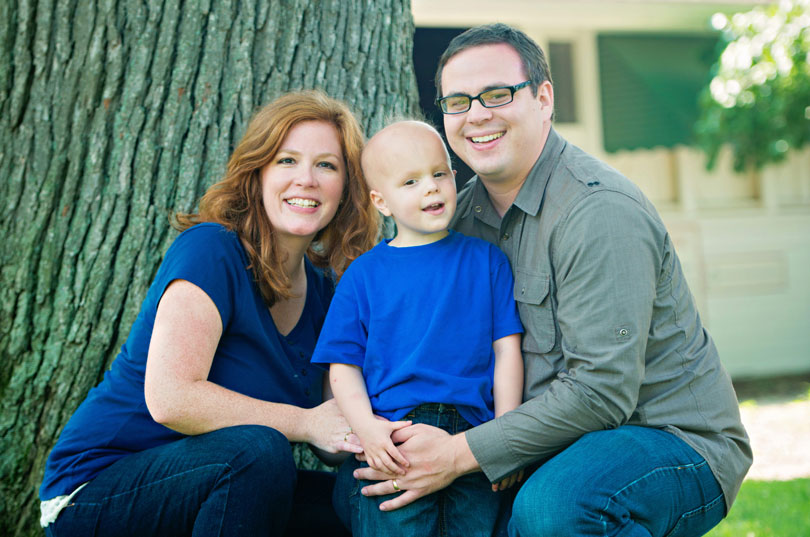 Chase with his parents, Ellie and Bob. Chase was diagnosed with an atypical teratoid rhabdoid tumor (ATRT) when he was 2 years old.
Missed part 1? Read it here >
Much later, as the night-shift nurses crept into the room, giving medicine and checking on Chase, the usually familiar, comforting sounds changed.
The nurses' movements became more urgent, and then through a sleep-induced fog, I heard the snap of a switch and light flooded the room.
I saw our nurse holding Chase's chest tube in her gloved hand. Still disoriented, it took me a minute to realize that the white tube was bloody, and it was no longer surgically attached inside Chase's chest!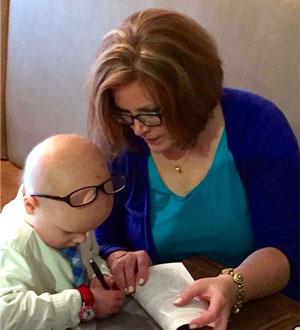 Chase carefully signs his name into his mom's new book.
Chase woke up from the commotion and started screaming. He wasn't in pain, but the medical staff had started to answer pages and gather by his bed, and that was enough to push him over the edge.
The last vestiges of sleep vanished in the adrenaline rush when the paged resident in charge arrived and began to give orders.
"OK, we need to keep him completely flat. Mom, Dad, can you help with that? He needs to remain completely flat. Try to keep him still, please."
Nobody was sure how the tube had been pulled out and whether something had been in the tube when it became detached. If something had been infusing, it was quite possible that fluid had pooled around Chase's muscles and heart and not gone into the vein. For this reason, Chase had to lie perfectly still to prevent the risk of an embolism — a clot threatening his heart.
Learn about Chase's childhood cancer, ATRT >
Maybe it was because it was deep in the hours of the night, but the whole scene seemed to have a dreamlike quality. Bob and I looked at each other over Chase's prone body, and we wished it actually were. This can't be happening.
After nearly constant monitoring for half an hour, Chase promised he could lie still without our assistance, and everyone began to relax as Chase stayed stable with no signs of heart issues.
And somehow the night passed with little to no sleep before the next wave hit us.
"Chase is stable, and he's going to be OK, but he needs fluids and medication. Are you sure he doesn't take anything PO — by mouth?"
We were sure.
The resident sighed. "OK, then we're going to have to place a peripheral IV, because he's going to need these things. Let me page vascular access and see what we can do. We'll keep you updated."
We turned to Chase as the room cleared. "Chase, how are you doing?"
"The doctors held me down." He gave a dramatic, injured sniff, indicating he was clearly exhausted. "Why did they wake me up? Mommy, I didn't mess with my tubie. I didn't pull it out, I promise."
Sitting on the edge of his bed, I stroked his bald head as he yawned. "I know, sweet boy, I know. You just had a super tricky tubie that decided to sneak out of you while you were sleeping. Dr. Lulla will make sure it all gets fixed in the morning, but for now, they need to keep you hydrated, and so they're going to have to put a tubie in your hand, OK?"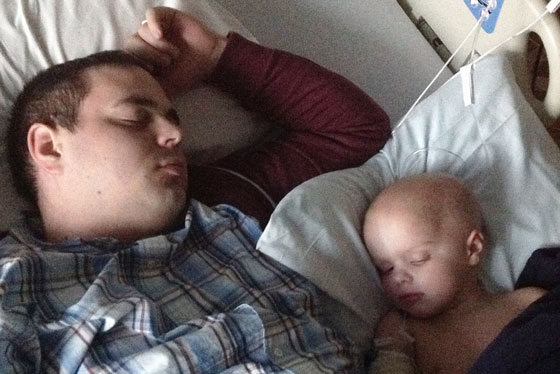 Bob cuddles with a sleeping Chase in the hospital.
His body went rigid in the bed. "Needle?" he whimpered.
"Yes, needle."
He screamed. "Noooo! I don't want a needle!"
"Ssshh, ssssh, it's OK, sweet boy, it's OK… no needle right now. Don't worry about it now. Daddy and I will tell you when it's time. For now, everything is OK."
Bob looked at me and frowned slightly. He wouldn't have divulged anything to Chase until they were ready to put the needle in.
I mouthed the word sorry as he crossed the room to the bed.
"Hey, Chase, I have a great idea! Since you don't have any tubes right now, I'll climb in here and we can snuggle together and go back to sleep. Deal?"
Chase giggled. "Deal!"
For now, the needles were forgotten.
Want the whole story? Get your copy of "Chase Away Cancer" on the St. Baldrick's shop. 100% of the proceeds from books bought on our shop will help us fund lifesaving childhood cancer research for kids like Chase.
Get 'Chase Away Cancer'
Read more about Chase: