Joey was an energetic, mischievous kid who loved Legos and Spongebob. After he passed away from childhood cancer, his family attended their local St. Baldrick's event to fight for a cure in his honor. Read on to learn how the event has come to be a cherished family tradition.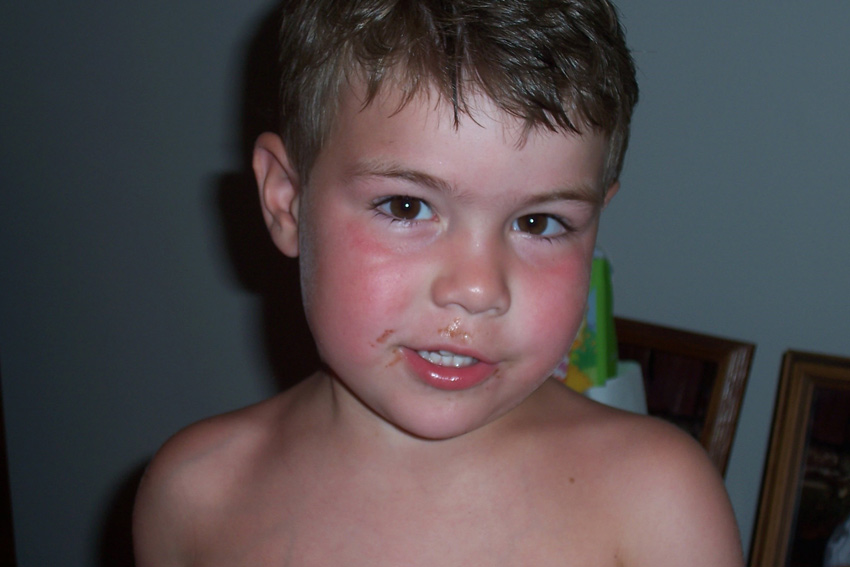 Joey on his fourth birthday, 10 months before he was diagnosed with childhood cancer.
Joey's childhood cancer story is similar to others. He was a happy, active preschooler with a mischievous side and a love of Legos and SpongeBob. Everything was pretty normal until a few months before his fifth birthday when he developed flu-like symptoms that wouldn't go away.
After several weeks of doctor's visits he was diagnosed on Father's Day 2007 with Burkitt leukemia and lymphoma. From that moment on, he was in and out of the hospital for treatments and infections.
BLOG: Why Do Kids Get Cancer? >
One quality we see again and again in children with cancer is that they are truly amazing in how they deal with this disease. Joey was no exception. He had his moments, like any child, but he simply took his treatment and hospitalizations as what he needed to do to beat this disease.
He taught the doctors and nurses SpongeBob songs and lines from the show. He made them laugh when showing off his "guns" and amazed them with his ability to put together every Lego set he was given.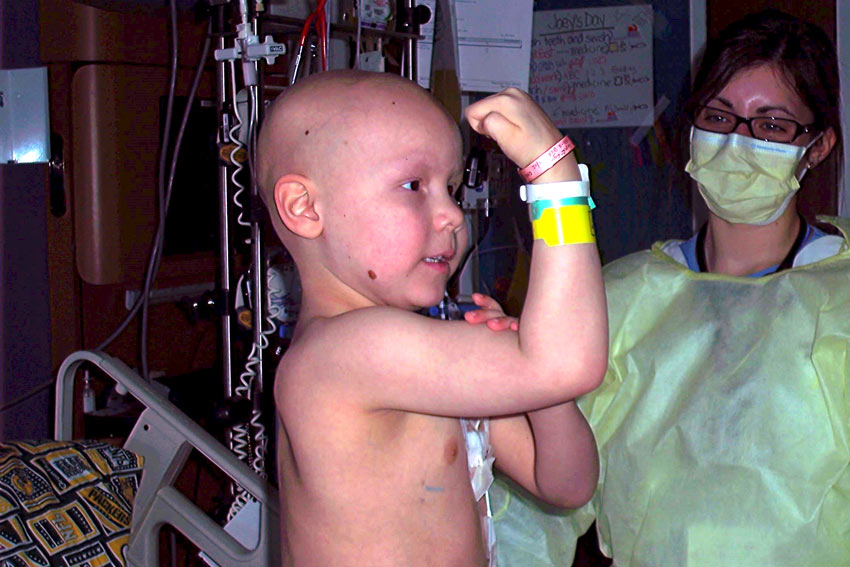 Joey flexes his muscles for one of his nurses.
Five months into treatment, Joey relapsed. His only hope for a cure was a bone marrow transplant. Neither of his siblings were a match, but we were lucky — they found a cord blood match and in February 2008 he received his transplant.
BLOG: How St. Baldrick's Helped Me Get Through Childhood Cancer Treatment >
While in the hospital after his transplant, we heard about the St. Baldrick's Foundation when a family friend surprised us and shaved for Joey. We wanted to know more so we checked out the organization online. We were impressed with its founders and their simple goal. We talked to Joey about it and agreed we would all attend the following year.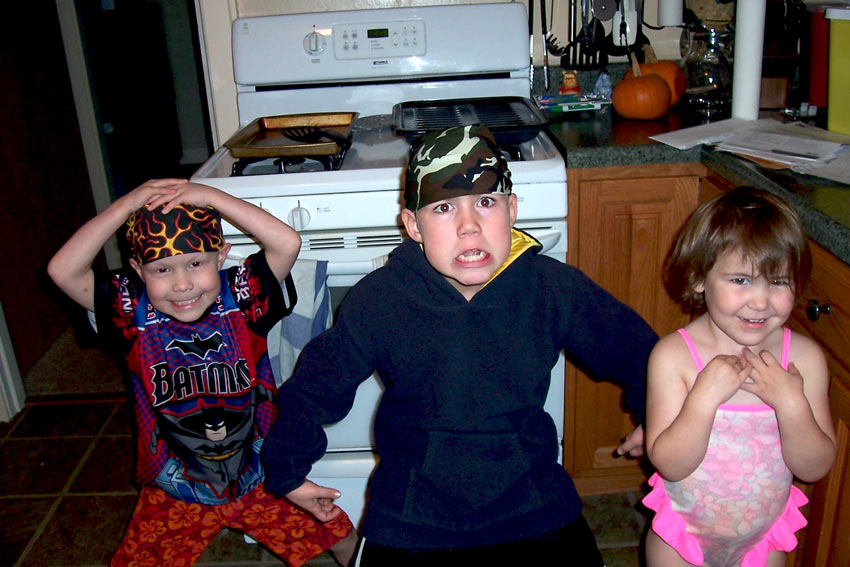 Joey being silly with his siblings.
Three months later, Joey became an angel.
The following year, we decided we'd still go to the St. Baldrick's event. Joey's 9-year-old brother, Daniel, shaved then for the first time. Two years later, our whole family — Joey's dad, his sister and I — shaved together. Our group of shavees℠ changes every year, but we always cherish the event as a family.
The St. Baldrick's event means that Joey will never be forgotten. Once a year we celebrate his life with several other Honored Kids and their families along with the hundreds who attend this amazing event. Each year the committee who organizes it honors Joey and the other angels in a special way. Each year a family or child shares their story to remind us all of why we are there and the importance of finding a cure.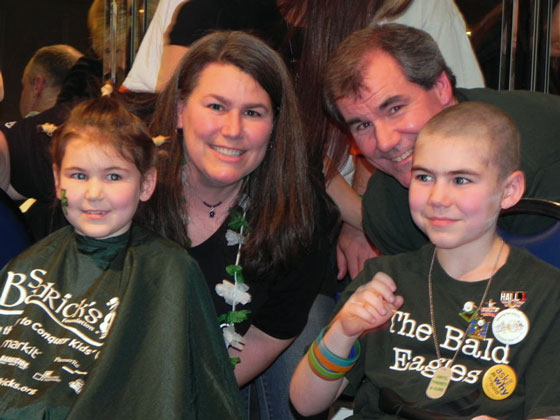 Joey's family takes a group photo before their group shave in 2011.
About three years ago our friend's son became an Honored Kid. He is now 8 and three years post-treatment for ALL. Daniel's friend, who is 15, finished treatment over the summer for non-Hodgkin lymphoma. They remind us how precious life is. Although Joey is not a survivor, they and many others are and we will be there, walking alongside them on their journey.
Our team, the Bald Eagles, has raised over $33,000 for childhood cancer research since 2010. But the work is not done until no more children are lost to cancer. Our prayer is that someday soon, when a family hears "Your child has cancer," they will know the outcome — their child will be cured.
YOU can help find cures for childhood cancer. Start a St. Baldrick's event in your community today.
Start an Event
Read more on the St. Baldrick's blog: