Natalie, one of our Honored Kids, was diagnosed with non-Hodgkin lymphoma in September 2013. When the first-grader lost her hair during treatment, she wasn't alone. Her whole family, including her 4-year-old sister, went bald with her. Her mother, Tarah, explains.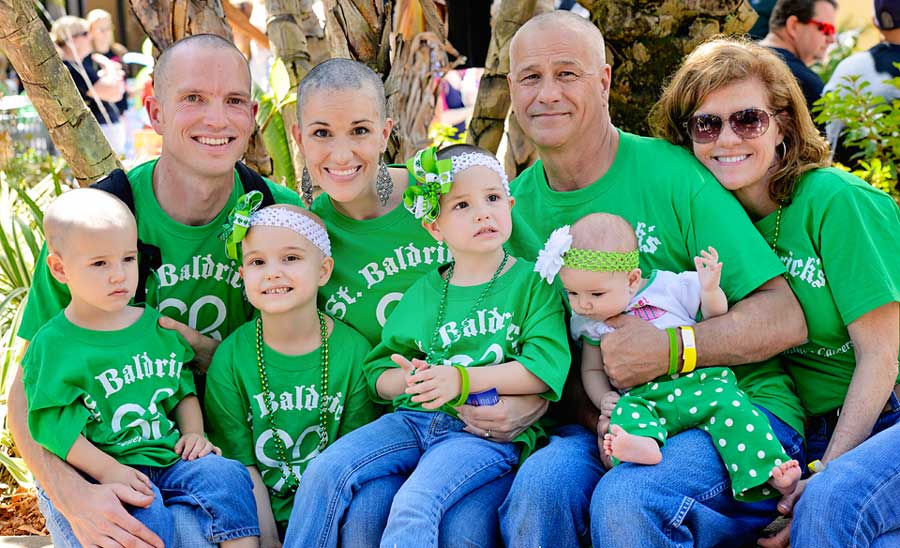 Natalie's family shaved their heads for childhood cancer research at a St. Baldrick's event in Florida. From left to right (top): David, Tarah, Fred (Pawpaw) and Carolyn (Nanny); Left to right (bottom): John, Natalie, Evelyn and Eliza Jane. Photograph by Renee Jacobsen
My daughter
Natalie
was a perfectly normal, healthy girl with beautiful long, brown hair, just getting ready to start kindergarten. She was getting dressed one morning when I discovered an enlarged lymph node on her left groin. Five weeks later the egg-sized tumor was surgically removed and biopsied.
We were sitting in church on a Sunday morning when the surgeon called and gave us the news. It was cancer, specifically precursor B cell lymphoblastic lymphoma.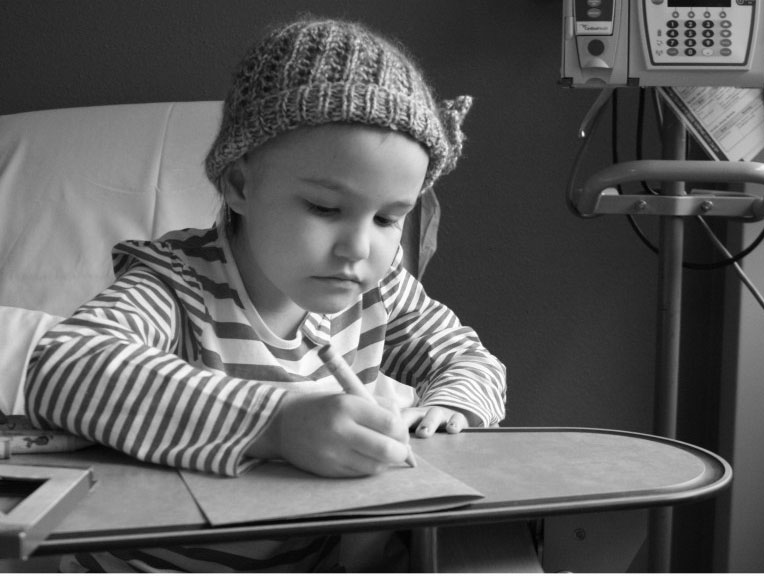 Natalie went through intense chemotherapy after her diagnosis. She is now in maintenance.
She had just celebrated her sixth birthday. And I was six weeks away from a scheduled c-section with baby number four. It is hard to describe the fear, the dread, the worry, the heartache that accompanied such news. All I wanted to do was somehow hit the "rewind" button and go back to the way things were before the diagnosis.
Sure, children have cancer, but not MY child! Things like that just don't happen to us! At least, that's what we thought.
Read about one young man, a longtime shavee, who found out he had childhood cancer.
Those first six weeks were the most painful, agonizing weeks of my life. I watched my beautiful, happy little girl undergo another surgery, a bone marrow test, numerous spinal taps, chemotherapy, and high doses of steroids.
I watched, helpless, as she experienced excruciating and relentless stomach pain, nausea, mouth sores, jaw pain, twitches, eye problems, facial swelling, muscle loss, and even the inability to walk without assistance. And I watched Natalie cry as her long, dark hair fell out in clumps on her pillow.
As a mother, this was the hardest thing I've ever had to do. To stand on the sideline and watch Natalie suffer so horribly and not be able to take any of it away from her.
There are so many things we can't experience with Natalie. We can't do chemo for her, we can't take her steroids, we can't feel the side effects — but we CAN be bald with her.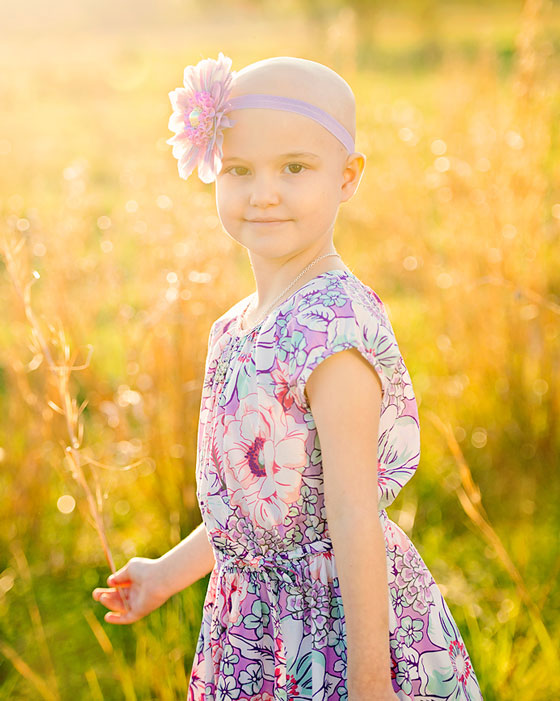 Natalie was diagnosed with childhood cancer last year. When she lost her hair, her family went bald with her. Photograph by Renee Jacobsen
Our family shaved our heads at a St. Baldrick's event with zero regrets and her little sister, Evelyn, shaved a few weeks before at home and surprised Natalie.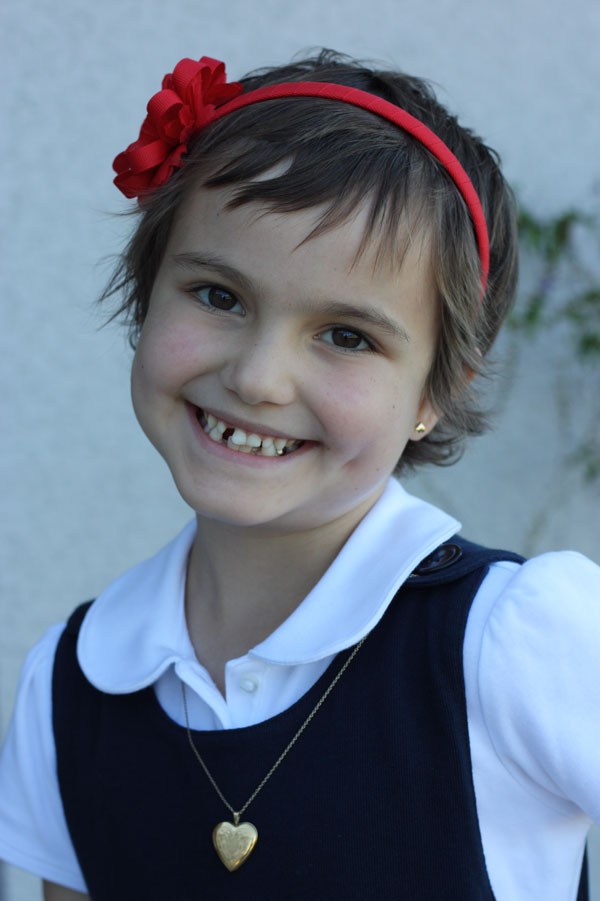 Natalie will finish her maintenance chemotherapy next December. She is enjoying ballet again and reading like crazy, her mom said.
Two weeks before the St. Baldrick's event, we shaved the few stray, remaining hairs off Natalie's head. Natalie left the room to find the perfect headband and the second she was gone, Evelyn turned to me and said, "Now I want to shave my head!"
No sooner had the words escaped her than she was climbing up into the chair, trying to put the barber's cape around her. We had not pushed her nor had we encouraged her to do this. She made this choice completely on her own. Her mind was made up and she would not be dissuaded.
I asked her why she wanted to shave her head and with a big smile, she sweetly replied, "To make Natalie happy! Because I love her."
She insisted that it be a complete surprise for her sister, and so we asked Natalie to stay in her bedroom for a few minutes. With trembling hands and tears streaming down my face, I watched Evelyn's long, golden locks fall to the ground. I believe it was the biggest surprise of Natalie's life when she opened her door to find Evelyn completely bald.
Cancer doesn't affect just one person, it affects the entire family. There was no greater way that we could assure Natalie of our love and support, so we all went bald!
Go bald with Natalie's family and support childhood cancer research — become a shavee today.

Shave for research
Read more stories from the St. Baldrick's blog: