Caidan and Rick have been a head-shaving grandson and grandpa duo since 2012. But when Caidan was teased at school for his bald head the first year, Rick knew he had to do something about it. Read more about how a grandpa's love has spread the mission of St. Baldrick's, for kids with and without cancer.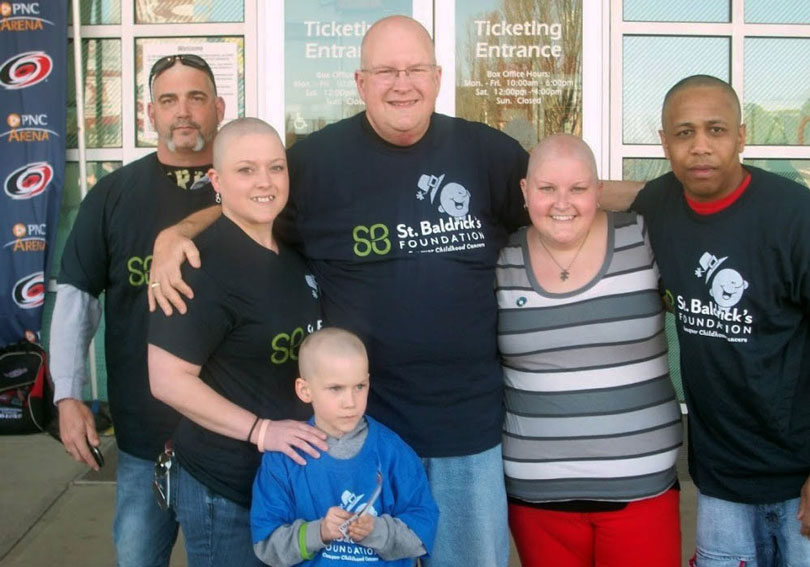 Caidan and Rick are part of the TCC Troopers. Their team participates with the Carolina Hurricanes at the PNC Arena.
For people who haven't heard of St. Baldrick's before, head-shaving events might sound a bit wacky. Fortunately, five-time shavee℠ Rick Penn has become a pro at explaining why they're so important.
Rick and his grandson, Caidan, became first-time shavees in 2012 at the RBC Center in Raleigh, North Carolina, when Caidan was just a kindergartner.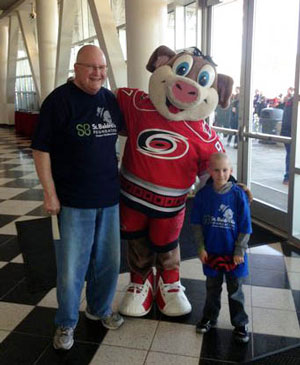 Caidan and Rick show off their bald heads with the Carolina Hurricanes mascot.
"The thing that struck me so hard is that 20 years ago, a child with leukemia didn't have much of a chance to survive," Rick said. "Now, so many kids with leukemia survive, in part by the St. Baldrick's Foundation. And that's why I do what I do. It's not for any glory I'm going to get, it's for the kids."
Learn 5 Facts About Childhood Cancer Survivors >
A year later, as the head-shaving event was approaching, Rick asked Caidan if he wanted to participate again. Caidan said no. He explained that he had gotten made fun of at school for his bald head.
"I can understand that," Rick said. "A kid goes to school with long hair and comes back the next day and he's bald."
So Rick came up with a plan.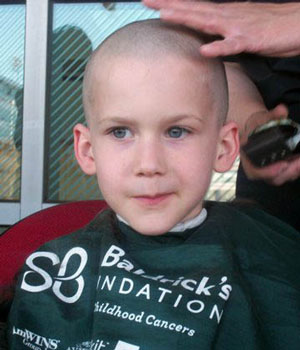 Caidan has been a shavee since he was in kindergarten.
After calling St. Baldrick's and getting the tips he needed, Rick created a short presentation to give to Caidan's class to explain why he'd be coming back to class bald. Starting off with a couple of head-shaving videos, Rick explained that their bald heads would be their way of helping kids with cancer.
BLOG: Shavee Fundraising Tips: Make It Personal >
The day after Caidan shaved, not a single kid was making fun of him for his bald head.
"It's just 15 minutes out of my life that makes a wonderful difference," Rick said. "Caidan came home the day after the event and said, 'Everybody wants to rub my head! They tell me I'm a hero.'"
Rick has spoken to Caidan's class every year since then, explaining the mission of St. Baldrick's and why people go bald for kids with cancer. And every year, Caidan feels good about head-shaving.
This year marked the fourth time Rick spoke to Caidan's class before their shave — a fun family tradition that helps kids learn awareness about childhood cancer.
"Until he says, 'No, Papa, I got this,' I'll keep going," Rick said.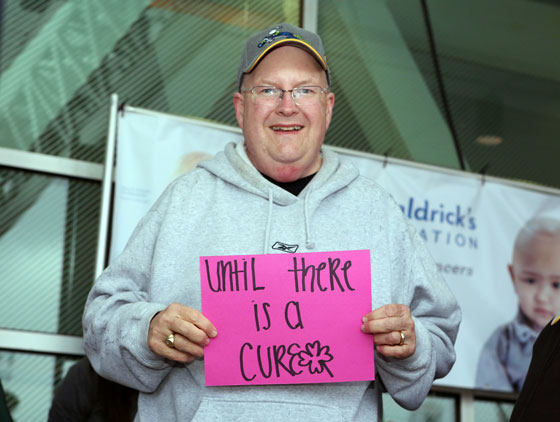 Rick holds a sign up with his motto, "Until there is a cure."
They're not the only ones in the family to embrace the tradition. Rick and Caidan are part of the TCC Troopers, their family's team that shaves every year. Participating with them is Rick's daughter, Susanna, and their family friend, Cornelius.
"Our motto is 'Until there is a cure,'" Rick said. "Until there is a cure, we're going to keep doing what we're doing."
Help find cures for kids with cancer. Sign up to be a shavee today.
Be a Shavee
Read more on the St. Baldrick's blog: