Earlier this year we lost an exceptional smile and friend in Ambassador Caroline. Her uncle Dave Lugar describes her bright spirit, her "daily zest to look her best," and how he's committed to fight childhood cancers in her honor.
On January 4, 2014, we learned that our then-11-year-old niece, Caroline Richards, was diagnosed with
osteosarcoma
, a somewhat rare form of bone cancer that typically impacts children and adolescents. We of course put on our brave faces, did our research, and encouraged Caroline and her parents with everything we had. We were in this together and we were there to help.
Caroline was a wonderful young warrior who fought through the chemotherapy treatments, the surgeries, the late night emergency room visits when her cell counts were low. She also became an ambassador for this community of young children who are currently dealing with cancer and for future children that will be diagnosed.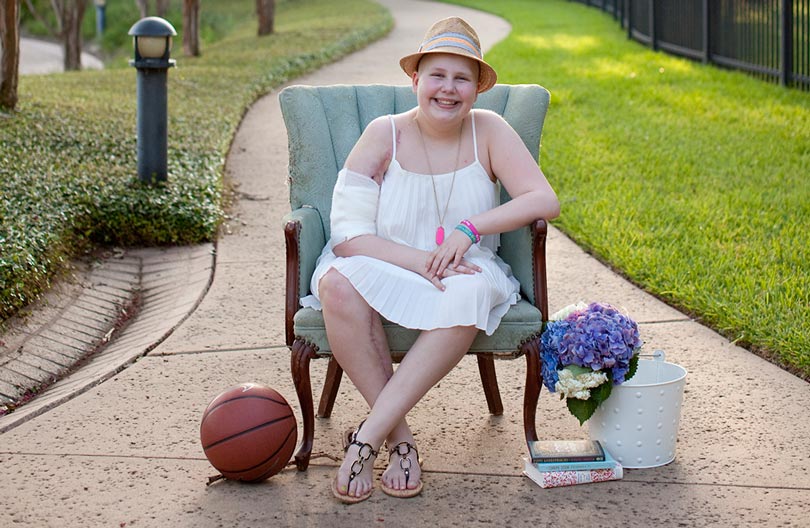 Caroline loved to stand out from the crowd, and her smile was enough to brighten anyone's day.
Throughout her battle, Caroline loved all things that helped to accessorize her daily zest to look her best. Big bows, neon Tyler t-shirts, bling, you name it. She became somewhat of a legend among all of her doctors, physical therapists, counselors, families and children at MD Anderson Children's Cancer Hospital, her classmates, the Austin community, the guys from One Direction, and even Ryan Hunter-Reay who, five days after meeting her, went on to win the Indy 500.
Her smile, attitude and determination to be a survivor were an inspiration to everyone who got to know her.
Visit Caroline's Hero Fund to learn more about her legacy >
I mention this background because we cannot let all of the positive things that Caroline did throughout her life and her battle be forgotten.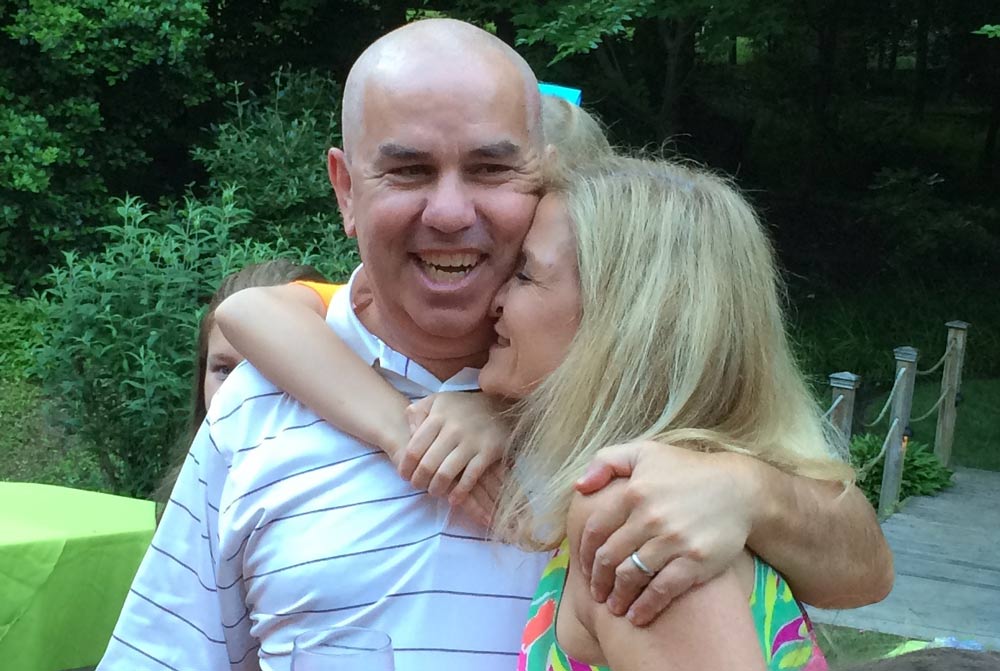 Dave and his wife, Katherine, embrace after his shave.
When we were in Austin the weekend of Caroline's services, the entire family made a commitment to continue this fight on Caroline's behalf and the other children that are so cruelly impacted by cancer.
From diagnosis through Caroline's passing, the St. Baldrick's Foundation was an incredible resource and support system for Caroline, her parents, her extended family and all who dearly loved her. Each year in honor of these young warriors, St. Baldrick's raises money for research through their head-shaving events. Unfortunately I could not make my local St. Baldrick's event, so I decided to brave the shave as a virtual shavee, at my home, surrounded by Caroline's family and friends.

Dave smiles for the camera before his shave.
If we are going to be successful, we need to step up and raise money that will specifically go to research for cancers affecting children. In Caroline's treatment, the doctors were using chemo protocols that were created in the 1960s. This has to change.
This is why I shaved my head. I'm doing my part so one day, no other families will suffer the loss of a treasure like Sweet Caroline.
Dave is raising money for childhood cancer research. Honor Caroline with a donation on his shavee page.
Give for Caroline
Read more on the St. Baldrick's blog: