Two years ago, Honored Kid Isaac was diagnosed with childhood cancer and immediately began treatment. Six days later, he was released from the hospital on Mother's Day. "It was the best gift I could have received," his mom, Chelsea, said. He's still in treatment for another year, but he's getting stronger every day. As his parents say, he's "Tough Like Ike!"
Sometimes, when
Chelsea Yarmon
looks back on the past two years, she can't believe how much has changed.
Two years ago, she was sitting in a hospital next to her husband, with their 4-year-old son lying in their arms, as a pediatric oncologist explained that their son, Isaac, had leukemia.
"I can remember that moment," Chelsea said. "Those words, those feelings, will forever be ingrained into our thoughts and memory."
Learn more about acute lymphoblastic leukemia >
Two days later, the family celebrated Ike's fifth birthday in his hospital room. Ike had gifts, cake, balloons — and chemotherapy. "Not exactly how we envisioned our son spending his fifth birthday," Chelsea said.
That following Sunday was Mother's Day, and for the first time in 10 days, the family was able to go home. "That was the best gift I could have received," Chelsea said. "We just went home and enjoyed the kids and that was it."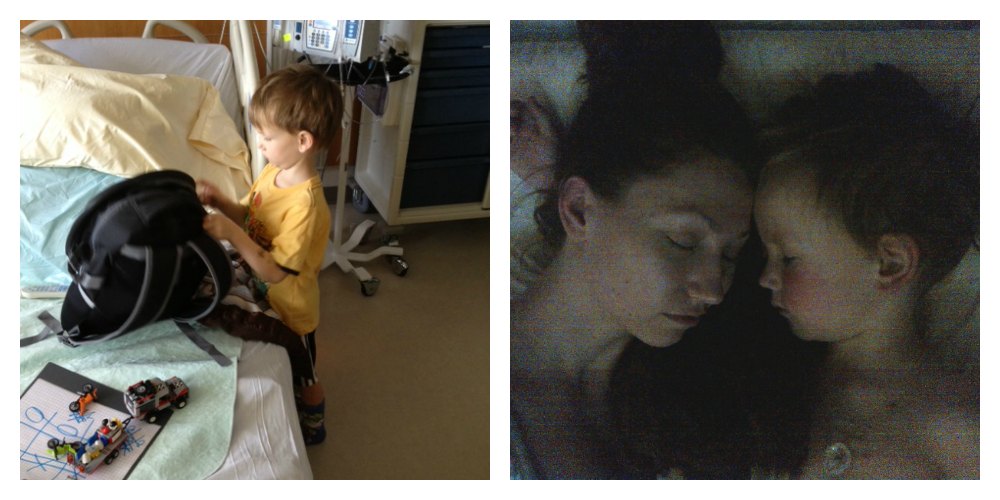 Mother's Day 2013. Left: Ike prepares to leave the hospital. Right: Chelsea snuggles with Ike at home.
Now, two years later, Ike looks like a different kid. He's turning 7 in three days, his hair has grown back, and he has tons of energy. (Today, he's going from school to baseball practice to hockey practice.)
"He's doing really, really well," Chelsea said. "We couldn't ask for anything better in this situation."
Ike is in remission, but that doesn't mean he's home free. He's in the maintenance phase of his leukemia treatment, which for him consists of a nightly chemo pill, a weekly eight-pill dose of chemo, and a trip to the hospital every three months for labs, a chemo infusion in his spine, and steroids.
See what maintenance treatment is like for Honored Kid Aubrey >
Ike takes it all in stride. His attitude toward treatment has inspired their family motto: "Tough Like Ike."
If all continues to go well, he'll finish treatment on July 10, 2016. "That day can't come soon enough," Chelsea said.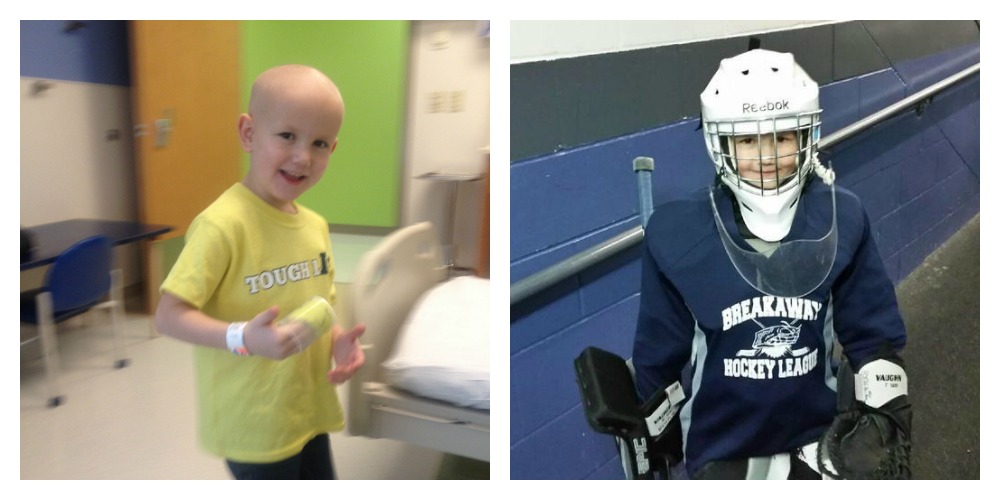 Left: Ike in the hospital for high-dose chemotherapy. Right: Ike gears up for a hockey game.
Looking back on all the ups and downs of Ike's cancer journey, Chelsea is thankful to feel like they're finally on the upswing, having made it past the halfway point of treatment without a relapse. "We're in a good place and we're just lucky to be here," she said.
But just like Mother's Day two years ago, being home with her kids is exactly how Chelsea wants to celebrate this year. "As long as I'm with them, that's all I care about."
This Mother's Day, give the mom in your life a gift that gives back to moms like Chelsea everywhere. Send a special ecard and support childhood cancer research.

Send a Mother's Day ecard
Read more on the St. Baldrick's blog: