They say the early bird gets the worm, but at St. Baldrick's, the early bird gets a cruise! That's right – it's time for the St. Baldrick's Participant Sweepstakes, when participants who register and raise money early get a chance at the trip of a lifetime. Read on for tales from last year's lucky shavee and the details on how YOU can be a winner.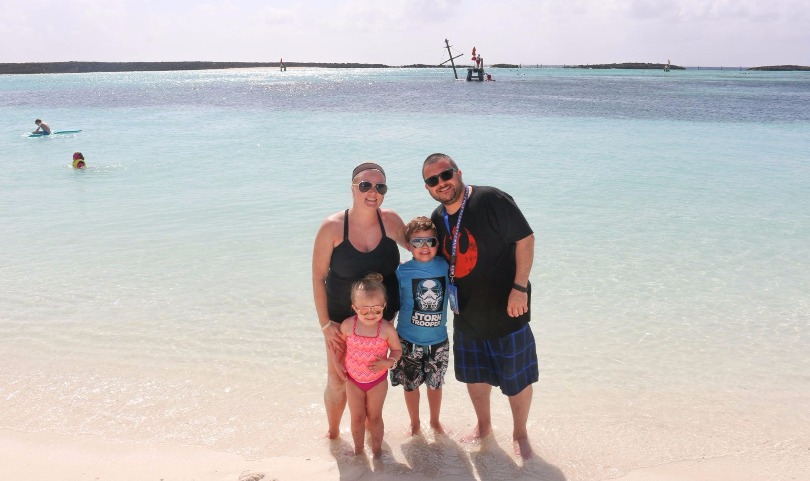 Six-time shavee Jim and his family won big through the St. Baldrick's Participant Sweepstakes — they won a weeklong Disney cruise! Here they are enjoying the beach at Castaway Cay, Disney's private island in the Bahamas.
When Jim Varagona got an email saying he had won a free trip, he was skeptical. Did he get hacked? Was it a scam?
"I read the email and it looked legit, but you can't be too sure when being told you're a prize winner," he said.
Then he listened to a voicemail he had just received. It was from the St. Baldrick's Foundation. A six-time shavee and passionate fundraiser for kids' cancer research, Jim had been randomly picked as the winner of the 2016 St. Baldrick's Participant Sweepstakes.
He couldn't believe it. He and his family were going on vacation.
Jim and his family's favorite day at sea was Star Wars Day. "My kids and I are big Star Wars fans. We were able to meet Chewbacca and Captain Phasma for special photo ops and encountered many other characters throughout the day," Jim said. Here they are in front of Rey's speeder from 'The Force Awakens.'
"When the sweepstakes was announced, I remember half-jokingly mentioning it to my wife, asking where we'd go," he said.
The options were a getaway to St. Lucia, a trip to London or a week-long Disney cruise. After the shock had worn off, they chose the Disney cruise. As the parents to two kids, Dylan and Vivienne, it seemed like the best choice.
During their week-long Disney cruise, Jim, his wife, Shannon, and their two kids, 8-year-old Dylan and 4-year-old Vivienne, pal around with Pluto.
And it was. Before this cruise, Jim and his wife had been out of the country only once when they were kids. During the trip, they had a blast visiting four different countries – Mexico, the Grand Cayman Islands, Jamaica and the Bahamas.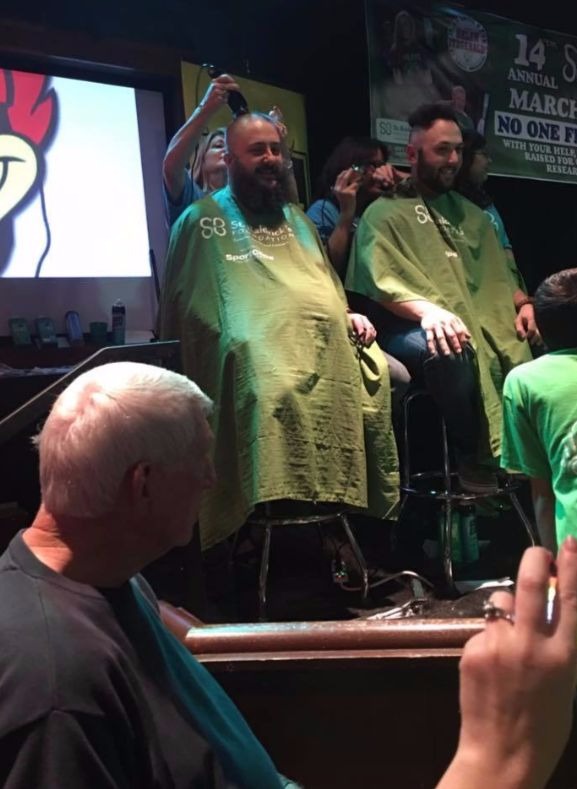 Jim shaves at the Helen Fitzgerald's event in March. As a shavee and fundraiser, he's raised nearly $34,000 for kids' cancer research over the years.
"The water and beaches, the people and food were all memorable," he said. "I don't think my wife and I had ever even considered going on a cruise in the past and now we can't wait to go again."
Between the fun, the food and the sight-seeing, Jim spoke about St. Baldrick's to strangers he met and even managed to snag a donor. Once a fundraiser, always a fundraiser. In fact, Jim is already registered as a shavee for 2018.
He encourages you to sign up early too – and not just because you can win a fabulous vacation.
"By registering early, I have ample time and opportunities to reach more people and raise more money for this very important cause," he said.
But how do you get the chance to win? For more information, check the official St. Baldrick's Sweepstakes rules, but here are some important details:
Sign up for a 2018 head-shaving event in any role AND raise $50 by November 30 and you will be automatically entered for a chance to win
This year's St. Baldrick's Sweepstakes includes the choice of a weeklong trip for two to Tahiti, a trip for two to Dublin, or a Disney cruise for four
The winner will be selected on December 15, 2017 and notified by email within five days of selection
Vacation is calling . . . so, what are you waiting for?
Take childhood back from cancer AND get the chance to win. Register for an event today.
Register
Read more on the St. Baldrick's blog: