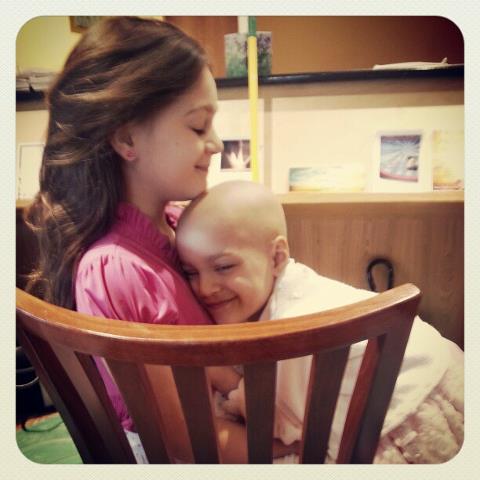 Anneliese was diagnosed with rhabdomyosarcoma, a type of childhood cancer, earlier this year.
My aunt said it best: "We need awareness because honestly, people don't know. You don't think that two towns over, the hospital ward is overflowing with pediatric cancer patients. People just don't know."
I couldn't agree more. To be quite frank, I never thought much about pediatric cancer. Not until February 7, 2013, when a very kind surgeon entered the waiting room and said the words that shattered my world and shook my faith to the core:
"It looks like rhabdomyosarcoma."
At that point, I was not sure what type of cancer that was, but I knew that my 4-year-old baby girl, Anneliese Faith, was about to embark on what is undoubtedly one of the scariest journeys a family can face.
Embryonal rhabdomyosarcoma is a soft tissue tumor arising from muscle tissue, most often around the head and neck. We found hers when what began as an earache quickly led to indescribable pain and facial paralysis.
"Cancer" is an ugly word. It strikes fear in the hearts of those who hear it. It destroys bodies, leaves lifelong side effects, ruthlessly presses on, and leaves a trail of fears, tears, and heartache in its wake.
But there is hope. In our early days — the days of watching my baby being strapped to a table for 28 rounds of radiation; the days of chemo treatment, after chemo treatment, after chemo treatment; the days of sleepless nights and paralyzing fear — I wondered how we would get through. And I learned an incredible lesson.
People are fighting. There is hope.
While I once thought "cancer" was synonymous with fear, dread, pain, and heartache, I have learned that there is much more to this journey.
It is also synonymous with courage, love, strength, perseverance, kindness, and hope.
From a kind nod from a stranger, to the waitress who survived her own battle and picked up our check, to the coffee house barista who shared her story of childhood cancer survival, to the dozens of people who rallied around us, my family was blown away by the sheer will to fight that Anneliese's diagnosis brought with it.
Moved by Anneliese's childhood cancer diagnosis, some fellow church members shaved their heads and raised $3,000 for pediatric oncology research.
Our church rallied together and raised $3,000 for St. Baldrick's, an organization that is forever changing the face of childhood cancer treatment. People we've never met hear our story and are moved to
get involved
, to
donate
, to share a story of hope.
That is what awareness is all about — teaching people, sharing our story, inspiring hope, and changing the face of cancer treatment. On the horizon are new treatments, treatments that will involve no nausea, no vomiting, no lifelong infertility.
Our family clings to the hope that one day, our battle will be won. One day, we will see treatments that eliminate the fear associated with the term, "cancer." One day, hope that is yet on the horizon will be a tangible truth.
Anneliese's tumor is shrinking by the day, and we are anxiously awaiting the day when we hear the words "cancer free." Until then, we will keep fighting. We will keep hoping. We will keep pressing on.
Together, we won't just fight. We'll fight to win.
September is Childhood Cancer Awareness Month. What will YOU do to help kids with cancer?
6 ways you can help kids with cancer
Read more on the St. Baldrick's blog: