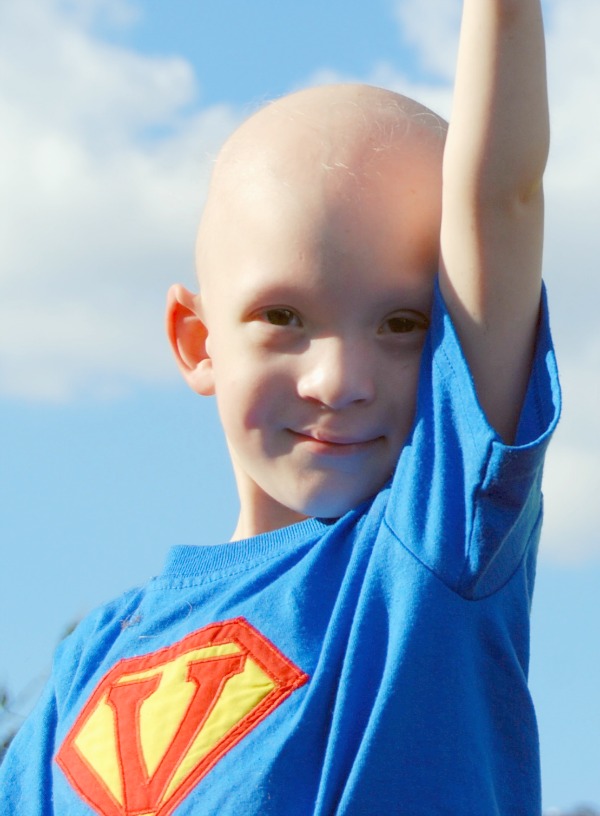 Vinny was diagnosed with rhabdomyosarcoma at the age of 4. "Cancer didn't define Vinny," says his mom, Sarah. Vinny passed away in February 2013 after a five-year battle with cancer.
Years before his childhood cancer was diagnosed, we knew that
Vinny
was a warrior. He was born with a cleft lip, a cleft palate and pulmonary stenosis, and he had his first heart surgery at 5 days old.
After several cleft-related surgeries throughout his first few years of life, Vinny was diagnosed with a rare childhood cancer called embryonal rhabdomyosarcoma on February 15, 2008. He was 4 years old.
Being in the cancer world taught Vinny compassion, to never take the little things for granted, to say "I love you" when you mean it, and to never be afraid to question everything. But cancer didn't define Vinny. His contagious personality, his pranking, his love of life and love of people defined him.

During his five-year battle, Vinny was an inspiration to everyone who knew him. He was told many times in those five years that he would not live. However, he battled with a smile and defied the odds time and time again, astonishing the medical world. Vinny was fearless.
When his treatment options ran out, Vinny was the first child at Brenner Children's Hospital to experiment with the new Image Guided Radiotherapy (IGRT). This extended his life another two years. He was also the first child at Brenner Children's Hospital to have a bladder pseudotumor, which the pediatric oncology team thought was relapsed rhabdomyosarcoma…until it disappeared by itself two weeks later!
Vinny loved September because of our annual St. Baldrick's event at Finnigan's Wake in Winston-Salem, North Carolina. He was very involved in St. Baldrick's events, pulling together the children on his cancer ward to shave their oncologist's head and the heads of many other volunteers. Vinny proudly helped emcee the events, carrying around the St. Baldrick's hat and urging the crowd to donate for the cure.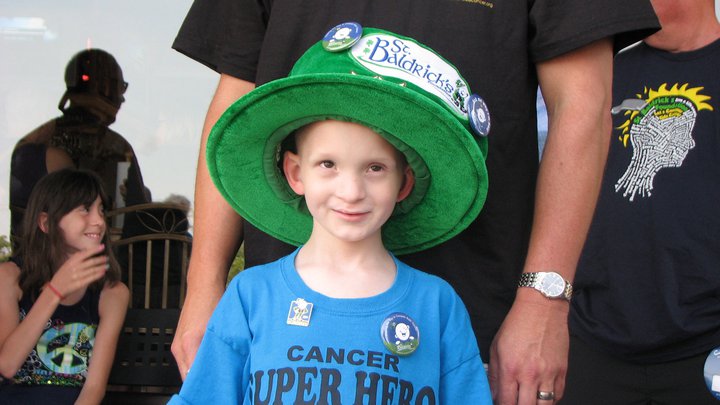 Vinny participated in the annual St. Baldrick's event at Finnegan's Wake in Winston-Salem, North Carolina. "He never gave up the hope of finding a cure one day," says his mom, Sarah.
He never gave up the hope of finding a cure one day, not only for himself, but for all children who hear the words, "You have cancer."
On December 21, 2012, Vinny was sent home on hospice. The five new tumors in his spinal column had grown so large that we were told he would not make it through the weekend.
On Christmas Eve, Vinny walked for the last time as he carried a plate of cookies and milk to the living room coffee table for Santa.
On Christmas, he became paralyzed, but he lived nine weeks longer than the doctors predicted. For nine weeks he lay in the LEGO Room watching Mommy build LEGOs; watching Disney Channel movies; having date nights with his girlfriend, Lola; and enjoying the family and friends he loved so much.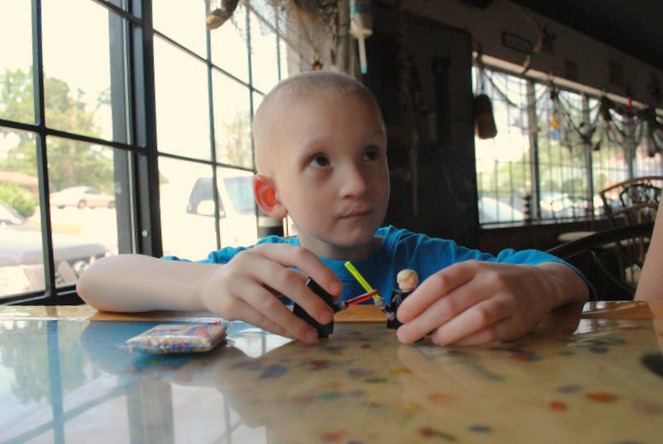 Vinny with his Star Wars Legos
On February 18, 2013, Vinny earned his wings and soared to heaven.
Before he passed away, Vinny told us what signs to look for, how we would know he was coming to visit: the birds, the bird droppings, the rainbows, the butterflies, the pelicans at the beach, and so much more. And when we are sad and missing our son, a sign will appear as Vinny continues to visit and prank us from heaven.
Vinny has taught us that there is always hope, that life is what you make it, that you can overcome so much more than you think you can, that there is a heaven, that angels are real, and that when you lose a loved one, they still surround you…always.
This Saturday, you can honor Vinny and other children with cancer at the Finnegan's Wake event in Winston-Salem. Can't make it to North Carolina? Make a donation in memory of Vinny.
Donate