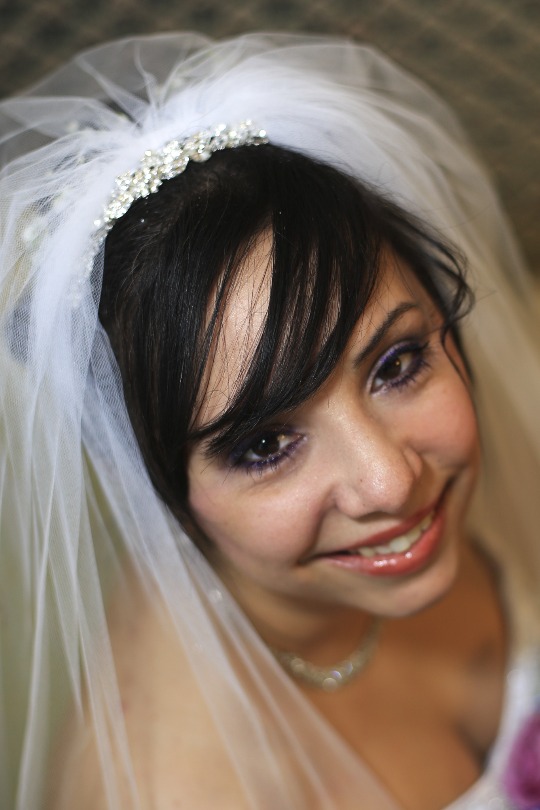 A childhood cancer survivor, Brittany Ross smiles during her long-awaited wedding day to her fiance, Patrick.
When Honored Kid Brittany Ross was told that she'd be lucky to live another three weeks, she didn't react with sadness. She didn't bury her head under her hospital bed blankets and cry or ask, 'Why me?'
She was mad. She was fired up. She was determined to beat childhood cancer.
"They made it seem like I had no chance," Brittany said of her diagnosis in December 2000. "At this time, I was like, 'Look, I'm 15 years old. I haven't really started living my life yet.'"
And she had a come-back that any teenager would be proud of.
"I'm not going anywhere," she said. "Three weeks, my butt."
She meant it.
The Diagnosis
At the end of Brittany's eighth grade year, she got sick and stayed sick. Colds, flus, bronchitis, strep throat, pink eye – Brittany wasn't safe from any of it.
"I just couldn't catch a break," she said. "I would just keep getting sick, non-stop."
Brittany's mother knew something was wrong. She had intimate knowledge of illness – she'd lost her mom to breast cancer and a son to juvenile rheumatoid arthritis – and was relentless in her search for answers. Brittany's parents shuttled her from doctor to doctor, trying to figure out what was going on.
Then the teen came down with pneumonia and shingles. And that's when Brittany's now brother-in-law got suspicious. At the time, he was studying to be an oncologist and was doing his residency at Georgetown University Hospital.
"He went to my sister and was like, 'Look, I don't want to be the bad guy here … I'm 99.9 percent sure that she's got leukemia. I'm going to watch her like a hawk,'" Brittany said.
Weeks later, a trip to the ER revealed just what Brittany's brother-in-law had feared – leukemia blasts in her bone marrow. The teenager was rushed to the pediatric wing of Georgetown University Hospital, where her brother-in-law was waiting for her.
Brittany had acute myeloid leukemia.
"They ended up giving me three weeks to live and a 5 to 15% chance of survival," she said.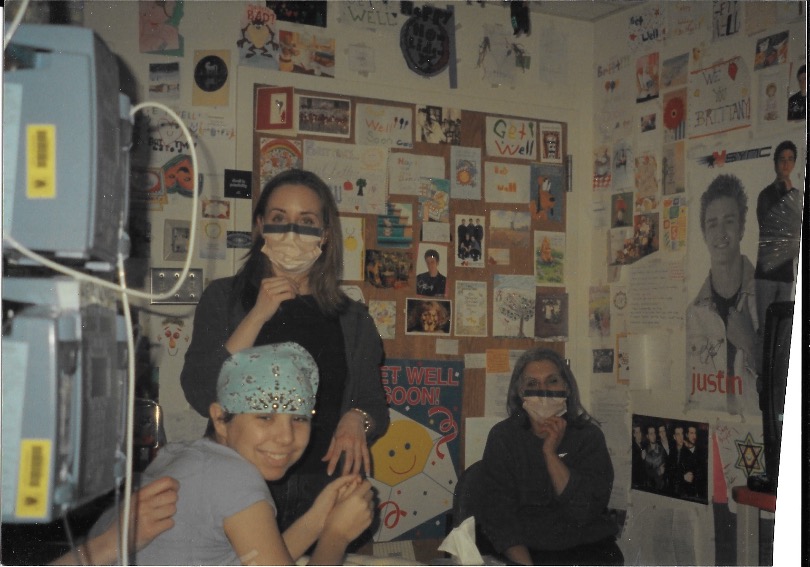 Brittany's family supported her wholeheartedly during treatment, with her then-pregnant sister frequently making the trip to the hospital to see her and with her brother forgoing a trip to Australia to be there for Brittany in her time of need. In this photo, Brittany (in the blue bandana — a gift from singer Justin Timberlake) visits with her cousin Shelby, who is standing, and her aunt Hope in her hospital room
Treatment
Brittany started 35 days of intense chemotherapy right away. She doesn't remember a lot, including her 16th birthday. She was so sick that she was dazed and drowsy most of the time.
"I spent Christmas, I spent New Year's, I spent my Sweet 16 in the hospital undergoing treatment," Brittany said.
Finally, four days after her Sweet 16 — on January 17th, 2001 — Brittany got incredible news. She was in remission and cancer free. That news was the best birthday present she would ever receive.
But she wasn't done. After a three-week reprieve, she was re-admitted to the hospital for another 45 days of chemotherapy to make sure the cancer was gone, once and for all.
"In total I did two rounds of chemo, which was 80 days in the hospital altogether," she said. "I think I was released for the final time on like March 21, 2001, something like that. It was right around the first day of spring."
Washington D.C.'s famous cherry blossom trees were in bloom.
As her dad drove away from the sterile hospital and past the rows of trees, the 16-year-old started begging him to pull over. Look at that beauty outside the window! The color, the scent – the trees were so alive and she was too. Brittany had to breathe it all in.
So, her dad stopped the car.
"I remember running up to the cherry blossoms and inhaling the smell of the blossoms and my parents getting out of the car and coming and standing next to me," she said. "It was like, oh my God – that feeling of freedom. It was like I had just been let out of jail."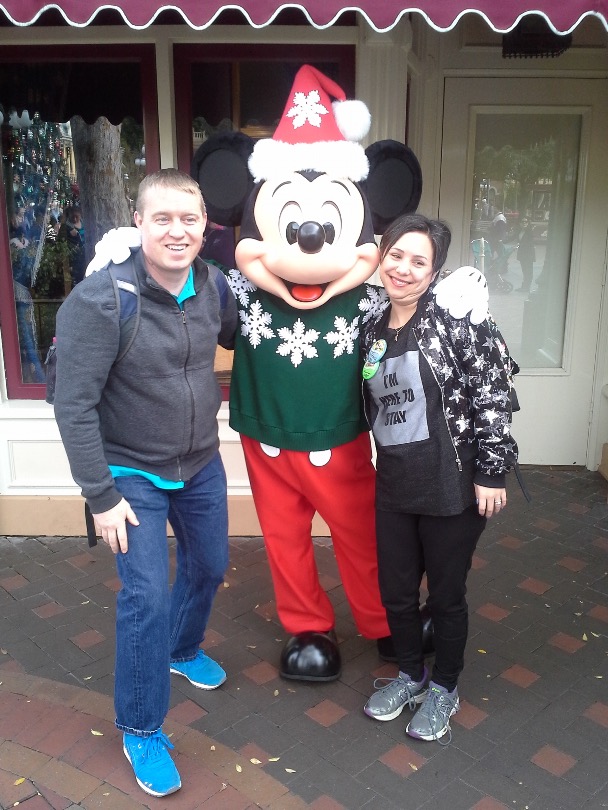 Brittany's husband, Patrick, Mickey Mouse and Brittany smile together in Disneyland in January 2017. Brittany and her husband share a love of dancing — they take lessons together — and enjoy listening to songs from Broadway musicals, which are a huge passion of hers. He's her best friend, Brittany said, and treats her like a queen.
The Survivor
Brittany is now 33 years old, married and living in Colorado. On January 17, she celebrated 17 years cancer free.
Her doctors had told Brittany and her family that she likely wouldn't be able to do many of the things others take for granted – graduate high school and college, live on her own and work, get married and have kids.
But like when doctors told her that she probably wouldn't live to see another Christmas, Brittany had other plans. Just watch me, she said.
Brittany attended both her high school proms, graduated on time and moved out on her own to go to school. After years of dedication, she earned her associate's degree. She met her husband, Patrick, in 2012 and they married in September 2013 – with her pediatric oncologist attending the wedding.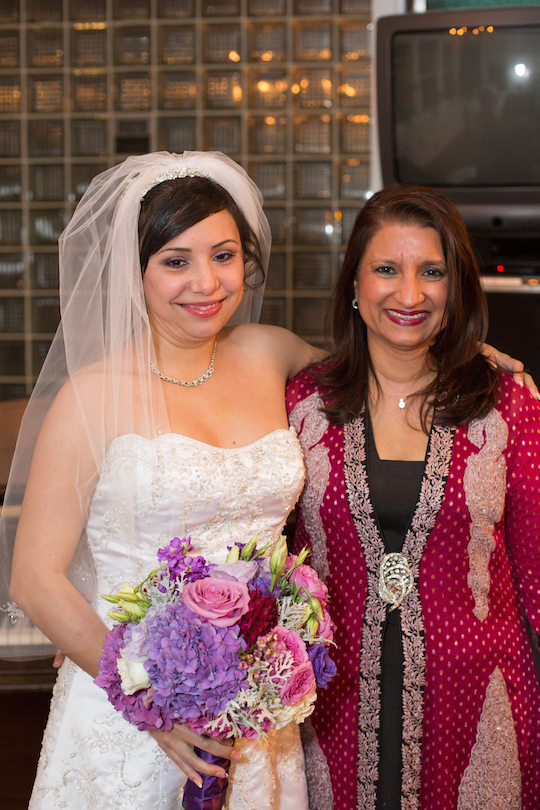 Brittany and her pediatric oncologist Dr. Aziza Shad at her wedding on September 28, 2013.
She struggles with long-term effects from her treatment, but has worked hard to overcome the obstacles cancer put in her way and defy the limits imposed on her by others.
"There's nothing more fun for me than proving my doctors wrong, then proving the facts and statistics wrong," she said.
Brittany wants her story to be an inspiration to others, so she shares it wherever and whenever she can. She's not afraid to speak up and readily shares her journey with audiences at St. Baldrick's events. She knows that more research is the answer to childhood cancer and will do whatever she can, she said, to put a stop to pediatric cancer once and for all.
For kids and families, there is hope and Brittany is a symbol of it.
"If they can look at me and say, 'Well, she battled and survived, so can I … ' If I can help be that role model for them, be that inspiration for them … ­­then, I know that I will have fulfilled my purpose and gotten my job done," she said.
Let's take childhood back from cancer. Fund lifesaving research today.
Donate
Read more on the St. Baldrick's blog: