We have big news. Yesterday, the the FDA Reauthorization Act passed the Senate which includes critical components of the Research to Accelerate Cures and Equity (RACE) for Children Act. Read on for more about the RACE Act and what this news means for Rob Lenfestey, the dad to Honored Kid Scott, and for families everywhere.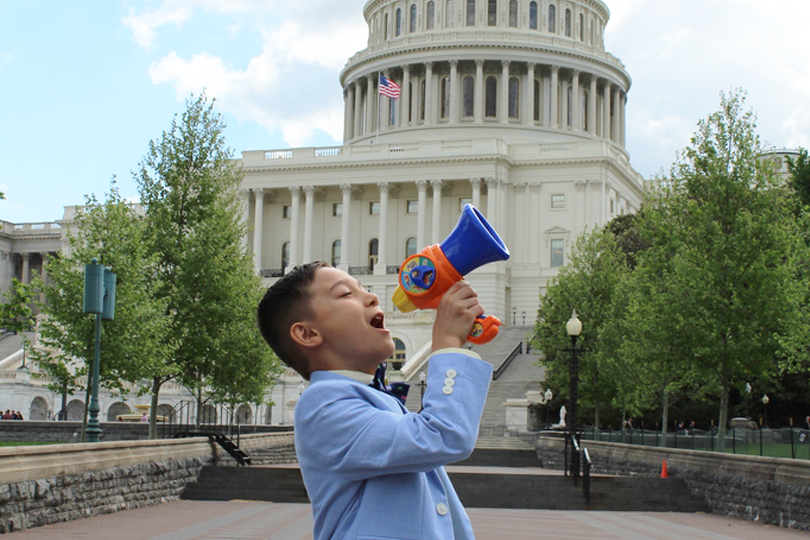 Honored Kid Scott 'speaks up' for kids' cancer research on Capitol Hill during this year's Childhood Cancer Action Days.
When our son, Scott, was diagnosed with acute lymphoblastic leukemia at age 3, my mind was swimming with questions about his treatment options. During the last 20 years, the FDA has approved approximately 190 new cancer therapies for adults; only three new treatments have been approved specifically for treating kids with cancer.  Our hopes hinged on the existing treatments available, and the prospect of drugs that may be waiting in the pipeline if conventional treatments weren't effective at killing his leukemia.
Scott's 3 ½ years of treatment weren't easy. We saw drastic and terrifying changes in his body. Kids with cancer lose their hair, are at risk for fatal infections, and often have ulcers in their mouth and stomach that make it excruciating to eat. The side effects of treatment are brutal.
Scott and Rob share a moment after Rob's shave with St. Baldrick's.
We're incredibly fortunate that Scott had one of the more curable types of cancer, since many types of childhood cancers have a cure rate of 50% or less. We count our blessings daily that he survived treatment and is about to start 3rd grade, but our desire to help other kids with cancer obtain cures and safer, less toxic treatments remains stronger than ever.
It was very exciting to hear the news yesterday that Congress approved the FDA Reauthorization Act (FDARA), which includes critical components of the Research to Accelerate Cures and Equity (RACE) for Children Act. The provisions of the RACE Act require that companies developing cancer drugs conduct studies of their drugs in children when the molecular target of their drug is relevant to a childhood cancer. This critical measure has the potential to greatly increase research into new drugs for pediatric cancer, and yield higher cure rates, shorter treatment periods, less toxic treatments, and possibly save many lives of kids with cancer.
As a physician myself, I know the hardest thing to do is to walk into a room and say there is nothing more we can do for your child. This legislation empowers researchers, pharmaceutical companies, and clinicians to work together to change that reality for so many families.  Using the latest scientific breakthroughs and technology, the policies enacted by RACE close a loophole and will allow policy to catch up with innovation.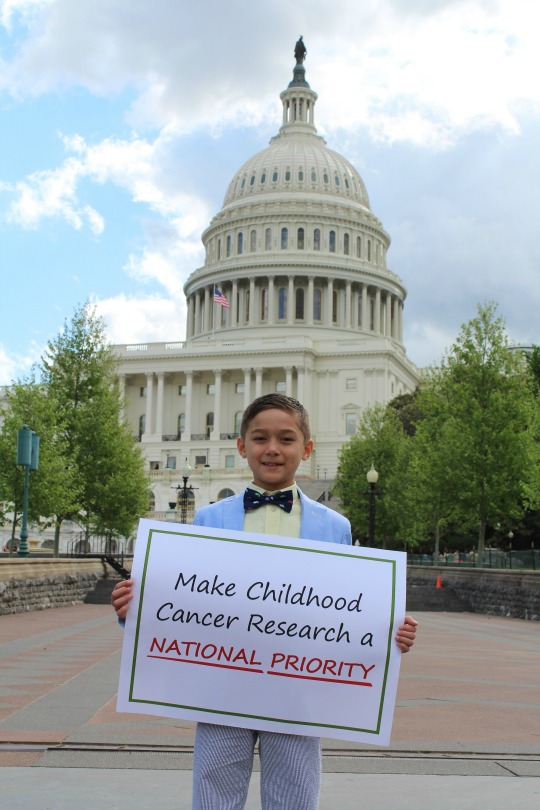 Honored Kid Scott holds a sign delivering a special message on Capitol Hill.
This significant advancement in pediatric drug development policy would not have been possible without the dedication of our champions on Capitol Hill, including Representatives Michael McCaul (R-TX) and G. K. Butterfield (D-NC), and Senators Michael Bennet (D-CO), Marco Rubio (R-FL), Chris Van Hollen (D-MD) and Cory Gardner (R-CO).This was truly a collaborative effort with our Hill champions, individuals and organizations from the childhood cancer community, and all of YOU who contacted your Members of Congress working together to make this a reality.
The hope that the RACE Act provides to so many childhood cancer families is priceless. I'm grateful to Congress and the childhood cancer community for partnering and taking this important step towards making the needs of kids with cancer a national priority.
We still need your help. Speak up for kids with cancer — join our Advocacy Network.
Be an Advocate
Read more on the St. Baldrick's blog: