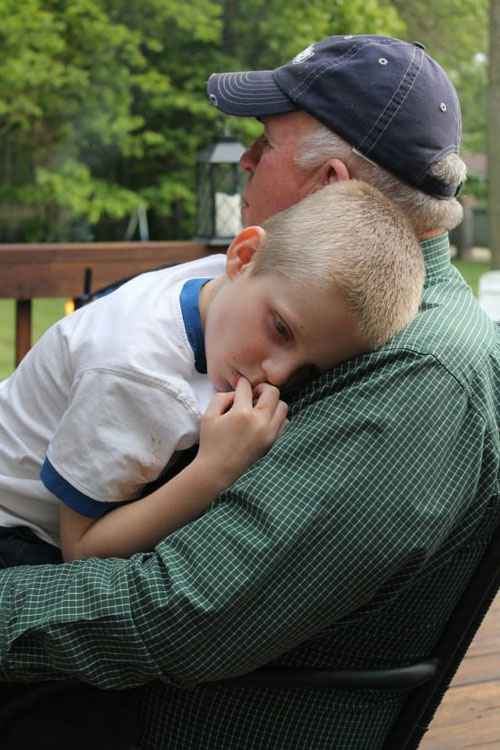 St. Baldrick's Ambassador Matthias with his Grandfather
Being a grandparent is one of the greatest joys of my life. I love hearing from our children as they share the joys, trials and even the challenges and difficulties of raising their own children.
My wife and I are blessed with 14 beautiful, uniquely wonderful grandchildren. We all like to think that we don't have favorites, but I would be lying if I didn't admit that my buddy Matthias has a very special place in my heart.
My journey with childhood cancer began with a telephone call almost 5 years ago. The call is indelibly seared into my memories as one of the most distressing moments of my life.
After the initial shock and multiple follow up calls with additional details, it was determined by Katie and Craig that they would need assistance while Matthias was in treatment, specifically with his older brother Magnus. Over the next 6 months I made the drive from New York to Indiana several times to support the family during what became known as chemo week.
In the end, chemo was not successful and Katie and Craig were forced to make the devastating decision to surgically remove his eyes to prevent the tumors from coming back.
This led to one of the most difficult and special moments of my life.
On the night following the surgery, his parents sat up with him as long as they physically could, but when exhaustion forced them to seek sleep, I was called to sit with Matthias. I sat in a rocking chair, alone with this beautiful 10 month old infant with a bandage the size of a baseball in his eye socket.  I cried, prayed, smiled and wondered what his life was going to be like. A couple of weeks later we repeated the procedure and Matthias was totally blind and cancer free.
I share this story because I know that every time a child is diagnosed with cancer, grandparents are among the first to be called. Every time I read a blog about Avery, Justin, Molly, Ryan, Jordan, Jenna, David, Luke, Macky, Austin, Emily and countless others, I know that calls were made to their grandparents and I know that their hearts broke just as ours did. I know that they offered any and every level of support that their child wanted or needed. I also know the helpless feeling they had because they wish they could do more and simply make this whole thing just go away.
As grandparents, we play a very special role when one of our beautiful grandchildren is diagnosed with this brutal disease. Not only do our hearts break for our grandchild, but it is our babies; our children, who are the adults dealing directly with the doctors, chemotherapy, radiation, and making life threatening/altering decisions no parent should have ever have to make.
Often they look to us, their parents, for guidance, support and strength.  And as much as we wish we could make it all better, the reality is we cannot simply give then a hug and tell them it will be OK, because it is not OK, and the reality is that it may never be OK.
That is why we are volunteers with the St. Baldrick's Foundation and why we ask that any grandparents who are aware of this organization take a moment and donate. Your gift will give hope to infants, children, teens and young adults fighting childhood cancers.