Dr. Alex Huang, a St. Baldrick's Scholar, is studying immunotherapy as a safer treatment option for children with osteosarcoma and rhabdomyosarcoma. Read how he's using his research — and his bald head — to help kids with cancer.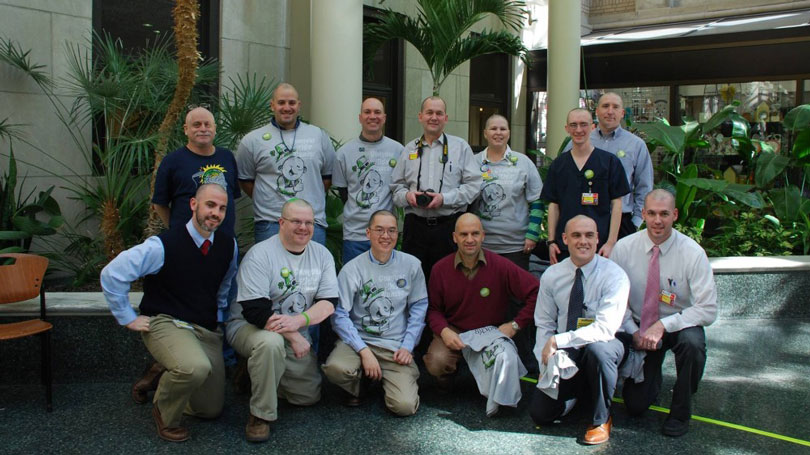 Dr. Alex Huang with Team Rainbow.
On March 9, I had my head shaved at the Rainbow Babies and Children's Hospital in Cleveland, Ohio. (2012 Ambassador Austin also attended the head-shaving event.) This was my fourth year as a shavee℠ and member of my hospital's team, Rainbow Babies & Children's Hospital, where I am the Director of the Pediatric Hematology/Oncology Fellowship Training Program.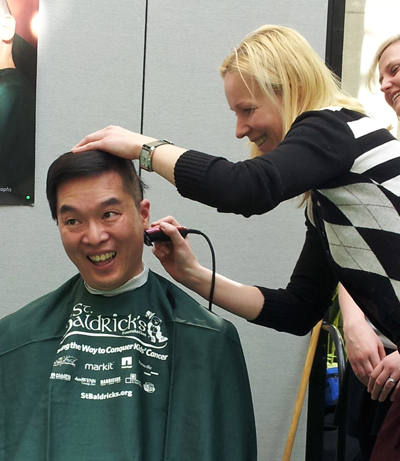 Dr. Huang getting his shaved by St. Baldrick's Fellow Dr. Agne Petrosiute.
As a parent of two children, I am in awe of the strength and grace often exhibited by the patients and their families during their time of crisis. I lost my closest childhood friend to acute myeloid leukemia (AML) when we were both 10 years old, and in the same year I lost my closest 11-year-old cousin to osteosarcoma.
These personal experiences sealed a determination to devote my life so no other child has to go through the same experience of losing their best buddies to childhood cancer.
Learn more about childhood cancer >
Over the last 20 years, pediatric oncology has seen many improvements: cure rates have increased, and we are doing better in treating patients. But the challenge still remains.
From the time patients receive their diagnosis, some types of childhood cancer still don't have therapy. For those that have therapy, like leukemia, the treatment is not specific and the collateral damage is big. The successes of an aggressive tactic of combination chemotherapy, radiation, and surgery come with a tremendous cost.
As any parent of a child with cancer knows all too well, chemotherapy, while effective in killing rapidly-dividing tumor cells, also harms rapidly-dividing normal cells such as the bone marrow cells, cells lining mucous membranes, and hair follicles cells. Also, the harsh chemotherapy also produces long-term effects such as neural-cognitive deficiencies and secondary malignancies.
My lab's effort has been to find a way of channeling the power of our body's own immune system to fight cancer with the precision and specificity only our immune system can afford. This approach would ensure minimal collateral damage to normal tissues while targeting only the malignant cells. Further, the unique feature of the immune system's ability to provide "memory" ensures that future tumor recurrence can be minimized.
While realization of this immunotherapy approach to treating childhood cancer as a common first-line therapy is still years away, we are gaining momentum as we understand more and more of the intricate web of communications among various members of the immune system and tumor cells.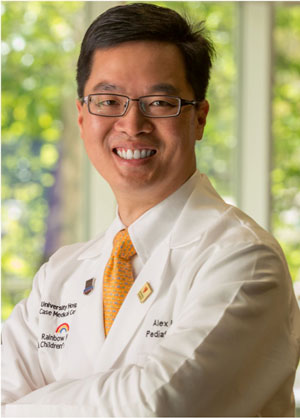 Dr. Huang is researching how to use the immune system to fight cancer cells.
My lab is devoted to uncovering these important cellular communications among immune cells and tumor cells in order to provide the right signal for the immune system to attack cancer cells. In particular, we are working to see how the immune system can be co-opted to fight tumor cells in the setting of childhood brain tumors such as medulloblastoma, bone tumors such as osteosarcoma, and cancers of the blood such as T cell leukemia.
Our goal is to have less toxic but even more advantageous treatments. In adult patients, we are starting to see the benefits of immunotherapy to prolong life, such as with pancreatic cancer. The time is right to bring this to the pediatric population. We are starting to have realistic expectations by beginning to translate these biological principles.
It's an exciting time, but it's also dangerous because of funding cuts at the federal level. There's a threat that the momentum that pediatric oncology is currently experiencing will be halted. Even with the aid of the National Institute of Health (NIH), pediatric cancer research gets the smallest pie cut for funding. This is where St. Baldrick's helps: it critically bridges the funding gap in childhood cancer research.
The St. Baldrick's Foundation has been a godsend for my young career as an independent physician-scientist investigator, at a time when available federal grant dollars for pediatric oncology research are sparse. The generous funding from St. Baldrick's allows my lab to pursue novel ideas and projects that are not yet primed for competitive grant application. Most importantly, my personal involvement in St. Baldrick's fundraising efforts affirms my commitment to pediatric oncology research every year, so I don't ever lose sight of why I am doing what I do in the first place.
Kids are special, so they deserve to get the most promising childhood cancer treatments. Donate today to help fund lifesaving childhood cancer research.
Give
Read more on the St. Baldrick's blog: