Organizing a head-shaving event is a big job, as Volunteer Event Organizer (VEO) Robbie Tiffin knows. So he created a plan to help his event succeed — and it worked. Robbie shares his secrets for a extraordinary event below.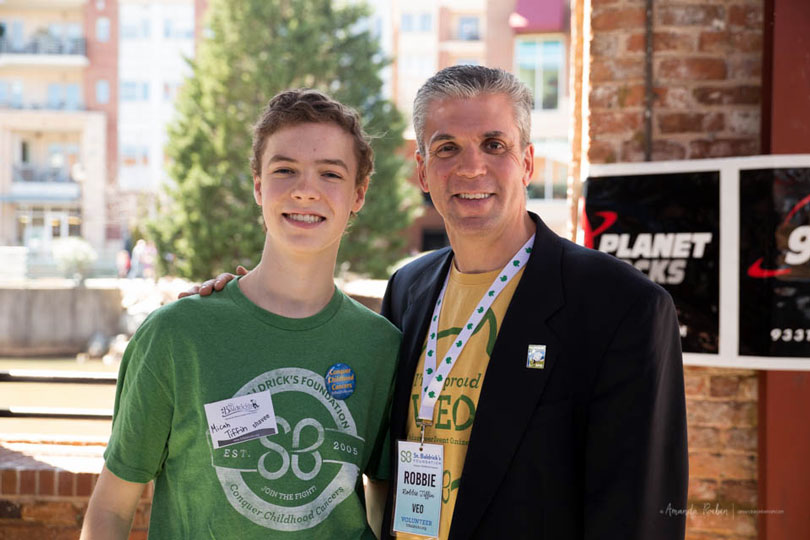 Robbie and his son, Micah, smile with full heads of hair just before their shave.
It was October 13, and our VEO had sent an email to our team sharing that he was unable to organize our next St. Baldrick's event. That was the bad news.
The good news? I was ready to step in.
Our event had been pretty successful in the past, but I didn't want it to be just another "rinse and repeat." We owed it to the kids to make this event bigger and better than ever.
I knew I needed a plan. A plan that was simple enough to leverage the knowledge we'd already built, but scalable and sustainable for future years.
So I researched the best practices for fundraising and created a plan I call "The Four Pillars of Success."
I am proud to see how our event turned out after implementing this plan. I hope it works for you, too!
1. Get local businesses to sponsor your event.
You will want to gain the support and participation of major brands and businesses near you. Their sponsorship will help you reach your goal faster.
Learn how to get sponsors for your event >
It might seem difficult, but it'll be well worth the effort. I called The Greenville Road Warriors (our local hockey team) and asked to speak with their marketing manager. It took several calls and emails, but we were able to set a meeting and pitch our plan. Now we can say we are proud to have their participation, along with our community's largest hospital, and many others.
2. Make a scene.
Make your head-shaving event a prominent social activity within the community. This will bring in more volunteers and donations — and the chance to have an even bigger event in following years.
Contact local magazines, television and radio outlets and ask them to list your event in their social calendar. This will increase traffic to your event.
3. Gain media coverage.
Build relationships with your local television news anchors, print reporters and radio personalities. Media is a great way to raise more awareness for the cause!
Contact them at least a week prior to the event with a media alert or press release — the Resource Lounge has templates for you to use.
Not sure which reporters you should contact? News desks, community reporters and editors are good starts. Typically, their contact information can be found on the news outlet's website.
The day before your event, call the reporters you contacted to follow up. Be mindful of the time you call, and make sure you're not contacting them right before or during a newscast.
4. Create a sense of competition.
There's nothing like friendly competition to bring some excitement to your event!
Creating challenges between individuals, teams or sponsors can raise more money, add excitement, fuel passion, and help get more people involved. It's a great way to rally together to raise the most funds for childhood cancer research — while having a ton of fun!
The key to a successful event won't be this plan on paper, but its execution.
Fortunately, the Four Pillars plan made our head-shaving event a success. We committed to our plan and are now looking forward to doing it all again at our next event!
Learn more about how you can make your head-shaving event awesome on our VEO tips page.
VEO Tips

Get more tips on the St. Baldrick's blog: