A long time ago, in a galaxy far, far away — well, all right, recently in South Dakota — there lived an Honored Kid named Ian. He was a Star Wars fan and a fighter, with a heart of gold and the soul of a Jedi master. In honor of Star Wars Day, we're bringing you his incredible story. As Ian would love to say in celebration of today, May the Fourth be with you always.
Dressed in Jedi robes and armed with his lightsaber, Ian gets ready to save the galaxy.
Honored Kid Ian had the heart of a Jedi.
The young Star Wars fan fought valiantly against an evil foe while always thinking of others ahead of himself. He even had a lightsaber, Jedi robes and some really cool moves.
"He's my role model," said his dad, Rob. "I still try and strive, but the things he knew and the things he did — it was pretty amazing."
Rob remembered a time near the end of Ian's life, when he had to give his son bad news.
It was 2013 and Ian had just been diagnosed with secondary MDS, or myelodysplastic syndrome, a blood disorder caused by his treatment for childhood cancer.
Years earlier, Ian had endured intense chemotherapy and radiation to kill medulloblastoma brain cancer, which had been diagnosed after the golf ball-sized tumor started to bleed. Ian survived, but it was that treatment that caused the blood disease that would eventually take his life.
"I still remember walking in the door, in tears and sobbing, and laying down next to him and bawling my eyes out — I could barely talk — and telling him it's not good," Rob said. "And he's like, 'Dad, sit back, take a breath, relax and do what you tell me to do. Just take a deep breath and it will be OK.' He was comforting me when I was supposed to be comforting him. That's the typical kind of thing that he did."
Kids with cancer deserve better treatments. You can help make that happen. Give to kids' cancer research today >
Ian endured a bone marrow transplant to save his life, and then fought through just about every side effect possible. He had cataract surgery to repair the damage done by radiation and battled graft versus host disease.
Ian with Jedi Master Yoda.
"He'd take two steps forward and three steps back and it would be a huge roller coaster, but he took it all in stride, just did one day at a time," Rob said. "Again, he was a very old soul. I think he knew long before any of us what was going on."
On December 21, 2014, Ian woke up and told his dad to call their priest. He was ready to go.
"It was just like that. That was the kind of kid he was. Very, very strong, like so many of these kids are," Rob said.
The boy died that evening.
"The treatments that are given today at first glance are helping, are working. Ian had no evidence of disease, and that's the thing — he was alive at five years out," Rob said. "His five years was April 2014, so as a statistic he's listed as a five-year survivor of cancer. But he also passed away that very same year. So the numbers on the page are only one side."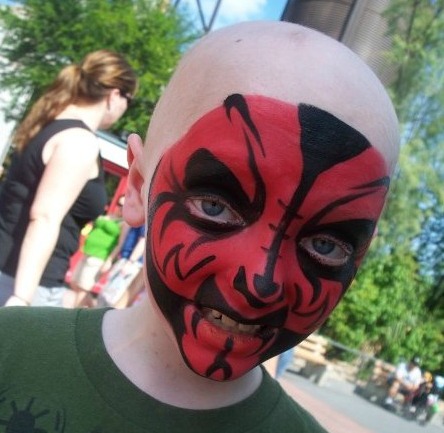 Ian channels the Dark Side after getting his face painted to look like Star Wars character and Sith Lord Darth Maul.
That's one of the many reasons that Rob is involved in St. Baldrick's.
Rob first heard of St. Baldrick's when Ian was asked to become an Honored Kid. Now he organizes the whole Sioux Falls, South Dakota event and every year it gets bigger, he said.
"Hopefully we don't ever have to have these St. Baldrick's events," Rob said. "That would be the ultimate goal — to raise enough funds until we don't need to do it anymore."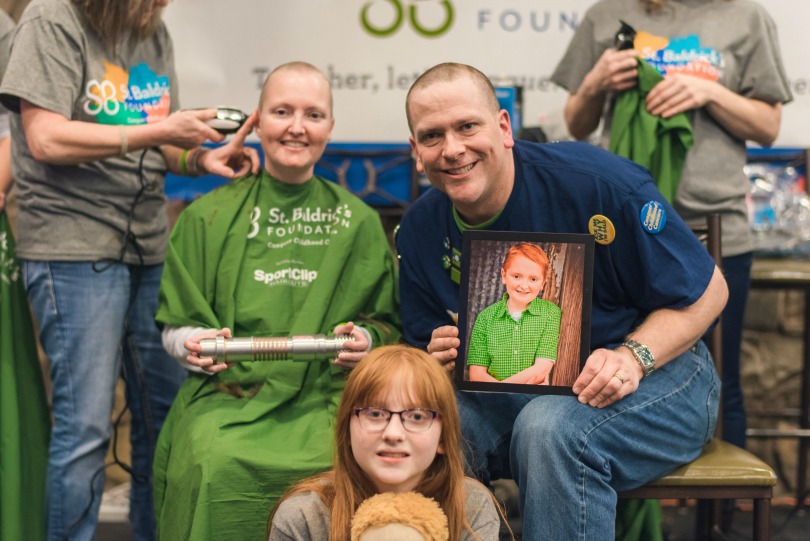 Ian's family holds a photo of the boy, and a lightsaber, during their shave for childhood cancer research.
This year the event raked in nearly $120,000 for childhood cancer research, with double the Honored Kids and sponsors as last year.
That first year — despite going through chemo — Ian shaved what little hair he had. In fact, he shaved every year until his bone marrow transplant.
"He liked everything about it. He knew what it was for," Rob said. "Yeah, it was fun to do this or that, but you know, he knew that's what St. Baldrick's is for — to fund the research so we don't have to do this and have the side effects."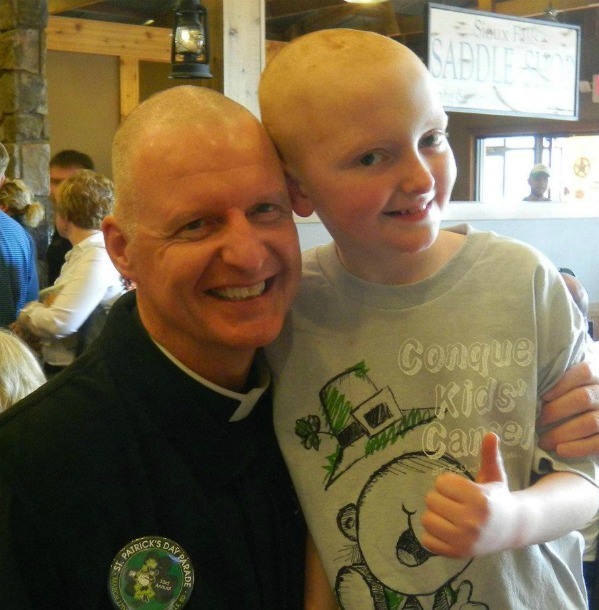 Ian smiles with his friend and priest Father Morgan after their shave at the Sioux Falls St. Baldrick's event.
Even though the boy is no longer able to attend physically, his spirit is frequently felt. This year when his best bud Patrick sat down to shave, the Disney song "We're the Best of Friends" started playing — completely unplanned and out of the blue.
"It was one of those things where it was very heartwarming knowing that Ian was there," Rob said.
Alongside organizing the Sioux Falls event, Rob is also part of the Rebel Legion and the 501st Legion, which are Star Wars costuming troupes where participants dress as characters from the movies and often do charity work.
Ian got a kick out of the troupers. Some of the participants, dressed in full Star Wars garb, attended the head-shaving event year after year to honor the brave kid.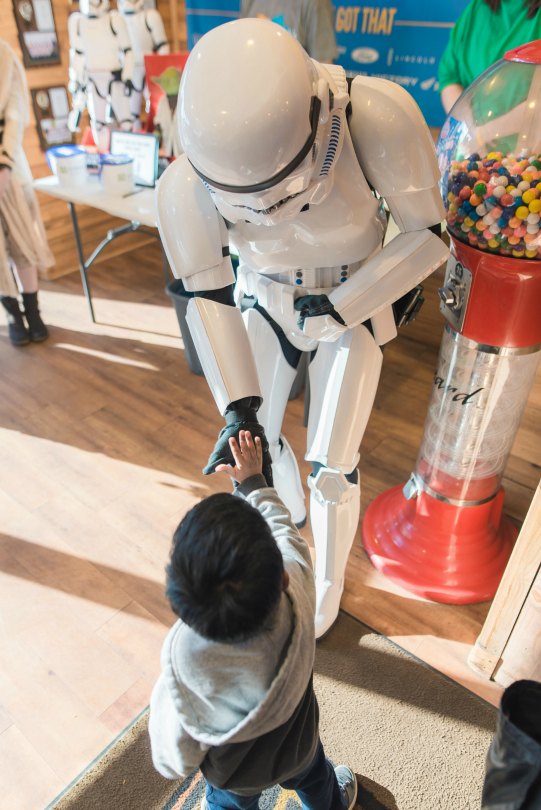 A friendly Stormtrooper gives a kid a low-five at this year's Sioux Falls event.
The first year, a Stormtrooper acted as Ian's personal body guard. But this year, the 10th year of the event, was extra special.
Costumers portraying Star Wars villains Kylo Ren and Darth Vader not only made an appearance, they both lifted their masks and shaved their heads for childhood cancer research.
"Our Darth Vader is such a kind soul," Rob said. "He's a great guy."
The costumer portraying Lord Vader gives a thumbs up before his shave for St. Baldrick's at the Sioux Falls St. Baldrick's event.
Everyone loved Ian —Stormtrooper and Jedi, Wookie and Ewok, kid and adult, on the dark side and the light.
The Force was with him.
"Even through it all, you could see that he was tired or was this or that, [but] he would always be thinking of others," Rob said. "Again, it was his spirit and his soul that was so addictive, I guess you could say."
Kids with cancer, like Ian, deserve a true cure. Fund childhood cancer research today.
Give

Read more on the St. Baldrick's blog: