Formerly known as the St. Baldrick's – Stand Up to Cancer Pediatric Cancer Dream Team, this team is now the St. Baldrick's EPICC Team (Empowering Pediatric Immunotherapies for Childhood Cancer).
One year ago today, the St. Baldrick's Foundation announced the Stand Up to Cancer – St. Baldrick's Pediatric Cancer Dream Team, a group of the best and brightest pediatric oncology researchers focused on developing innovative therapies for childhood cancers. Becky Weaver, chief philanthropy officer of the St. Baldrick's Foundation, shares this update on the Dream Team's work.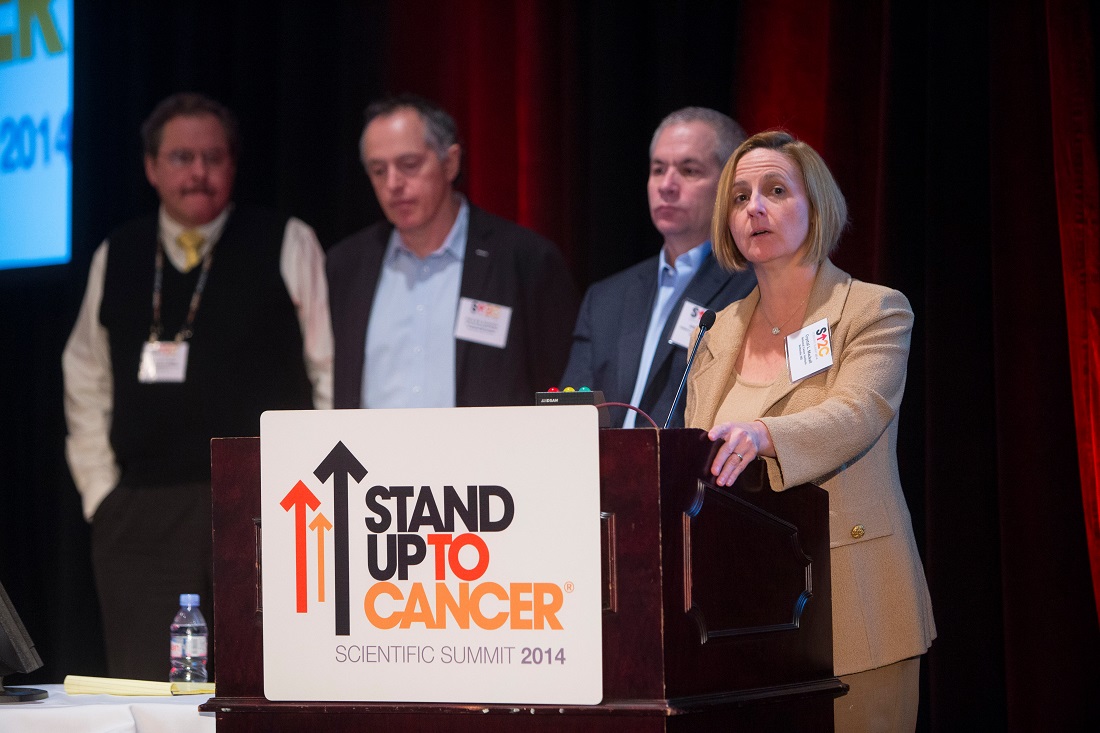 Dr. Crystal Mackall, co-chair of the Stand Up to Cancer – St. Baldrick's Pediatric Cancer Dream Team, speaks at the Stand Up to Cancer Scientific Summit.
If you're not a scientist and you want to know what the
Dream Team
is up to, I'm your guide.
To learn about the Dream Team's first six months of progress, I went to the Stand Up to Cancer (SU2C) Scientific Summit in Pasadena, California. The St. Baldrick's Foundation is the first pediatric cancer organization to partner with SU2C to fund a Dream Team. Representatives from other funding partners were there, too.
There we sat in a room full of people so smart they made my head spin. So if they can make me understand what's going on, I can pass it along and you'll be just fine.
Here are a few of my observations: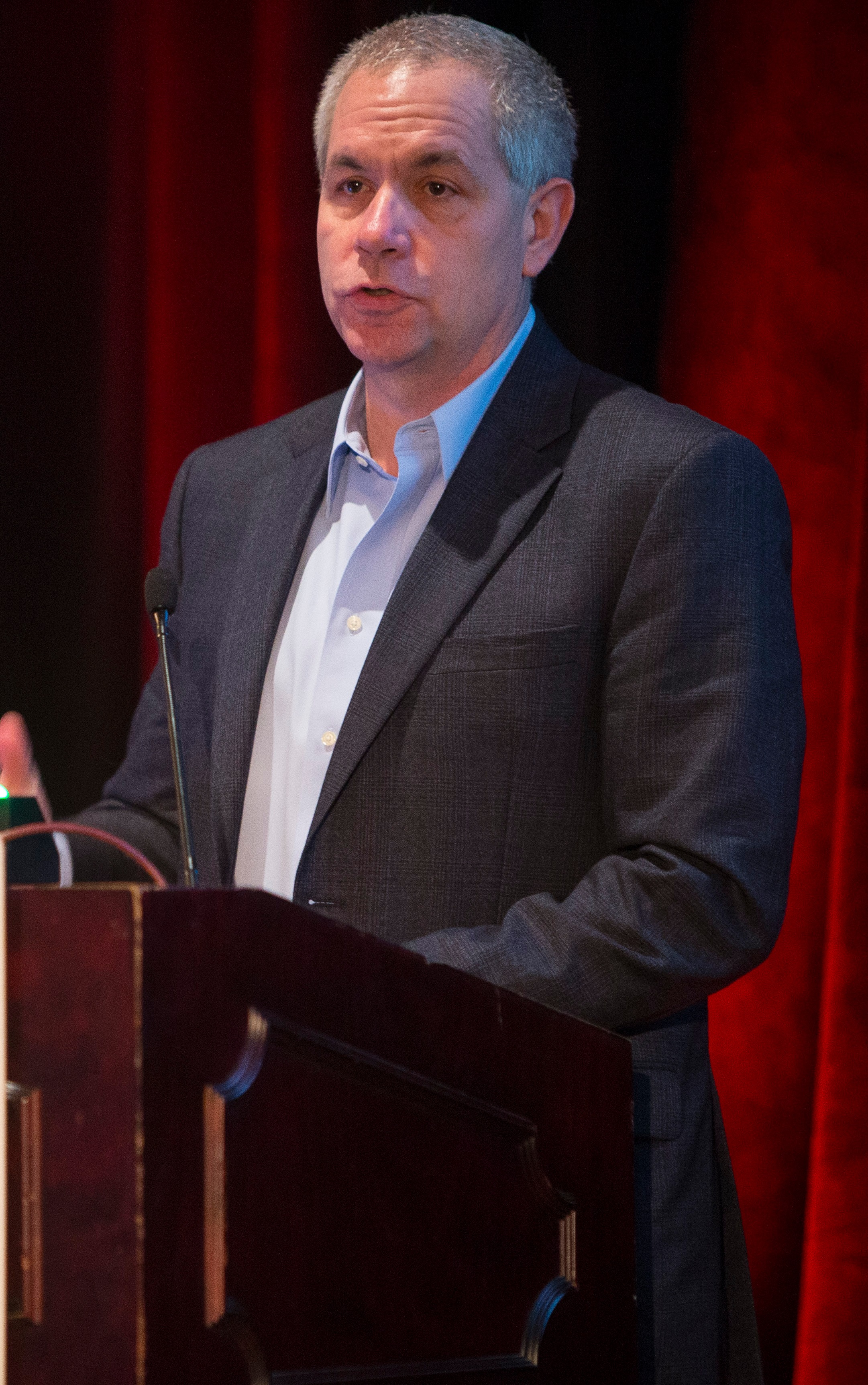 Dr. John Maris, co-chair of the Stand Up to Cancer – St. Baldrick's Pediatric Cancer Dream Team, speaks at the Stand Up to Cancer Scientific Summit.
Impressive:
  While
all
the Dream Teams are doing great things, I wasn't the only one who seemed particularly excited by the
Pediatric Cancer Dream Team's report
. As soon as the presentation was over, the room came alive with questions and comments from other researchers. There wasn't enough time to cover it all.
Getting the research to patients: Many Dream Teams have a goal of using their discoveries to open a clinical trial by the end of their funding period. Our team had started working toward this even before funding began, and they already have six trials open with another five coming soon.
One quote I wrote word-for-word: "Early results show some stunning activity — tremendous anti-tumor response in some very difficult pediatric cancers."
For example, in one immunotherapy study, 22 children with leukemia were treated and 19 had "complete responses" (it went away). Some adults were treated, too, and the overall complete response rate was 89%. This is all very new, and five patients have relapsed to date, but this is making news!
This caught my ear: Researchers are working with a protein found in the malaria parasite. It finds and attaches itself to cancer cells, so if we can arm it with a weapon, it can kill those cells and not healthy ones. This may eventually help not only childhood cancer patients, but adults with melanoma or other cancers as well.
The first part of this one is easy to understand: "If you put all your eggs in one basket — or one treatment — the tumor will develop resistance or find a way around that treatment." This was followed by something about "tumor heterogeneity leads to immune escape …" I'm glad they're working on it!
There was talk of T cell exhaustion, CARs (chimeric antigen receptors), something called a suicide vector, and so much more. If you want to know more about anything, let me know. Really. I'll make it my personal challenge to learn and report back!
Meanwhile, I'm happy to report that the first six months of the Pediatric Cancer Dream Team have been very productive. Our folks are knocking the socks off of some very smart people. Mine, too!
Read the simplified six-month progress report from the Dream Team leaders here.
Help fund the Dream Team's childhood cancer research. Make a donation now.
Donate
Read more about kids' cancer research funded by St. Baldrick's: