Formerly known as the St. Baldrick's – Stand Up to Cancer Pediatric Cancer Dream Team, this team is now the St. Baldrick's EPICC Team (Empowering Pediatric Immunotherapies for Childhood Cancer).
I have something exciting to tell you, but first, here's something I heard and quickly scribbled down during a meeting about research priorities: "It's like we caught lightning in a bottle – and you just don't know when that will happen again."
That was one of our expert advisers talking about the amazing, incredibly fast and impactful work of the Stand Up to Cancer – St. Baldrick's Pediatric Cancer Dream Team, funded jointly by the two organizations from 2013 through 2017.  It was such a perfect description, it has stuck with me for more than a year.
This team of 150 researchers from eight institutions across North America has been working on new immunotherapy treatments for childhood cancers.  In less than four years, their work is already saving lives.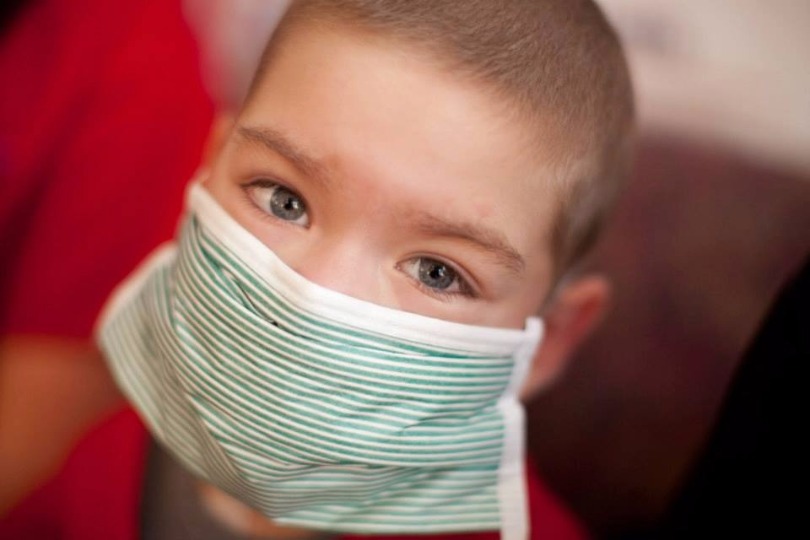 Honored Kid Austin was diagnosed with a high-risk form of acute lymphoblastic leukemia when he was 2 years old. Now a survivor, he was one of the first kids treated on a trial of the immunotherapy Kymriah, which was developed with help from the Dream Team.
Every one of the experts who had looked closely at the team's work agreed that this was work that must continue.  To me, it was only natural for St. Baldrick's to make that happen.  And by St. Baldrick's, I mean you – our donors and volunteers who make the funding possible.

So, I'm thrilled to announce that the Dream Team is back – with a new name and a continuing determination to find cures for childhood cancers.
The St. Baldrick's – Stand Up to Cancer Pediatric Cancer Dream Team will continue from 2018 through 2022, with primary support from St. Baldrick's.
We will invest $2 million a year for four years, for a total of $8 million – dependent on continuing success, which we fully expect, given the team's track record.  SU2C will continue to cover administrative costs, and our Dream Team will continue to participate in its Scientific Summits and other research opportunities.  And now each of the eight member institutions is also committing significant support, to make up the remainder of the $16 million total.
The team's aims remain the same as before – they will continue to:
Discover new targets on childhood cancer cells that the immune system can recognize.
Develop immunotherapy treatments to hit those targets and kill cancer cells.
Conduct clinical trials to test these new treatments.
Here are a few highlights from the first four years.  The Dream Team…
… contributed in a big way to getting the first gene therapy in the U.S. approved by the FDA. Called Kymriah, this revolutionary treatment is curing 83% of childhood leukemia patients who had no other hope.  If you missed it, now's the time to check out the story of SBF and Kymriah on our blog.  Here's Part I.
… helped develop another CAR-T cell therapy, Yescarta, the second gene therapy approved by the FDA.  This treatment is labeled by the FDA for use in adults with certain types of lymphomas – but it's also the one that saved our own Ambassador Phineas!
… discovered an immunotherapy target that could be a game changer in neuroblastoma – and many other cancers.
… is beginning to learn why these amazing treatments don't work for every child and how to maneuver around those road blocks.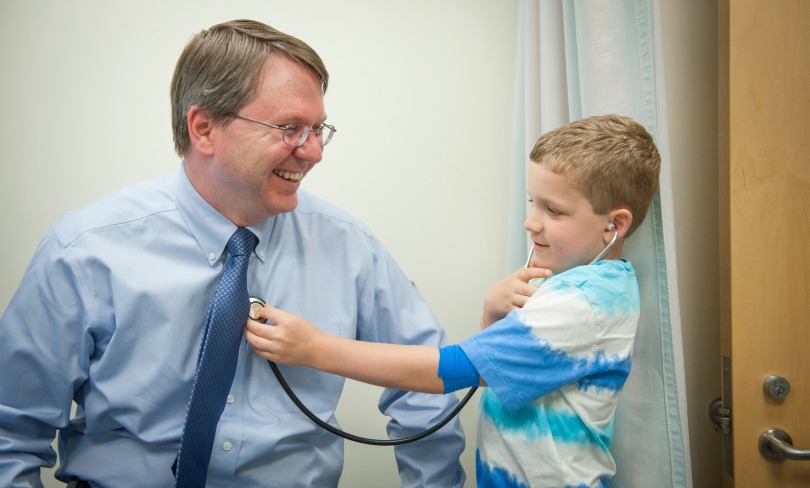 In a reversal of roles, 2016 Ambassador Phineas gives excellent medical care to his doctor, Dr. Daniel Lee, a former Dream Team member and now Director of Pediatric Stem Cell Transplant at University of Virginia School of Medicine.
Immunotherapy "wins" have come much faster in blood cancers (leukemias) than in solid tumors, so far. So in this new grant period, the team will continue its progress in leukemias, but also ramp up its work on hard-to-cure solid tumors like DIPG, neuroblastoma and others.
The Patient Advocates Committee for the Dream Team now includes members representing each of the member institutions. These advocates will inspire the researchers, learn about the work, seize opportunities in ways only advocates can, and help us keep telling the Dream Team story. You can look forward to hearing more from this committed group.
As the largest funder of childhood cancer research grants aside from the government, St. Baldrick's has more terrific research to fund every year.  I have scribbled down great quotes about many other projects, too, believe me!  But I'm so excited that our board decided that 'lightning in a bottle' is something to hold onto.  And I'm so grateful to every St. Baldrick's volunteer and donor for making that possible.

Thank you.
Sincerely,
P.S. One more thing you should know:  An anonymous (and wonderful) foundation will match all new and increased gifts from now until the end of 2020.  (And they'll match up to $75,000 a year per donor!)
Together we can take childhood back from cancer. Donate to lifesaving research today.
Donate
Read more on the St. Baldrick's blog: