Leslie recounts how her life changed when her son was diagnosed with childhood cancer, and how her shave with the 46 Mommas helped her regain control. Donate on Leslie's head.
Leslie Jermainne and her son, Brian, after she shaved her head at the 46 Mommas head-shaving event in July.
On April 18, 2013, a man I had seen only two times stood over me and said the worst words I have ever heard. "Your son has lymphoma."
This surgeon was supposed to come tell me my son had a harmless lipoma in his abdominal wall and a simple infected lymph node under his right arm. He wasn't supposed to get a little emotional himself, telling me he had never had this happen with a child before — an adult, yes, but not a child.
Next I had to be led blindly into the darkened recovery room to see my baby boy. My baby boy was 15 at the time, but he was still my baby. He was groggy and he listened as the doctor told him the same words he had told me.
When it was time to get dressed to go home he asked me, "That's cancer, right, Mom?"
"Yes, Brian. It's cancer." Those were the words worst I have ever said.
On April 19, 2013, we entered the hospital under a whirlwind of confusion, fear, anger, and love. We thought he'd have a few tests and we'd go home. We didn't leave the hospital for the first time until 10 days later.
By that time my son had undergone a myriad of tests, had surgery to place a port in his chest, had two lumbar punctures with chemo administered directly into his spinal column, and had received his first round of chemo. We would do the chemo routine four more times, each time entering the hospital for a week-long stay, then going home to watch his blood counts crash and then recover — barely.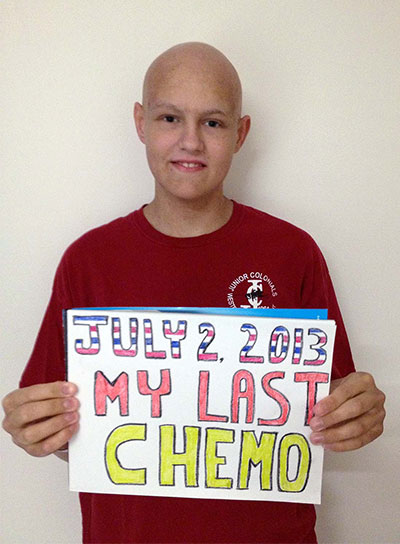 Brian on his last day of chemo.
Brian's official diagnosis was stage III Burkitt lymphoma, a very aggressive form of
non-Hodgkin lymphoma
. He went through all rounds of treatment on schedule and had no readmissions for fever or sickness.
On July 2, 2013, we left Boston Children's Hospital for the last time. He was in remission and we were going home to recover and get back to life.
But here's what happens. You do not go "back to your life." There is no going back. And it takes a while to find what they call your "new normal." It takes some time to realize you can only move forward as a new and different person.
It took me some therapy sessions, a PTSD diagnosis, a lot of reading and writing to recover. It's a process that is not done yet, but well on the way.
In June 2014 I saw information about a group of women called the 46 Mommas. I was intrigued. These woman were going to shave their heads to raise money for St. Baldrick's to fund childhood cancer research. The event would be held in July in Boston.
It was serendipitous for me. Boston, our treatment city. July, the one-year anniversary of Brian's remission. I couldn't sign up fast enough.
On July 27, 2014, as the clippers ran over my head and I looked out into the crowd to see my beautiful son staring back at me, I was filled with power, enthusiasm, and once again, love.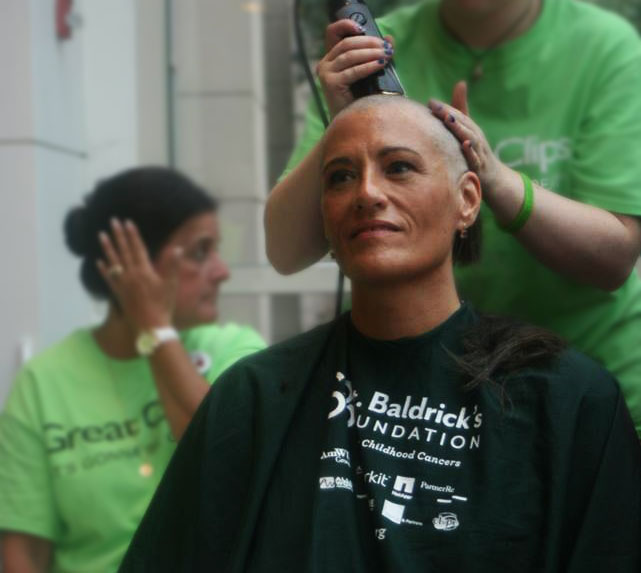 Leslie at the 46 Mommas Shave for the Brave event in July.
All these brave Mommas who have heard the horrible words, "Your child has cancer," so many of them unable to look out into the crowd and see their babies' faces because their children are watching them from heaven. I was so very lucky, and I remember that every single day.
For me, that day was the day I took my life back from childhood cancer.
In a way, I made myself very vulnerable by walking around in the world with a bald head. But in reality, I have never felt as strong and fearless and proud.
The worry will never be over. Every mother worries about her babies, cancer or no cancer. But thanks to St. Baldrick's, I had the ability to give back, pay it forward, and find my strength, all by shaving my head.
Join Leslie and the thousands of others taking a stand against childhood cancer. Be a shavee℠.
Be a Shavee
Read more on the St. Baldrick's blog: