Liam Webb gave great hugs, told the best knock-knock jokes, and would have probably been an extraordinary rock climber one day, considering his love of scaling trees and fences. Read on for more about this amazing kid and why his parents love St. Baldrick's and the research we fund.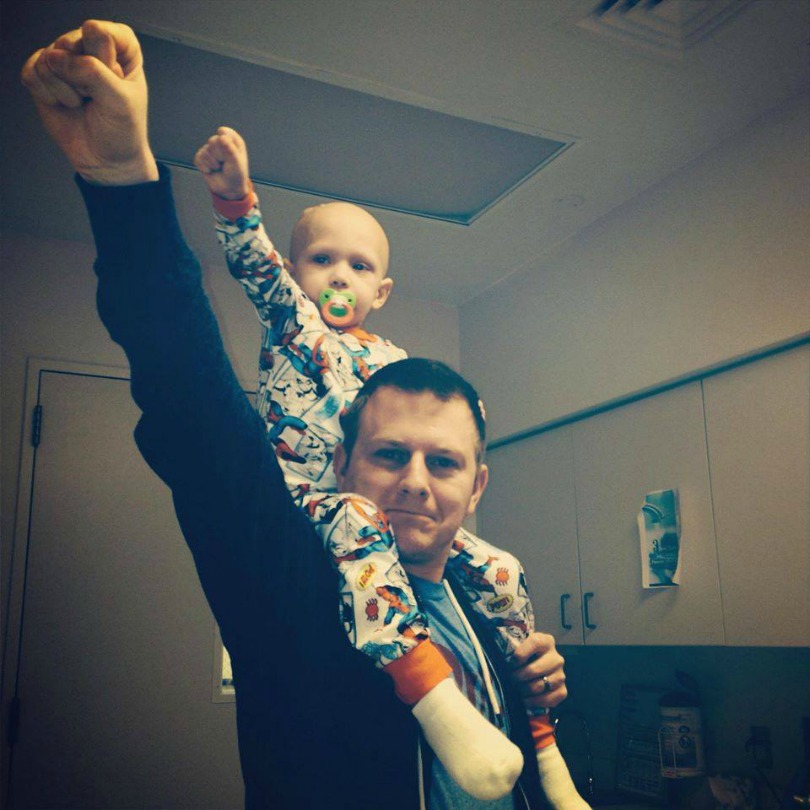 Liam and his dad strike a superhero pose.
Liam was an adventurous kid, particularly when it came to climbing. The tree in his front yard drew the boy like a moth to a flame.
He'd shed his clothes and climb up into its branches. The 3-year-old would perch there in his front yard, naked as the day he was born, until his mom, Carli, inevitably discovered him.
Then there's the fence around his backyard. It was irresistible to Liam. He'd scale it and then take a walk around the block. His mom would call for him over and over, wondering where her son was.
Then the doorbell would ring.
"That was him," his dad, Christian, said with a chuckle.
BLOG: Childhood Cancer Facts >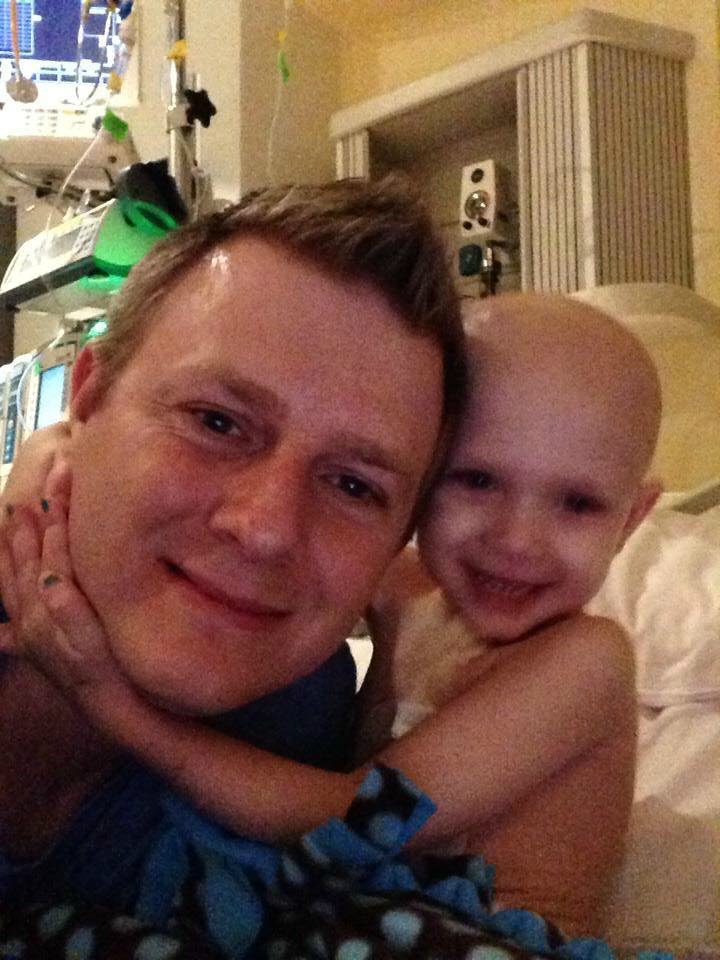 Liam gives his dad a squeeze.
Liam's adventurous spirit was big, but his compassionate heart was bigger. Christian remembered a time in the hospital when he and his wife broke down. Amidst their tears, they felt a hand on their shoulder.
"That was his signature move," he said. "He would come up and give us a hug and then you'd feel his hand right on your back shoulder. He'd pat it. It was his way of letting us know that everything was OK."
It all started in the spring of 2013. Liam would throw up in the morning and then bounce right back. Then his grandmother noticed something odd. The 3-year-old's head was tilted to the right.
Carli took him to the pediatrician, who thought the boy had injured his neck. The doctor prescribed ibuprofen and told Carli to come back with Liam in two weeks if it hadn't gotten better.
It didn't get better.
Something else was going on and something needed to be done, fast. So, they brought Liam to the emergency room.
The doctors did a scan. Then, one of them approached Christian and Carli in the lounge while Liam was watching a movie. The doctor told them to turn the volume down.
"He said, 'We found a mass in your son's brain,'" Christian recalled.
"Nothing really prepares a parent for that. You don't think that will ever happen to you," he continued. "We were caught off guard. We had no idea what the next steps were. It was a whirlwind."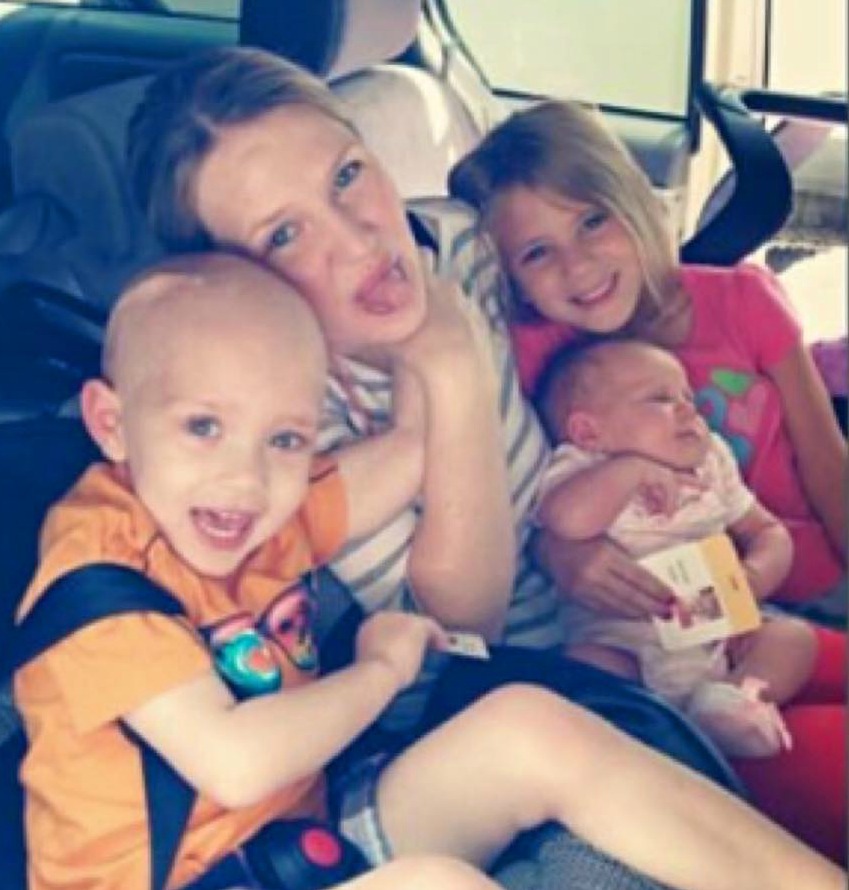 Liam smiles with his sisters while his mom, Carli, pulls a funny face.
That was a Friday. On Monday, Liam went in for brain surgery to remove the tumor. They learned it was an atypical teratoid rhabdoid tumor, or ATRT.
After recovering from meningitis and a staph infection after the surgery, Liam underwent six weeks of proton radiation. Then there were three rounds of high-dose chemo to kill anything that remained of the aggressive tumor.
"The actual protocol was four rounds of high-dose chemo," Christian said. "But he only made it through three."
The toxic chemotherapy had decimated the little boy's immune system. After his third round of chemo, Liam came down with a respiratory infection.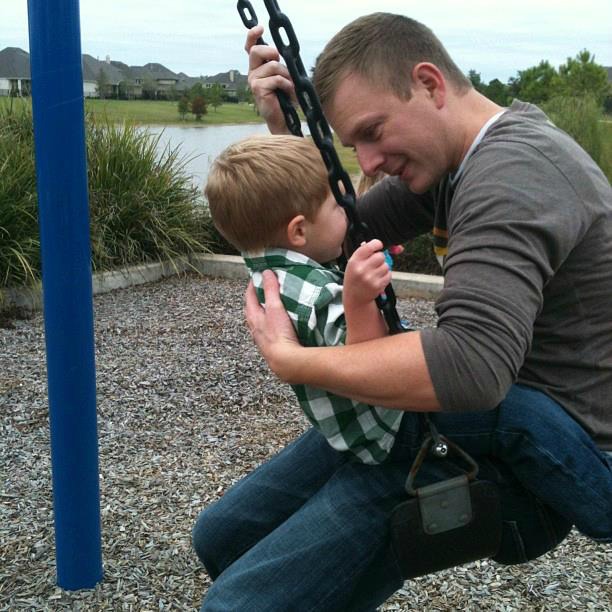 Christian holds Liam tight on a playground swing.
"At one point he spiked a fever that didn't even read on the thermometer, it was so high. There were four or five nights of endless coughing," Christian said. "They moved him down to the NICU and we were there for two days."
Without his immune system to protect him, the infection attacked Liam's lungs, destroying them. He passed away on November 23, 2013.
Christian and Carli want better, less toxic treatments for kids like Liam. That's why they support St. Baldrick's.
BLOG: What Pulled Me Into Brain Tumor Research >
They first heard about St. Baldrick's when Liam was in chemotherapy, and Carli fell in love with the foundation right away, Christian said.
"Her reasoning was that it was the way that St. Baldrick's looks at children who have cancer. It's not a number or a statistic or 'give as much chemotherapy as we can,' it's 'let's actually find cures that are less toxic, less harmful for kids,'" he said. "That's why we choose St. Baldrick's."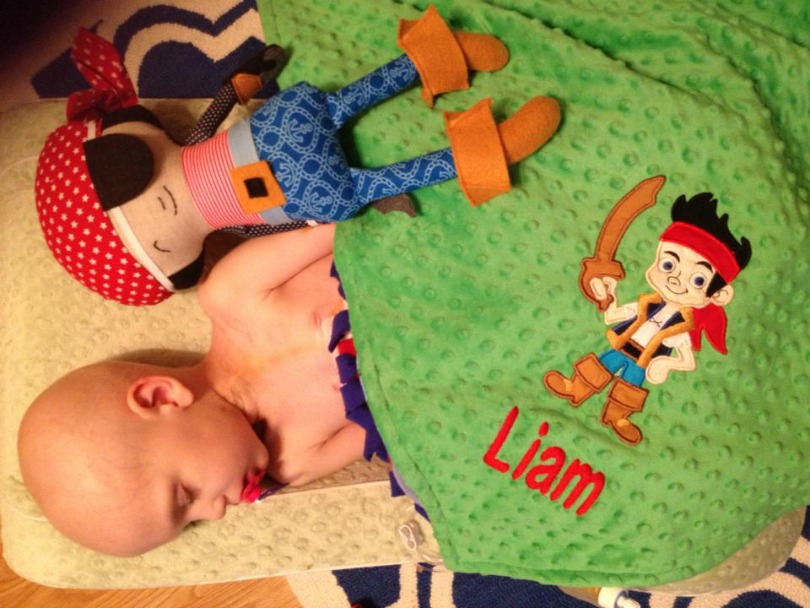 Liam sleeps under a blanket made just for him.
Each year, Christian and Carli throw a big party for Liam's birthday, complete with bouncy houses, music, and food — everything Liam would have loved. They also raise awareness and funds to combat childhood cancer.
Most of all, they remember their son. The boy who loved to dance, even when he was in treatment. The boy with the affinity for knock-knock jokes — even if he couldn't understand them — and who loved painting his nails with his big sister. The boy who, in the midst of the battle of his life, comforted others.
"We always want to give back," Christian said. "That is what Liam is and what he was. He was always giving back."
All kids deserve to grow up and live long, healthy lives. Give to childhood cancer research today.
Give
Read more on the St. Baldrick's blog: