Since his birth four years ago, little Ezra has learned to love airplanes, chocolate milk, and his big brother. He's also learned what it's like to have childhood cancer. Read what Ezra's mom, Elisabeth, has to say about his early diagnosis and how some bad news ended up saving Ezra's life.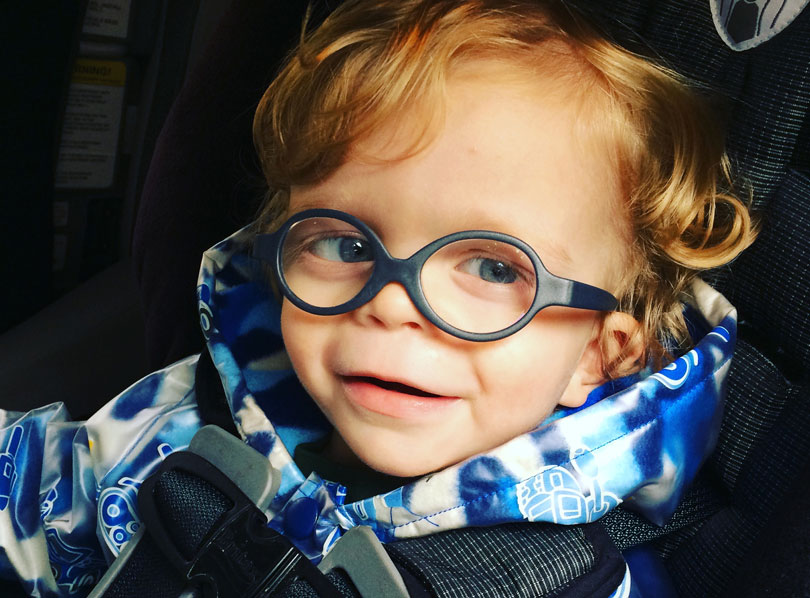 Ezra, now in remission, was diagnosed with juvenile myelomonocytic leukemia (JMML) when he was 4 months old.
On the morning of April 20, 2013, we welcomed our second son, our sweet, little Ezra. For a couple hours, all was well with the world.
We can't remember the exact moment, or the exact words that first brought news of Ezra's medical issues, but nothing could have prepared us for the frightening journey we embarked upon that day.
The days that followed Ezra's birth — days that should have been filled with joy and happiness and getting to know our sweet boy — were filled with so much sadness, so much worry, and countless trips to doctors' offices and hospitals.
At the beginning, the prognosis looked good. We remember optimistic words from doctors like, "He looks great! This all will probably clear up on its own." But that was followed quickly by much less optimism, confusion, and head scratching — for many months. There were countless blood tests, ultrasounds, genetic testing, and multiple sedated procedures.
It wasn't until Ezra's second bone marrow biopsy at 4 months old that we finally had our diagnosis: juvenile myelomonocytic leukemia (JMML), a rare cancer with a survival rate of 50%. In a typical child, the only hope for a cure for JMML is a bone marrow transplant.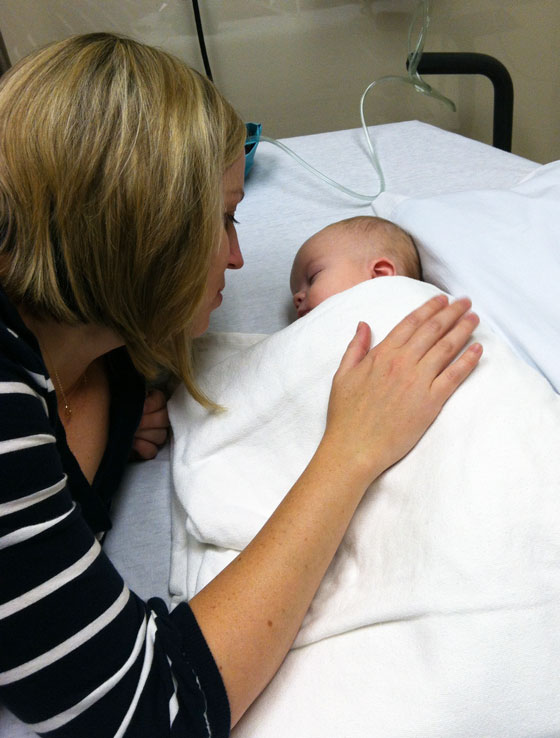 Elisabeth gazes over baby Ezra during a hospital stay in 2013.
We immediately began the search for a donor, starting out by testing our then-3-year-old son, Judah, to see if he was a match. He wasn't, so we turned to the donor registry next.
Ezra underwent surgery to implant a feeding tube because the doctors thought he couldn't survive a transplant without one. He began an oral chemo regimen to stabilize his blood counts and shrink his dangerously enlarged spleen.
BLOG: Babies and Cancer [Q&A] >
Those were some of the longest and most difficult days of our lives.
Our story took a turn, though, when Ezra was 6 months old and his last round of genetic testing revealed that in addition to JMML, he also has a genetic disorder called Noonan syndrome.
Ezra rocking his Mickey Mouse ears in front of the Disneyland castle.
Of course most parents would be devastated to learn their child has a complex genetic disorder, but we refer to it as the best worst news we ever received.
For some reason, children with both Noonan syndrome and JMML can go into spontaneous remission without a bone marrow transplant.
After two months of chemo, more vomit that you could possibly imagine, and countless blood tests, Ezra's JMML was in remission.
BLOG: Researcher Targets Childhood Cancer With a Virus >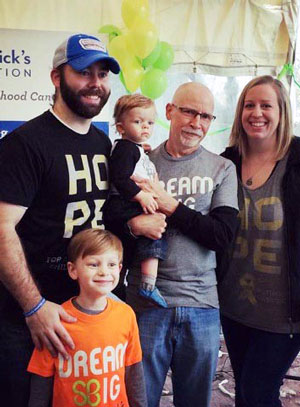 Ezra and his family joining the fun at their local St. Baldrick's head-shaving event in Tigard, Oregon.
It's hard to believe how far Ezra has come since that first year of his life that was all-consumed by JMML. Today he is a pretty typical 4-year-old who loves airplanes, playing outside with his big brother, being read to, the color orange, listening to the Annie soundtrack on repeat, and chocolate milk.
Despite all he's been through, he is the most resilient and tenacious little guy!
Our journey with childhood cancer is not over, though. Just this past December we had another JMML scare which quickly sent us back on an emotional roller coaster filled with blood tests and another bone marrow biopsy.
Thankfully it was only a scare, but it reminded us how serious this disease is — how indiscriminate and relentless it can be, and how important it is to keep spreading awareness and raising money for research.
We are so proud of Gary, Ezra's grandpa, for his conviction to become a shavee℠ for St. Baldrick's and to make it an annual commitment.
And we are thankful to St. Baldrick's for funding the research that is so desperately needed to help Ezra and kids like him.
Read more about Ezra in a guest blog from his grandpa Gary.
Help more kids like Ezra get back to being kids. Donate to childhood cancer research today.
Give

Read more on the St. Baldrick's blog: