This Mother's Day, St. Baldrick's CEO Kathleen Ruddy reflects on the strength of the moms of kids with cancer, the gifts they give every day, and what we can do to give back.
Ambassador Julia cuddles with her mom, Melissa. When she was 8 years old, Julia was diagnosed with a grade 2 ependymoma in her brain. After many tough treatments, she's now stable.
Over the years that I've worked at St. Baldrick's, I've met thousands of cancer moms. I have cheered with them when times were good and I have ached for them when times were bad. Most of all, I look at these strong women and I am inspired. These women are dragon slayers. They are rocks – steady, stable and present. They are advocates and warriors, fighting for their child's best interest, and at the same time, trying to keep their own fears at bay. These women are thrust into the role of nurse and teacher and therapist. They are master jugglers, balancing career and relationships and home and hospital.
Amid it all – the dragon slaying and juggling and advocating – they try to preserve those precious moments when their child can just be a child.
They are remarkable.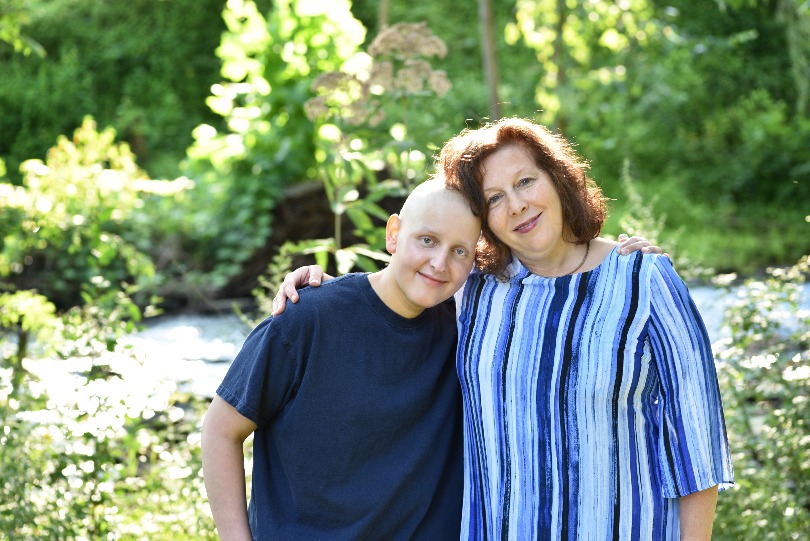 Ambassador Zach with his mom, Nancy. After three battles with cancer, Zach received CAR T cell therapy, a revolutionary new treatment from a St. Baldrick's-funded researcher, where Zach's own immune cells were engineered to attack the cancer. He's now back to enjoying life.
One of the most valuable lessons I've learned from cancer moms is to keep things in perspective. I get mired in my day-to-day problems like anyone else, but compared to fighting for your child's life, my problems are largely manageable and I give thanks for the opportunity to tackle them and to put them behind me.  The gift of perspective is reinforced each day in my work.
Now, this Mother's Day, we ask ourselves: What is the greatest Mother's Day gift we can give these dragon slayers, these jugglers, these remarkable women?
The answer is obvious.  The best thing we can do for these moms is to take better care of their kids. We can fund the research that will produce more effective therapies with fewer, less threatening side effects, so these kids can live long, healthy, independent lives. We can support the most promising research, so these kids grow up with their limbs, organs, senses and cognitive abilities intact, free of chronic pain and the threat of secondary cancers. We can find cures.
Then cancer moms can stop fighting cancer, and focus on teaching their sons and daughters to read, or tie shoes, or helping them with homework, or to navigate the difficult teenage years.  They'll get to be Moms – Moms with hope for their child's future.
Ambassador Brooks laughs with his mom, Tracey. When Brooks was 5 years old, he was diagnosed with two stage 4, inoperable anaplastic astrocytomas in his brain and would later develop another tumor on his cervical spine. After a tough fight, he passed away at age 6 in May 2016.
This Mother's Day, I will be thinking of all cancer moms – the moms of kids in treatment, the moms of survivors and the moms of children who have passed. To all of you, I wish you a Mother's Day full of peace and love, and free from pain, grief and worry. I wish you a Mother's Day full of fun, laughter, hugs and memorable moments.
Most of all, I wish you a Mother's Day free from childhood cancer.
Together we can take childhood — and motherhood — back from cancer. Fund lifesaving research today.
Donate
Read more on the St. Baldrick's blog: