When people say good things come in small packages, they must be talking about Honored Kid Gabriella. Read on to find out more about this pint-sized inspiration and how her family is showing their love not only for her, but also for other kids with cancer.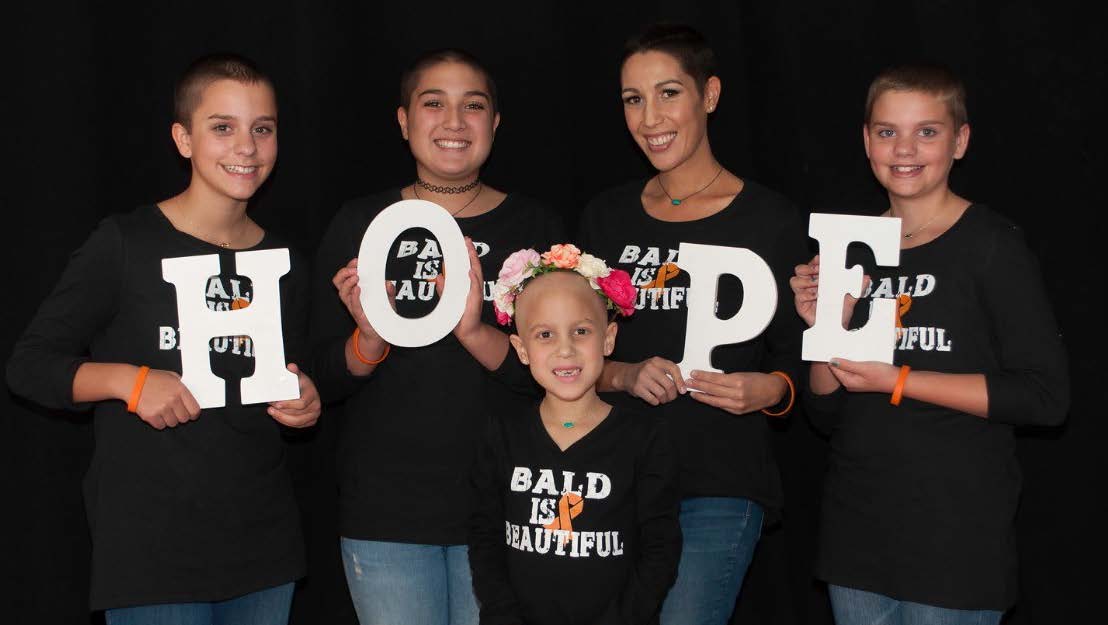 Gabriella with her sisters and mom, Jennifer. From left to right:  Sophia, Adriana, Gabriella, Jennifer, and Sabella.
There's something very special about Gabriella. Behind her contagious laugh and love for cracking jokes is deep compassion for others far beyond her seven years. This gift gives Gabriella the ability to inspire and touch the hearts of all who know her.
But it wasn't always that way.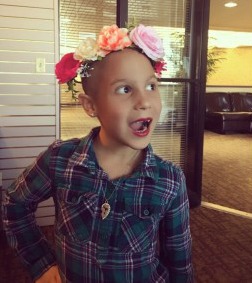 Gabriella shows her signature spunky attitude.
Jon and Jennifer Kovach knew something was wrong when the then 6-year-old wasn't acting like herself – she had low energy, bruises and aching bones. When they took Gabriella to the doctor, the family was not prepared for the diagnosis.
Jon recalls that day a year ago, on July 26, when five doctors gave them the devastating news. Gabriella had pre-B acute lymphoblastic leukemia, a rare cancer that would require intense treatment for 2 ½ years.
"Our hearts were crushed," he said. "She was 6 years old, our youngest and the one child we have together, as the rest of our kids come from previous relationships."
Help Gabby's St. Baldrick's team meet their goal — give to Hope For Gabs >
Gabriella cried when she learned of her diagnosis, because she would lose her hair. But she bravely began treatment at Children's Hospital Colorado and lo and behold, 11 weeks later, she still had her hair.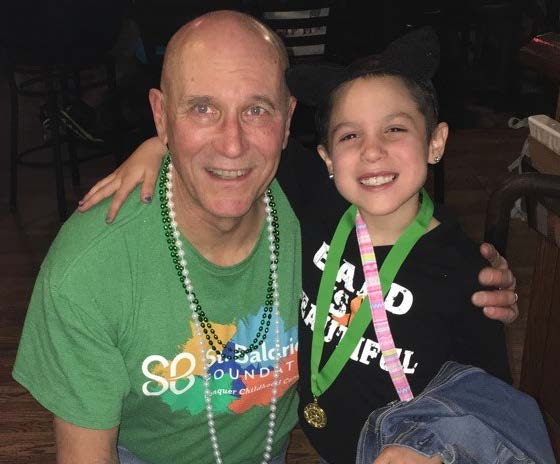 Gabriella gave this shavee her beaded necklace as a donation for shaving off his mustache. He gratefully and tearfully accepted, letting Gabriella hold the clippers during the shave.
Her dad was amazed at what Gabriella chose to do next.
"She decided she wanted to show the other kids in the hospital that they could still be beautiful, because hair doesn't give you beauty," he said.
With a heart that cares more for others than herself, Gabriella shaved her head.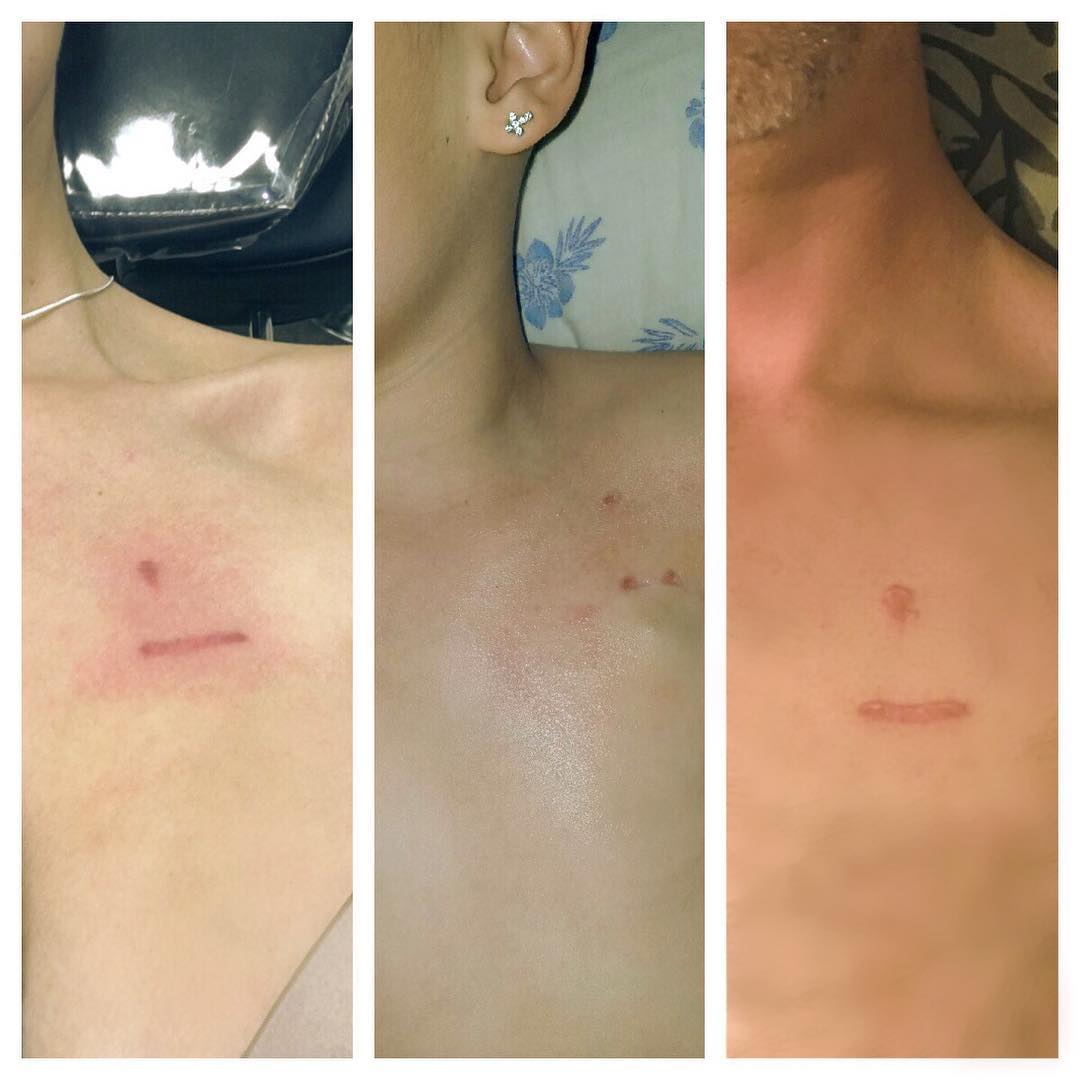 Gabriella (center) was left with a scar after doctors inserted a small plastic device, called a port, under the skin of her chest, so her chemotherapy could be easily administered during treatment. After the surgery, her parents (on left and right) got matching tattoo 'scars,' so Gabriella wouldn't feel alone.
With that selfless act as their inspiration and as a show of support, the Kovach family started a new family tradition.
On March 3, they shaved at the Stoney's Bar and Grill event in Denver, CO. Gabriella spoke at the event, thanking everyone for helping kids like her.
Raising money for childhood cancer research took on a whole new meaning for the family. But shaving together was not the only thing the Kovach family did to stand with Gabriella in her fight.
Jon and Jennifer decided to get tattoos that look like the scars Gabriella has on her chest from the insertion of her chemotherapy port.
"Jennifer asked me what I thought about tattooing her scar on our chests and I told her I was thinking the same thing," Jon recalled.
They found a tattoo parlor near home and got it done. Gabriella's older brother also got tattooed and added her name in Arabic.
When she grows up, Gabriella wants to be either a construction worker or a Child Life Specialist. Here's why: she has a heart for the homeless and wants to build homes for every one of them AND she wants to make getting through treatment a little easier for kids with cancer, like Child Life Specialists do.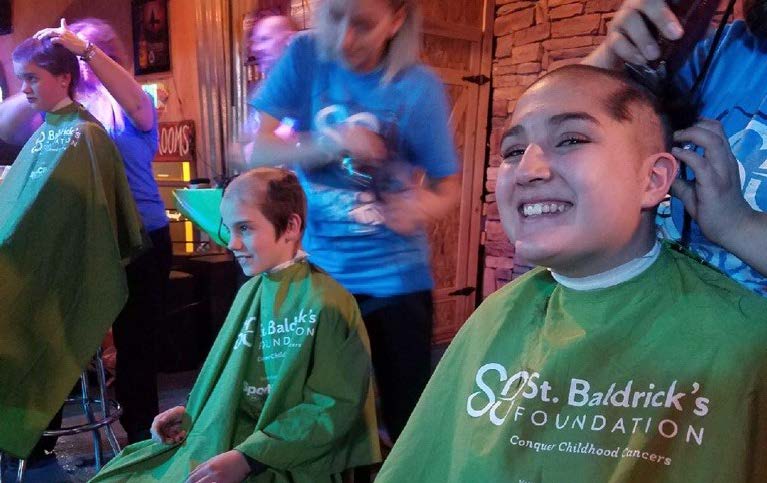 Gabriella's siblings rock the bald together at the Denver event.
Fighting cancer has given this little girl the opportunity to inspire so many with her courage, her zest for life and her gift of compassion. Her dad is so proud. Gabriella is "inspiring," he said.
Standing beside Gabriella is her family. Together, they will see this through.
Inspired? Join Gabriella and take childhood back from cancer. Give to lifesaving research today.
Give
Read more on the St. Baldrick's blog: