Honored Kid Atticus was diagnosed with a rare form of brain cancer called choroid plexus carcinoma (CPC) after a scan revealed a tumor the size of a tennis ball. Now, the 2-year-old is halfway through chemotherapy and feeling better, and he and his family are ready to face the road ahead.
Atticus seemed like happy, healthy baby.
"He was very self-sufficient as a baby," said his dad, Caleb. "He loved being on the floor and playing around."
But suddenly, Atticus' easy-going demeanor changed.
BLOG: 10 Facts About Childhood Cancer >
He became so clingy, his parents couldn't set him down without him making a fuss. This noticeable personality shift, combined with bad headaches and one sleepless night after another, alarmed Caleb and Emilie, so they took him to a family doctor to get some answers.
An MRI scan revealed a massive tumor in the baby's brain.
It was choroid plexus carcinoma (CPC), a brain tumor that mostly affects infants.
CPC tumors like Atticus' often start in the ventricles of the brain, an important area that produces spinal fluid. Atticus' tumor had already gotten so large, it was in danger of completely entrapping the ventricle it originated in.
Atticus with his mom and dad during a hospital stay.
Just four days after his diagnosis, Atticus had brain surgery.
It was successful.
"Luckily they were able to get all of it, which was phenomenal," Caleb said.
But Atticus' journey wasn't over. The little boy has weathered four rounds of chemotherapy, with two still to go.
BLOG: What You Should Know About Childhood Cancer >
"These last three cycles are typically the hardest," Caleb said. "It's almost to the level of a bone marrow transplant level of chemotherapy, and it just really wipes him out."
Atticus has lost some of his hearing as a result of this treatment, and may even need hearing aids if the treatment continues. But Caleb and Emilie are taking it all in stride.
"Emilie and I keep saying, if hearing is the primary problem for his life, that's a pretty easy one to deal with," Caleb said. "We would rather have him here than for him to have his hearing and not be here."
Atticus and his mom recuperate in the hospital.
Still, some complications are greater than others.
Atticus' most recent round of chemo gave him a serious gastrointestinal infection that resulted in an extra two-week hospital stay.
Now, Caleb and Emilie have some decisions to make regarding the future of Atticus' treatment — and, with little to no data on this rare type of cancer, that decision is even harder to make.
"Hopefully this won't happen again, but we have to start talking about if it's worth doing the exact same chemotherapy in light of what happened," Caleb said.
BLOG: The Two Biggest Threats Facing Kids' Cancer Survivors >
For now, they've decided to postpone the next chemo cycle in order to give them time to decide what's right for Atticus in the long run.
"We have to get the tumor taken care of, but at what cost?" Caleb said. "You don't want any permanent life-long consequences of just trying to get rid of this tumor and then have all these other problems as well."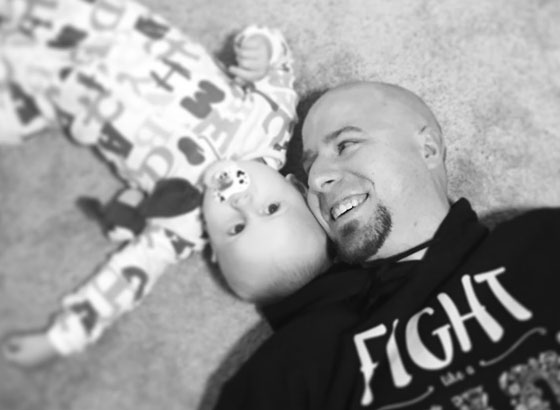 Atticus and his dad, Caleb, hang out on the floor — one of Atticus' favorite things to do.
In the meantime, Atticus is starting to look a little bit more like his old self again — a "tenacious, fighting little kid," as his dad puts it. And he's been enjoying their outings to different parks in the city and window-shopping at local malls.
"Typically, he's an outdoor kid. He just likes being out somewhere," Caleb said. "Honestly, he's done really well throughout all of it. It's been really nice to see him have that desire to just get up and go."
Help kids like Atticus get back to being kids. Get involved and raise funds for childhood cancer research today.

Get Involved
Read more on the St. Baldrick's blog: