Today, Danielle Leach, our Director of Government Relations and Advocacy, is on the Hill to advocate for a new bill that will help kids with cancer get the care they need. She explains what the PCHETA Bill means for kids with cancer and how you can take action right from home.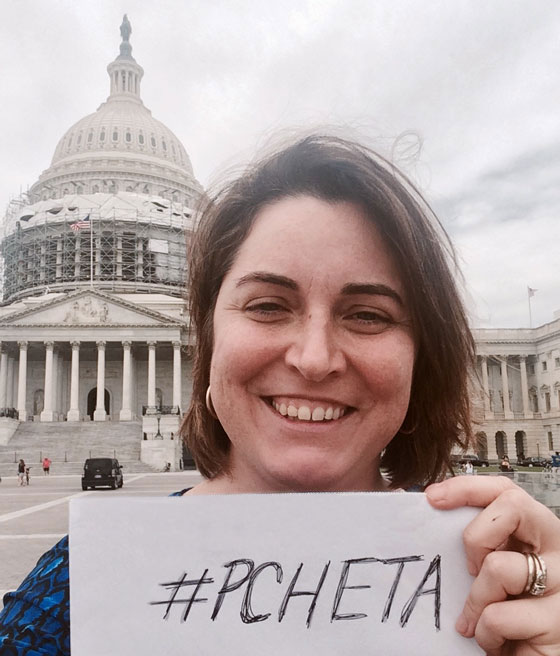 Danielle stands in Washington, D.C., advocating for the PCHETA Bill.
There is nothing worse for a parent than to see their child in pain.
I remember once when I drove Mason to the hospital, racing through D.C. traffic as he yelled in pain. He said, "Take me to Nurse Debbie and Dr. Rood, they can fix me!"
Those are the kinds of healthcare providers we want for our children as they go through cancer. Ones they can trust. Ones they feel can help them through the horrors of childhood cancer treatment.
Read Mason's childhood cancer story >
Today, I will be on Capitol Hill representing the St. Baldrick's Foundation with the Patient Quality of Life Coalition, a group of 38 organizations dedicated to patients and families facing serious illness, including survivors. It promotes public policy that strives to improve access to high quality palliative care.
Our children should not suffer. The goal of pediatric palliative care is to optimize quality of life and well-being of children with life-threatening illnesses by anticipating, preventing, and treating suffering in all its forms, from the time of diagnosis and throughout their treatment and care.
It's not only a child's issue, it's a family issue.
As a mom, I would do anything to make Mason's life as livable as possible. His care team helped us do that as best they could.
I will be talking with legislators about a bill called PCHETA: Palliative Care and Hospice Education and Training Act, H.R. 3119 and S. 2748. This act would:
establish palliative care and hospice education centers to improve the training of health professionals;
establish a national campaign to inform patients, families, and health professionals about the benefits of palliative care and its services; and
direct expanded NIH funds to improve the delivery of palliative care to patients with serious illnesses.
The number of pediatric palliative care teams is on the rise, but the level of services and staffing available varies greatly and is generally inadequate to meet increasing demands.
To me it is pretty simple — we need a good system in place nationwide to provide high quality pediatric palliative care for our kids.
Join me today in asking Congress to support expanded access to palliative care services for all children and adults facing serious illness — at any age or stage — so kids with cancer and their families can benefit from the most comprehensive care possible. Contact your legislators today and ask them to co-sponsor the PCHETA Bill.
With your help, we can raise our voices and help improve care for families in their greatest time of need.
Use this simple form to write your representatives and ask them to support the PCHETA Bill.
Write Your Reps
Read more on the St. Baldrick's blog: