They say two heads are better than one — what about lots of heads? Thanks to a St. Baldrick's Consortium Grant, six teams of brilliant minds are working to give hope to kids with hard-to-treat leukemias.
Fifty years ago, the most common childhood cancer, acute lymphoblastic leukemia (ALL), was one of the deadliest.
Cure rates have gone from near zero in the mid-1960s to about 90% currently. That's amazing, said St. Baldrick's researcher Dr. Stephen Hunger of The Children's Hospital of Philadelphia, but it's not enough.
"More importantly, the 10 to 15% of patients who aren't cured — all the great strides we made didn't work for them and didn't work for their parents, who've lost a child," Dr. Hunger emphasized.
Dr. Hunger is the head of a research team made up of scientists from across the country who are looking to screen the DNA of kids with high-risk ALL to pinpoint safer and more targeted ways to combat that childhood cancer.
It all started with a research project that Dr. Hunger and members of the consortium initiated 10 years ago, which looked at 125 genes from kids with ALL who didn't respond to treatment.
The researchers, and another group from the Netherlands, discovered something interesting.
There is a known high-risk subset of ALL called Philadelphia chromosome positive (Ph+) ALL. When the scientists looked at the patients' genes in their study, it looked like they had Ph+ ALL. But there was one important difference — they didn't have the Philadelphia chromosome.
The researchers had discovered another subset of ALL, which they named Philadelphia chromosome-like ALL.
In ALL patients with the Philadelphia chromosome, there's a protein, called Bcr-Abl, that can be targeted with two drugs called imatinib and dasatinib. Kids with chronic myeloid leukemia, which also has the Philadelphia chromosome, have also benefited from these drugs.
"It turns out, in the genetics of this subtype [Philadelphia chromosome-like ALL], they don't have Bcr-Abl, but they have a number of different things that act just like Bcr-Abl and make the leukemia cells sensitive to the same drugs," Dr. Hunger said.
These drugs, like dasatinib, can make certain drug-resistant cancers sensitive to chemotherapy, and together they are able to kill the cancer cells much better than chemotherapy alone.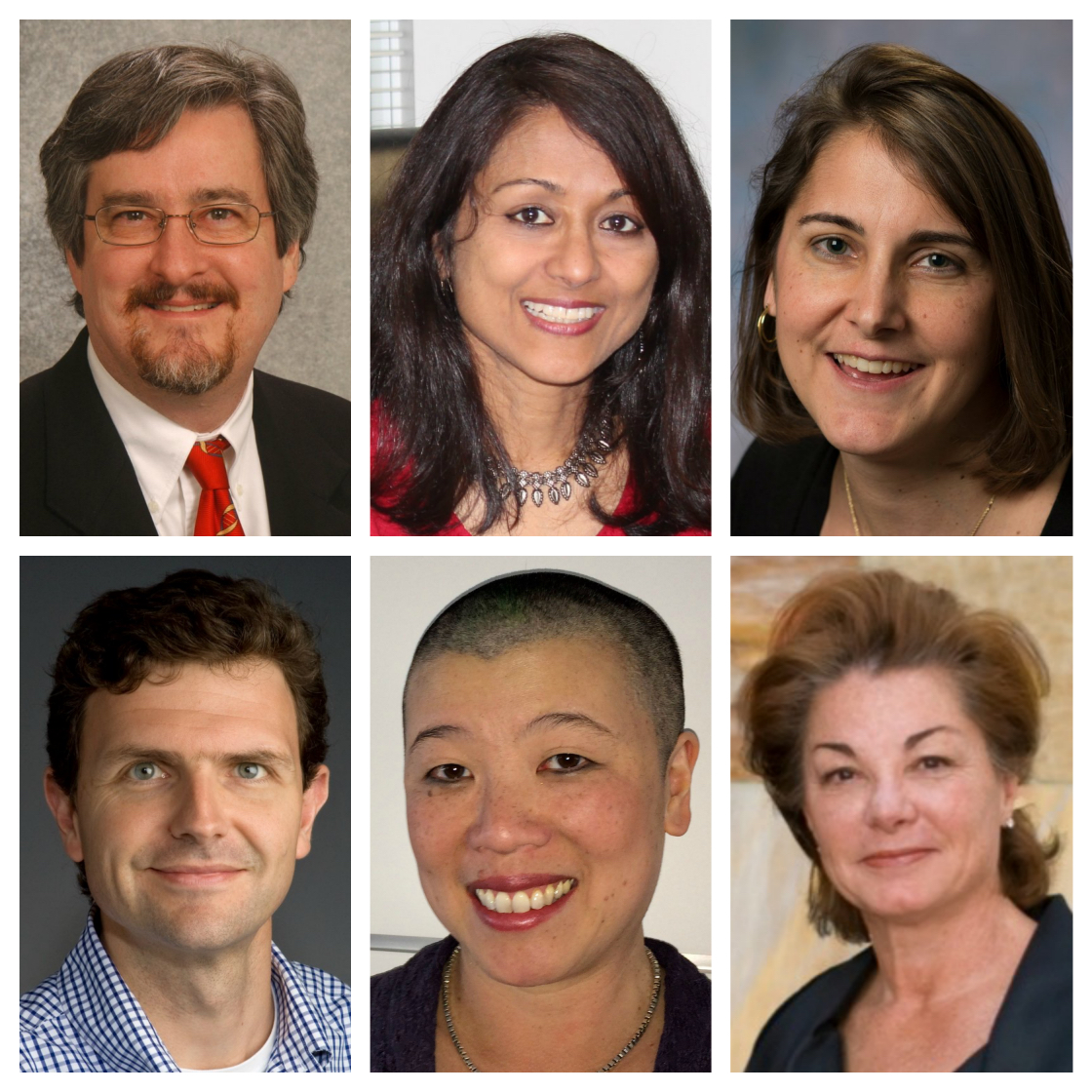 The researchers involved in this work include (clockwise from top left): Dr. Stephen Hunger at the Children's Hospital of Philadelphia, Dr. Meenakshi Devidas at the University of Florida, Dr. Julie Gastier-Foster at Nationwide Children's Hospital, Dr. Cheryl Willman at the University of New Mexico School of Medicine, Dr. Mignon Loh at University of California Benioff Children's Hospital, and Dr. Charles G. Mullighan at St. Jude Children's Research Hospital.
Now, helped along by the Consortium Grant from St. Baldrick's, the researchers expect to screen about 800 kids enrolled in Children's Oncology Group clinical trials each year to find patients who could benefit from adding dasatinib and other similar drugs to their chemotherapy.
Learn about the Children's Oncology Group and its clinical trials >
"We have a lot of anecdotal evidence of great short-term responses, but the goal of this is to see if the strategy will not just get short-term responses, but will lead to higher cure rates," Dr. Hunger said.
For Dr. Hunger, combining different scientists with different sets of expertise was crucial to the work. In his words, "I really believe the whole is bigger than the sum of the parts."
Dr. Hunger and the team just received another year of funding from St. Baldrick's in this Summer Grants cycle, and the doctor expressed thanks to St. Baldrick's volunteers and donors who make his research possible. "We're very grateful to the foundation and to all the people who shave their heads and all the people who donate money, because we wouldn't be able to do this without all their efforts."
Your efforts count. Give today and help researchers like Dr. Hunger develop better, safer treatments for kids with cancer.
Give
Read more on the St. Baldrick's blog: