If you're committed to raising funds for childhood cancer research and supporting a kid, then you can make a head-shave happen anywhere — even another continent.  Just ask Dr. John York, a virtual shavee and long-distance member of Team Abby!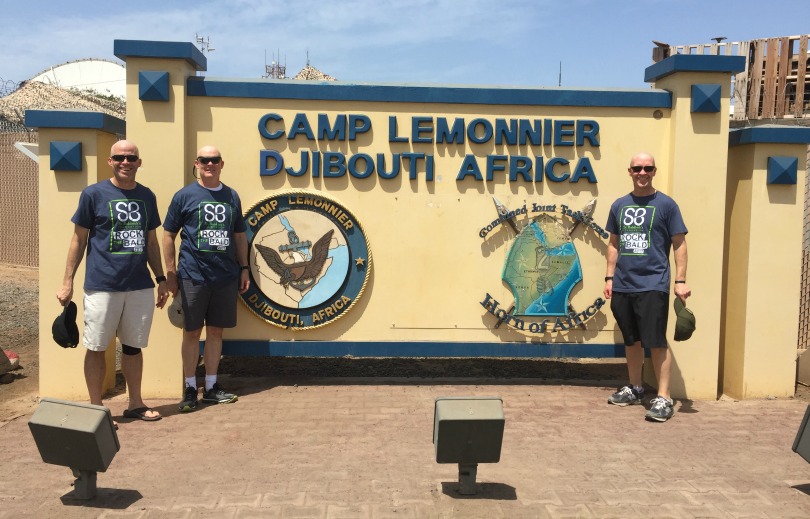 Dr. John York with his fellow shavees in front of their base in Djibouti, Africa. From left to right: Dr. York, Captain James Black and Lieutenant Commander Christian Minshall.
When it came time to shave his head in honor of his friend Ambassador Abby and her family, Dr. John York didn't give it a second thought — even though he was thousands of miles away.
In fact, on April 29, he was at Camp Lemonnier in Djibouti, Africa, nearly 8,000 miles from the head-shaving event  in Portsmouth, Virginia.
Dr. York, a captain in the Navy, is running a military hospital in the small, East African nation, which is nestled on the Horn of Africa between Ethiopa, Eritrea and Somalia.
"I know some of the HemOnc [hematology-oncology] doctors that are doing the shave in Portsmouth, so I was like, 'Well, might as well do something,'" he recalled. "It's a small thing."
Dr. York shaved his head and raised funds for childhood cancer in honor of Ambassador Abby, a 10-year-old girl diagnosed with Ph+ALL who has bravely fought against cancer and life-threatening complications.
Dr. York has known Abby and her family for nearly 10 years, through all the ups and all the downs.
Read about Ambassador Abby's incredible story >
Just last summer, no one, including Dr. York, thought Abby was going to live much longer. But he watched in awe as the little girl defied all the odds. Abby continues to get stronger every day and Dr. York is constantly amazed by her resilience and her family.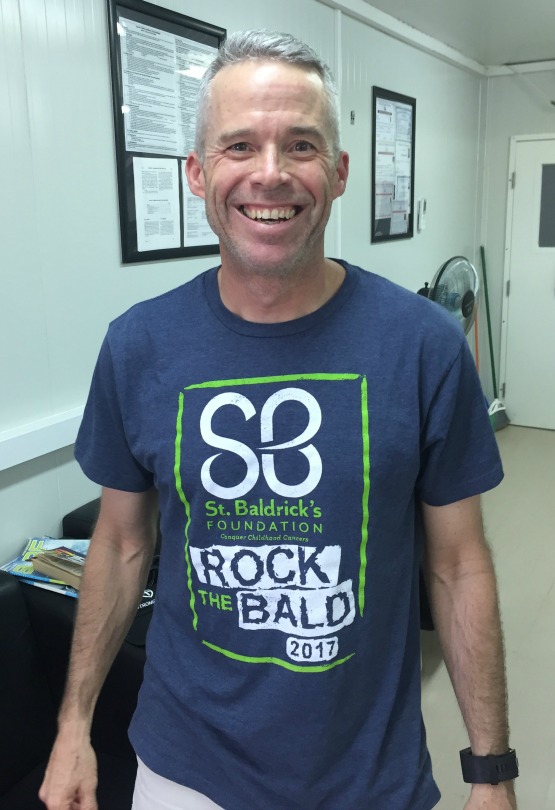 Dr. York before his shave for Team Abby.
"It's kind of unbelievable. It really is, just to watch it from the outside," he said of Abby's cancer journey. "My wife and I have both commented, 'Wow, I don't know how I would react, how we would react if we were in the same situation.' I would hope it would be with as much grace and strength as they have responded as a family."
They first met at church and then Dr. York would see them at Naval Medical Center Portsmouth, where Abby was treated and where he worked. He would pop into Abby's room to say hi or bring her mom, Patty, a soda and snacks.
"The journey they've undergone is one no one wishes on anyone, so food and snacks is the least I could do," he said.
For his virtual shave, Dr. York recruited several of his friends on base — including the commanding officer, a surgeon, a nurse and a physical therapist — to shave along with him and raise funds for children's cancer research.
And they did.  They got their heads shaved on base and bared their bald domes to the hot sun for Abby.
Help Dr. York reach his fundraising goal by giving on his bald head >
"It's a small town on the base. And after you do it [shave your head] the level of notoriety —  'Who's the bald guy?' Then you get the sarcastic remarks, like, 'I hope you have some sun screen for your head, because it's hot and sunny here,'" Dr. York said with a chuckle.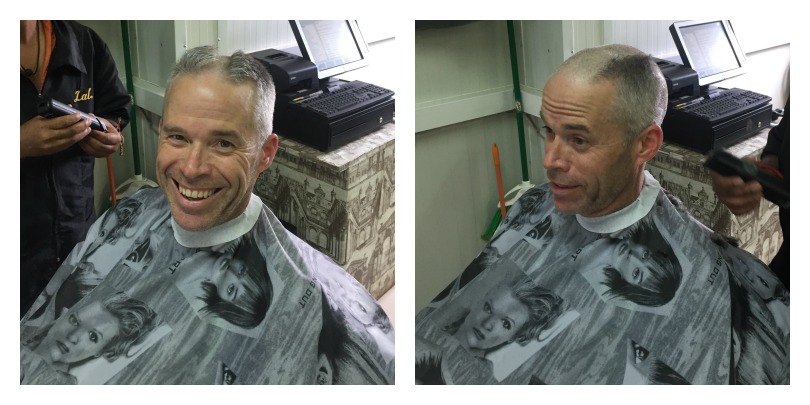 Dr. York reacts when he catches a glimpse of himself mid-shave.
To Dr. York, like the snacks he'd bring to Abby's mom in the hospital, shaving his head was the least he could do.
"Life is precious across the spectrum, I'll say that. But boy, it hurts more when it's little kids. There's no other way to say that. Is it because I have little kids? I don't know," Dr. York said. "Their whole life is in front of them and they've been dealt a lousy hand of cards. So if there's something we can do for them, however small it is, to help lessen the impact of these devastating diseases on their lives, they deserve it."
You can do something too. Join Dr. York in rocking the bald for for kids' cancer research!
Shave at an Event Near You
Sign Up as a Virtual Shavee
Read more on the St. Baldrick's blog: