Harsh treatments are often needed to save kids' lives from cancer. Some of these treatments can weaken their hearts, which can lead to a terrifying consequence years down the road — heart failure. A new study, spearheaded by St. Baldrick's researcher Dr. Armenian and opening at dozens of sites across the country, could help protect that vital organ and ultimately help survivors live long, healthy lives.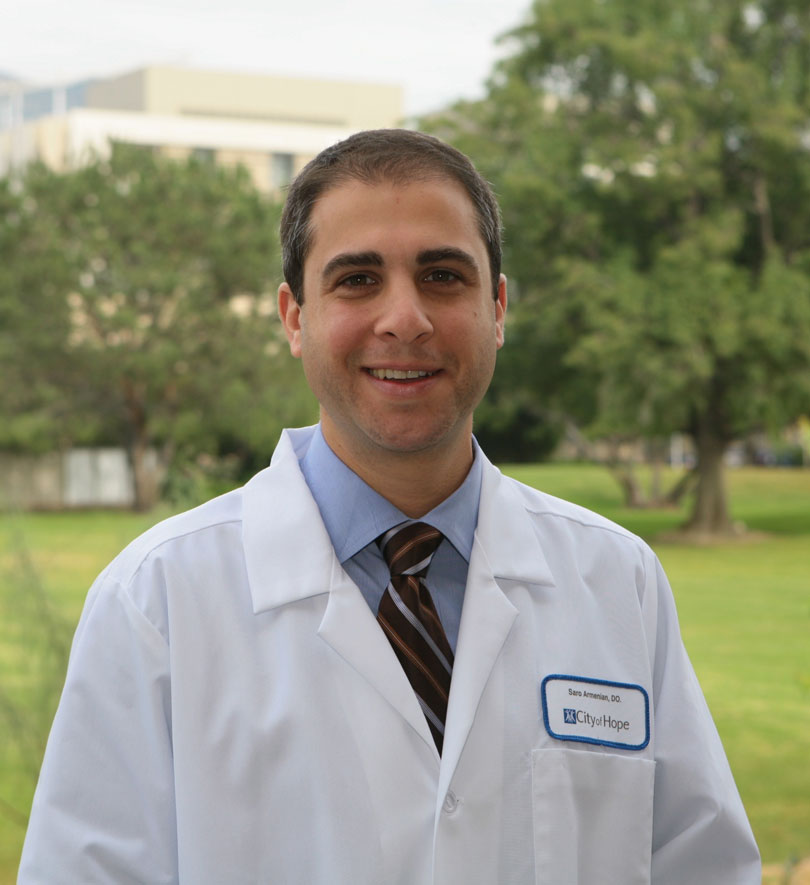 Dr. Saro Armenian has been involved in St. Baldrick's since about 2009 and now has a St. Baldrick's-funded study that could revolutionize care for childhood cancer survivors.
Normally, congestive heart failure is a health problem seen in people at the end of a long life. But for some childhood cancer survivors, that frightening health issue could be a reality as early as their 20s or 30s.
That's because while chemotherapies, especially anthracycline drugs, can effectively fight cancer, they also weaken that most crucial of muscles.
"It's something that can develop five, 10 years after the treatment is done, which is especially concerning for survivors who for the most part believe that their cancer experience is behind them," said St. Baldrick's researcher Dr. Saro Armenian.
Once a survivor's heart begins to fail due to anthracyclines, the likelihood of getting a heart transplant, or just surviving for five more years, is low, Dr. Armenian explained.
"So we're dealing with a very serious outcome and it's not something that's amenable to us sitting back on the sidelines and saying, 'Well, we need to just keep an eye on these patients.' It's actually time for us to be proactive and potentially help change the natural history of what would happen for these individuals," he said.
Read about how a St. Baldrick's researcher is working to help survivors thrive, after he endured heart surgery because of damage from his own treatment for childhood cancer >
That's exactly what Dr. Armenian hopes to accomplish with a new study supported by St. Baldrick's. He and his team are examining whether low doses of a blood pressure drug called carvedilol may help protect the hearts of cancer survivors by "giving the heart some breathing room to be able to deal with the daily stresses of the cardiac workload," he said.
It's still early in a process that will take years, but a St. Baldrick's consortium research grant laid the groundwork for the study.
Essentially, St. Baldrick's made the study possible, Dr. Armenian said.
The St. Baldrick's grant funded the manufacture of the drug and the placebo, plus the computer network where study sites log in and input patient data. To avoid any issues with bias that could compromise the study, that information is then randomized and blinded, so the researchers don't know which patient was given carvedilol and which patient was given a placebo.
"All of this was essentially paid for by St. Baldrick's, and believe it or not, it's one of the biggest costs of running a study like this," he said. "And that's not something we could have written into a traditional grant. That's what makes St. Baldrick's so different. They actually took a chance on a study where the potential gained from this, in terms of really transforming the lives of survivors, is tremendous."
The study's impact isn't being felt in just one place, at one institution. In a major development, Dr. Armenian's study was given a five-year grant by the National Institute of Health. Twenty different Children's Oncology Group sites have committed to participating, with more sites likely getting on board in the future.
Learn more about clinical trials and the Children's Oncology Group >
When Dr. Armenian got the news of the grant and expansion, he was ecstatic.
"It was the highlight of my professional career," he said.
Dr. Armenian's study builds on the years of research it took to identify the damaging effects of cancer therapies and who was at risk. Though it's still too soon to say, he hopes his research encourages the next crucial step — proactively helping survivors live long, healthy lives.
"Best case scenario is that there will be a subset of patients in whom we can avert a life threatening complication that develops after treatment, without compromising their overall health-related quality of life," he said. "That is really something that would be momentous, in terms of being able to preserve the health of our survivors and making sure that they thrive and not just survive."
You can make groundbreaking studies like this happen. Contribute to childhood cancer research today.
Give
Read more on the St. Baldrick's blog: