Bob shares his best (and worst) ideas for a great head-shaving event.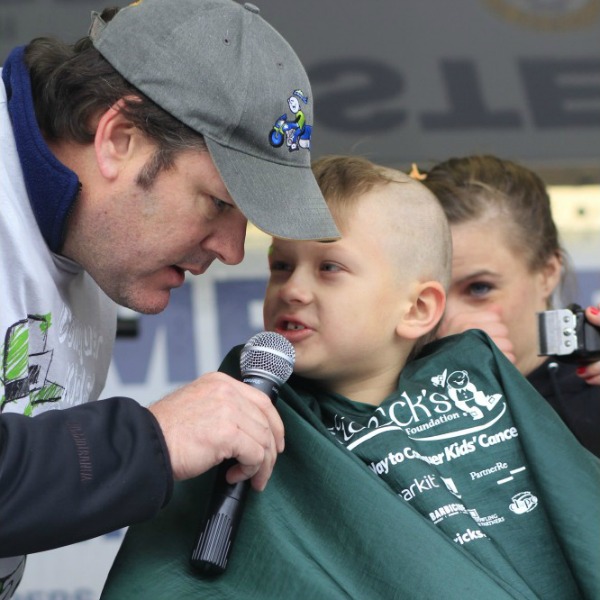 St. Baldrick's VEO Bob GaNun talks to a young shavee at his Floral Park event, which has raised over $1 million for pediatric cancer research.
If you're thinking about bringing beach balls to your St. Baldrick's event, St. Baldrick's Volunteer Event Organizer
Bob GaNun
has some advice for you:
Don't.
It seemed like a good idea at first. "I thought, we'll kick the beach balls around…it will be like a concert," Bob said. But once they got the beach balls on the stage, things got hairy. "There was hair floating all over the place, hair sticking to the beach balls. Everybody popped them. But it was funny."
Fun is what Bob brings to his St. Baldrick's event year after year, and it works. Since 2009, his event at the Trinity Bar and Restaurant in Floral Park, New York, has raised over $1 million for children's cancer research.
For Bob, it started as a favor to the pastor of his local parish, Father John O'Farrell at Our Lady of Victory in Floral Park, New York. "He asked me, 'Can you do me a favor? Can you shave your head for kids with cancer?' I said, 'You've gotta be kidding me,'" Bob said. But then he thought about his own three healthy kids. "You know, I'm lucky. So I did it."
When Father O'Farrell asked Bob to head up the event the following year, he accepted. That's when Bob and his wife, Tricia, moved the head-shaving event to the Trinity Bar and Restaurant, where it has become an annual event for their town for the past six years.
At the heart of his event is Aiden Binkley. Bob met Aiden when he was battling stage 4 rhabdomyosarcoma, a type of childhood cancer, and he became an Honored Kid for the event. Then, after fighting cancer for two and a half years, Aiden passed away at the age of 11.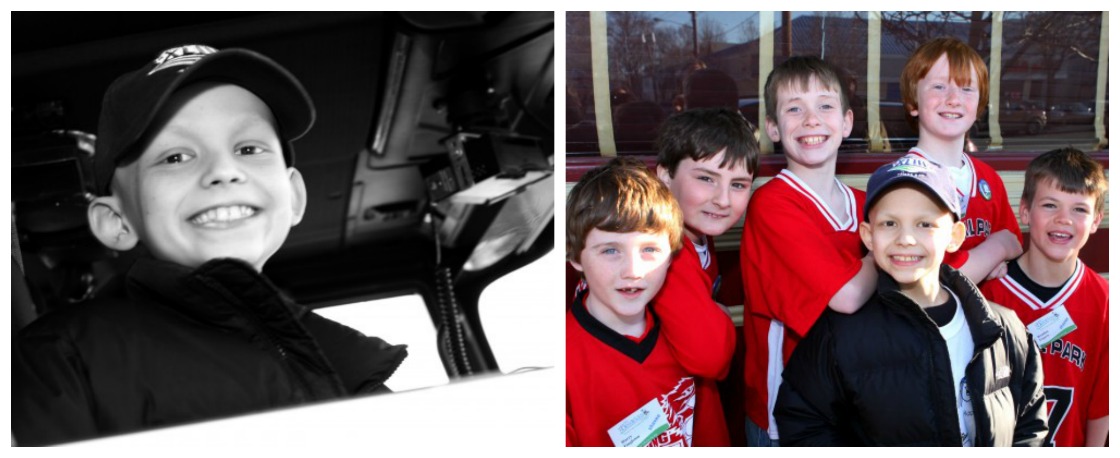 Aiden Binkley at the Floral Park, New York, St. Baldrick's event in 2009. Left: Aiden sits in a fire truck at the event. Right: Aiden with some of his friends who shaved their heads and raised money for childhood cancer research.
"That was 2010, December 30th," Bob said. "After that, we got close with Aiden's mom and dad." From then on, the Floral Park event would be dedicated to Aiden's memory.
"It really is very rewarding, to keep Aiden's memory going," Bob said. "This is the cause, this is what we want to do."
Bob emcees the event with help from his friend, Tommy Weissler. "We try to have so much fun with it," Bob said. "We sit and rag on each other — in a good way." He says the laughter is infectious. "If I'm having fun doing it, I hope that would pass on to everybody else."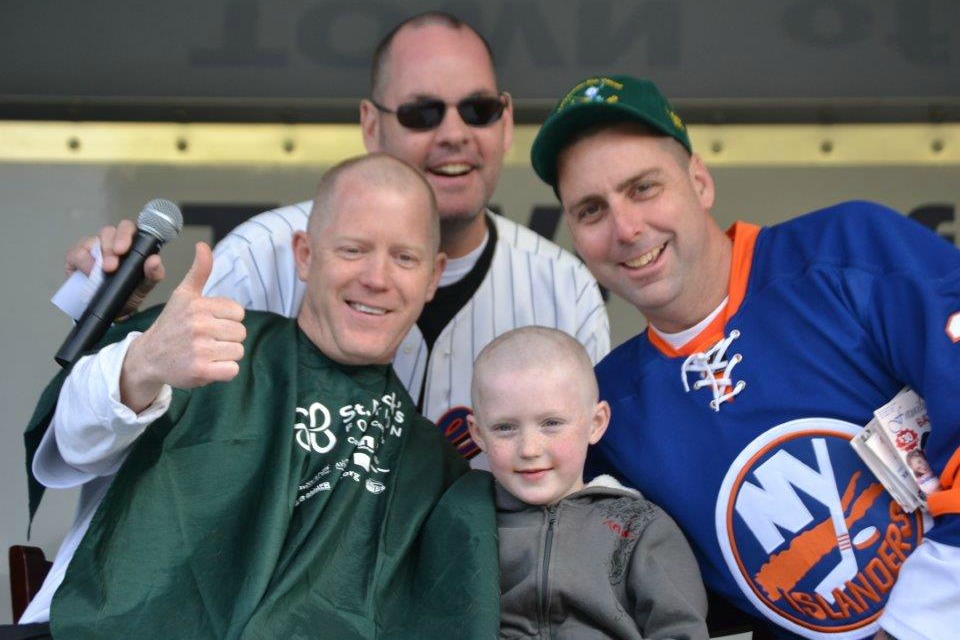 Bob GaNun and Tommy Weissler emcee the Floral Park event every year, keeping it fun for the crowd. "We sit and rag on each other — in a good way," Bob said.
Most of the shavees at the Floral Park event are kids, and for them, the fun starts weeks before the head-shaving begins, thanks to Bob's weekly email.
"In the email, I embed a trivia question," Bob said. The first person to reply with the right answer wins a $10 gift certificate to the local chocolate shop. He also includes their fundraising goal progress, stories of kids with cancer, and kudos for outstanding fundraisers.
For Bob, email has been a great way to keep people in the loop. And as a salesman, Bob knows the importance of keeping in touch. "Good communication is key to hitting goals," he said. "I like to have some fun with it and create some laughter. People want to read the email every week. They want to be the first one to get the trivia question."
Floral Park and its surrounding communities come together to Conquer Childhood Cancers. Bob says it's the people that make their event shine. "The people in this town, I can't say enough about them," he said.
But Bob says the number one reason why their event has thrived is the people in his community. "The people in this town, I can't say enough about them. We've been through a lot in this town," Bob said, referring to Aiden's death and the loss of other local young people to tragic events in recent years.
"We want to support St. Baldrick's in any capacity we can," he added. "It's such a great organization. Who can't help a child out? Especially when a child can help another child out…It helps a child understand that they have a voice in this world."
After the beach balls pop and the hair settles, that's one thing that Bob cares about deeply: giving kids a voice to make an impact on problems like childhood cancer. His message to kids is simple. "I don't care about how big or small you are in this world, you have a voice, and your voice is loud and clear."
Use your voice to cure childhood cancers. Start an event or see more ways to get involved with St. Baldrick's.
Start an event
Get involved
Get more ideas for your St. Baldrick's head-shaving event: