Maria Rich, a St. Baldrick's Summer Fellow, got the unique chance to present her research at a prominent scientific conference this past weekend. St. Baldrick's researcher Dr. Giselle Saulnier-Sholler praised the young woman who worked in her lab. "She truly is a brilliant and compassionate researcher who will be a wonderful physician one day." We think so, too!
St. Baldrick's Summer Fellow Maria Rich in the lab, where she worked with neuroblastoma cells.
Maria has already contributed to potentially lifesaving childhood cancer research — and she's just finishing college.
"Maria's dedication and commitment to her work has been outstanding and she was a pleasure to have in our lab," said Dr. Saulnier-Sholler, adding that Maria's work helped lay the foundation to open a current clinical trial. "Her work is now impacting patients."
Learn more about how clinical trials are helping kids with cancer >
This past weekend Maria traveled to Philadelphia to present her team's research in a poster session at the American Association for Cancer Research (AACR) annual conference, which spotlights the latest cancer research during a massive gathering of investigators from across the globe.
Most of the scientists presenting their research have a few years on Maria, making the conference a remarkable experience, and achievement, for the young investigator.
"It is quite unusual and a great honor for Maria to present her work at AACR," said Dr. Saulnier-Sholler.
Put simply, her presentation described how a combination of two drugs appears to inhibit neuroblastoma cancer cells and shrink tumors, potentially opening up a new treatment option for kids with that form of cancer.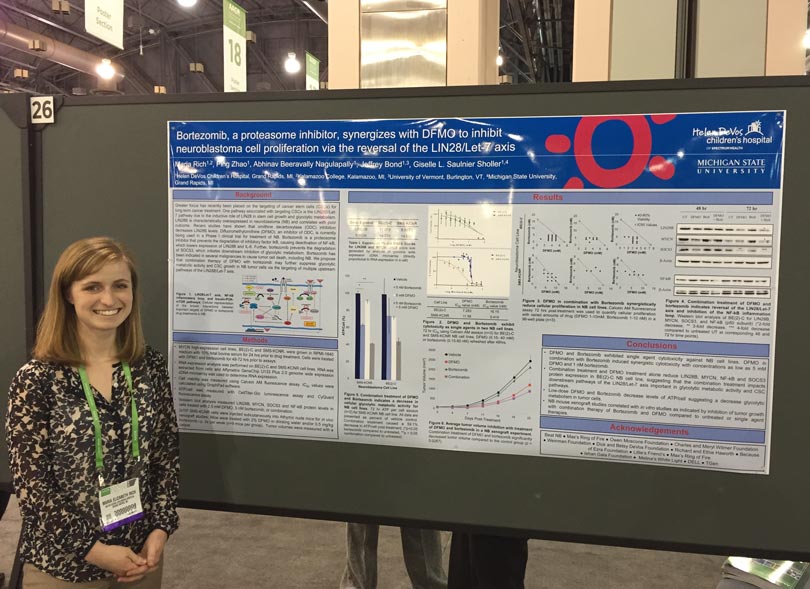 St. Baldrick's Summer Fellow Maria Rich stands with her poster at the American Association for Cancer Researchers conference in Philadelphia.
She's grateful for the experience she had as a Summer Fellow with St. Baldrick's.
"I would say undeniably this has been one of the most, if not the most, motivating experiences where I can connect what I'm learning in the classroom to something that's applicable for patients and applicable in the lab," she said. "And something that can potentially make a difference in patients' lives."
Though she's on the cusp of graduating, she's not done in Dr. Saulnier-Sholler's lab.
Maria will be working in the lab for another summer, before she starts her journey through medical school. She'll be seeing her research from another angle — that of the clinical trial that her hard work helped make happen.
"I'm very excited that I'm going to get to learn that whole extra side of the clinical research, in addition to the lab research, and link that together," she said. "Especially for something that I feel so passionate about and motivated."
 Help young researchers like Maria succeed. Invest in childhood cancer research.
Donate
Read more on the St. Baldrick's blog: