In honor of National Siblings Day, we bring you an amazing story of a brother's love and dedication to honor his sister and raise money for childhood cancer research in her memory. Meet Geordan, a long-time shavee and the proud big brother of Honored Kid Rayanna.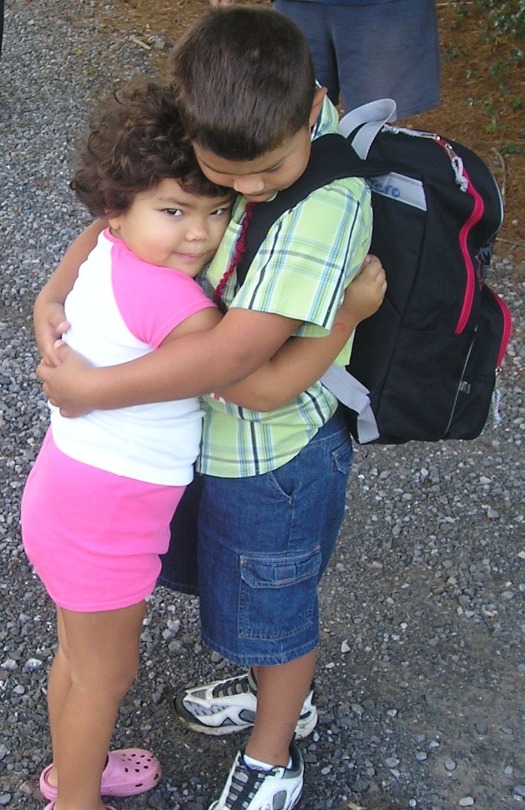 Rayanna and Geordan share a sweet moment.
When Geordan shaves with St. Baldrick's, his sister is there. When he drives his race car, she's with him. When he walks the halls of his high school, rocking his bald head, Rayanna is never far away. The little girl is always with Geordan in his thoughts, hanging around her brother just like she did before childhood cancer took her away.
"Rayanna was my only full sibling and now it's just me," the 16-year-old said. "I miss Rayanna and wish there had never been childhood cancer."
That's why Geordan is shaving with St. Baldrick's for the seventh time at the head-shaving event organized by his grandmother, Linda, in Sergeantsville, New Jersey  – so other kids won't have to go through what his sister did and so other little brothers won't lose their sisters.
Rayanna was diagnosed with acute lymphoblastic leukemia when she was 3 years old. Born just two years apart, Geordan was 5 years old at the time. He remembers visiting his little sister at the hospital and playing Wii with her. At home, they loved to ride quads together and when Geordan would race his cars, Rayanna was always his biggest cheerleader at the race track.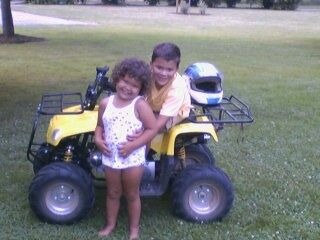 Rayanna and Geordan enjoyed zooming around on quads together. It was one of their favorite things to do.
They had a typical brother-sister relationship – equal parts love and nuisance. Often, Rayanna would cook recipes that she made up herself and bug Geordan to try them. (Some of them were terrible and he would refuse to take a bite, he said.)
"Since Geordan was only 5 when she was first diagnosed and too little to fully understand the extent of cancer, he was told that she was sick and had leukemia," Linda said. "At the time of her diagnosis, I believe he was scared and often felt that mom and sister would never come home again."
Childhood cancer treatment was a tough road not only for little Ray Ray, as they called her, but for the whole family, including Geordan. The truth of childhood cancer is that it doesn't just affect the kid who's diagnosed, Linda explained. It affects the whole family.
"Life is never 'normal' again," she said.
When Rayanna had to go to the hospital, Geordan would need to be shuffled to grandma and grandpa's house. Plus, life was often quiet and isolated when Rayanna's immune system was weakened from treatment, because she couldn't be around other people and their germs.
"The disruptions to his life had to have left a mark on him, but he is a quiet, sensitive, caring, mature young man at this point, one we are extremely proud of," Linda said.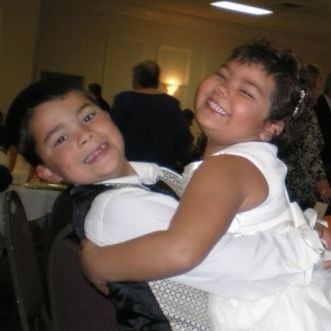 Geordan loves sharing his memories of Rayanna and honoring her with his shave. It's his special way of remembering her. "There is never a question as to whether or not he will shave or if peer pressure will keep him from shaving," Linda said. "He owns our local event. It is extremely important to him."
Now a sophomore in high school, Geordan has shaved his head six times in memory of his sister. Rayanna passed away at the age of 8, after receiving a bone marrow transplant to cure a secondary cancer likely caused by the harsh treatment she endured.
"I shave every year because it is an outward sign of what she meant to me and I am able to raise donations for the Rays of Hope Hero Fund our family has created through St. Baldrick's," Geordan said.
Ray Ray was a ray of light to her family — honor her by giving to the Rays of Hope Hero Fund >
Over the years, Geordan has raised over $10,000 for kids' cancer research. Last year, he was even the top fundraiser for his grandmother's event, leading to an award presentation that was more than a little emotional for everyone.
Geordan's seventh shave is in September and the high schooler shows no signs of quitting. He knows firsthand just how important this cause is.
"Maybe one day there won't be childhood cancer because of research funded by St. Baldrick's," he said. "And we won't lose any more little sisters or brothers."
Honor Rayanna's memory by helping Geordan raise crucial funds for research — give today.
Donate
Read more on the St. Baldrick's blog: