Dr. Noah Federman first decided to become a doctor because he wanted to help people. Mission accomplished, Dr. Federman. Over his years as a physician, he's helped countless children with cancer, including cancer survivors like 2013 St. Baldrick's Ambassador Emily. Read on for more about Dr. Federman, his St. Baldrick's Scholar award and what he envisions for the future of childhood cancer research.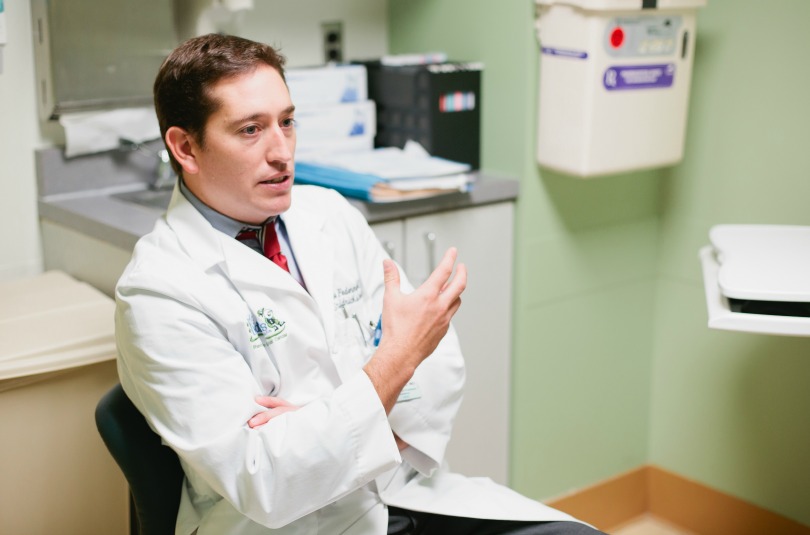 Dr. Noah Federman meets with a patient.
Dr. Noah Federman first met Emily back at the very beginning, soon after she discovered a persistent bump on her right leg — the first sign of a bone cancer called osteosarcoma.
The St. Baldrick's Scholar has been there for Emily ever since, through the ups and downs of treatment, through her surgery and even now during survivorship, as she prepares to celebrate five years cancer free.
It's a proud moment for Dr. Federman.
He became a doctor to make a difference in the lives of children like Emily — to help them beat cancer, get out of the hospital, and grow up healthy and happy.
But he knows that the healthy and happy part is not guaranteed for childhood cancer survivors.
5 Facts about Childhood Cancer Survivors >
"It's a rolling admissions process, I say, to being a survivor. We never totally say that a patient is fully cured," he said, explaining that relapses can happen five to 10 years after successful treatment for an osteosarcoma diagnosis, even when the risk of relapse decreases with every cancer-free year. "We really keep an eye on these patients long-term, not just for the risk of recurrence of osteosarcoma, but for the late-effects of the strong therapies we gave them to cure them."
Dr. Noah Federman has an appointment with Emily, who was diagnosed with osteosarcoma when she was 16 years old.
For Emily and other survivors, these late effects can include everything from heart problems to hearing loss to issues with their kidneys. Both female and male patients can have issues with the fertility because of their treatment.
"Emily, like many of our patients, now that they are cured from osteosarcoma, are faced with long-term surveillance of the risk of the strong chemotherapy we gave them," he said.
Read about the 2 biggest threats facing survivors as they grow up >
Dr. Federman knows research can do better for his patients, like Emily, and that's exactly what he's been working on — and St. Baldrick's has been there from the beginning.
Dr. Federman was awarded a St. Baldrick's grant for his research focused on targeted therapies, where he was testing new ways of delivering treatments directly to cancer cells using nanotechnology. His aim was to reduce the long-term effects caused by chemotherapy and other treatments, which generally attack all cells in the body — healthy and cancerous alike.
"I owe every patient that I lay hands on, that I cure of disease — I owe everything to St. Baldrick's and so do they," he said.
Today Dr. Federman is the director of the Pediatric Bone and Soft Tissue Sarcoma Program, which has become the busiest pediatric oncology program at UCLA, he said. He started building the program during his time as a St. Baldrick's Scholar. He credits a good deal of its success to the protected time and support he received from the Foundation.
"St. Baldrick's voted in me and said, 'We have confidence in this young guy who has no track record,'" Dr. Federman said. "And I'm so grateful, because everything I do is because of St. Baldrick's — and some of my own hard work too."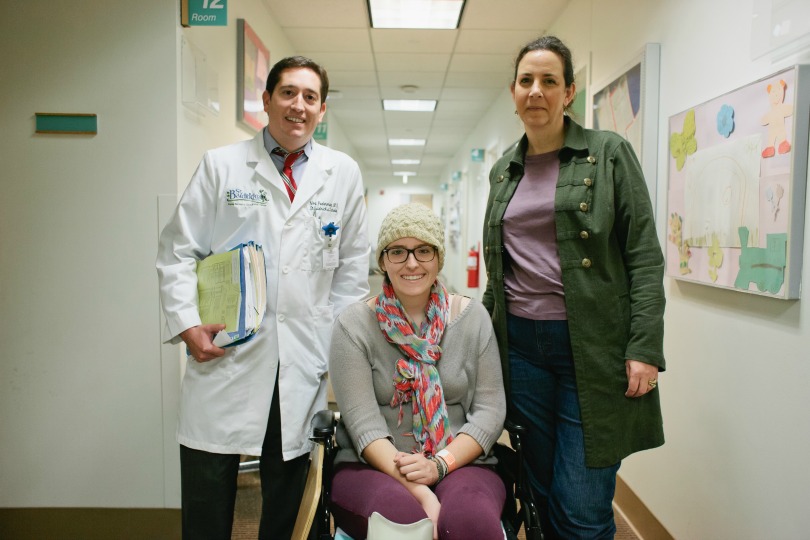 Dr. Noah Federman poses for a photo with Emily and her mom.
At this time in his career, the passionate physician is particularly interested in immunotherapy and is hoping to get a clinical trial off the ground soon. He wants to harness the power of the immune system to benefit his patients, like Emily, and reduce long-term effects.
"We need to rethink how we're treating these cancers. Maybe more chemotherapy is not better. Maybe we need to start switching on the immune system," he said, explaining that immunotherapy has revolutionized the treatment of melanoma and perhaps that progress could be used in osteosarcoma too. "I think that's where in some of these cancers, the future lies. It's going to be a matter of us figuring out how to do that."
Dr. Federman envisions a world where cancer isn't any scarier than the common cold. It will be a world where every child diagnosed with cancer will become a survivor, thanks to a new therapy. It will be a world where survivors like Emily can flourish. And it will be built by research. But it's not going to happen overnight.
"I hope one day to be out of a job and I can retire," he said.
That's the goal, but he knows that researchers like him can't get there without funding.
"We need to figure out how to improve the outcomes, we need to do that through funding and the St. Baldrick's Foundation is critical," he said.
You have the power to make more research and more survivors, like Emily, possible. Give now so kids with cancer not only survive, but thrive.
Give
Read more on the St. Baldrick's blog: