St. Baldrick's Supportive Care Grant Recipient Dr. Lauri Linder used tablets to help adolescent and young adult patients communicate their symptoms and take hold of their childhood cancer treatment experience with both hands. Help researchers like Dr. Linder continue supporting kids with cancer. Donate today. 
St. Baldrick's researcher Dr. Lauri Linder developed and studied an iPad app which allowed childhood cancer patients to communicate their symptoms digitally during treatment. Photo by Kristan Jacobsen
Lauri Linder, Ph.D., at Primary Children's Hospital in Salt Lake City, Utah, put the power into her young patients' hands by developing and studying the feasibility of a unique iPad app — one that allowed the patients themselves to describe, group and then report their symptoms with the tap of a finger.
What researchers usually do is take a survey, then crunch those numbers and pull out the most frequent symptoms and clusters of symptoms, Dr. Linder said. The iPad app allowed patients to make those determinations, by drawing lines between symptoms on the screen, grouping them together and even naming those groups with titles, like 'Not Myself Today.'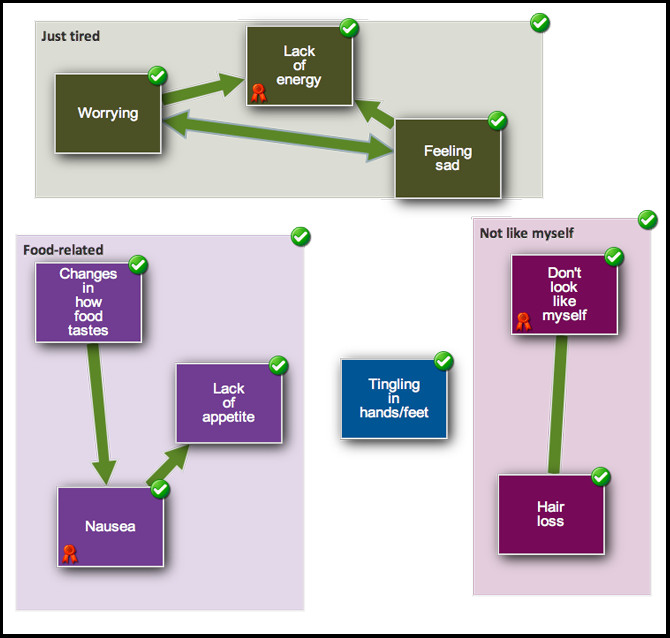 An example screen shot of the study's iPad app shows how patients can group and label symptoms experienced after treatment for childhood cancer.
"It's to provide a novel approach and to let that individual draw out what he perceives to be his own experience in a way that the traditional survey really can't capture," Dr. Linder said.
The 72 patients in Linder's study ranged in age from 13 to 29 and were being treated at hospitals across the country. They were given the iPad with the app about a day after a dose of chemotherapy and then a survey on the usefulness of the app.
"It becomes sort of an empowering resource for them," she said. "This is an age group too that, you know, you don't want to stand out and be looked at as different, but you want your own story to be told. This really allows them to relate their experience in a very personal way."
In a future study, Dr. Linder would like to look at the iPad app in a clinical setting and see whether it prompts conversations between patients and their healthcare providers.
"We would like to think that it is really providing an approach to more personalized, or person-centered, healthcare," she said.
The feedback to Dr. Linder's app was mostly positive. Many respondents said the app allowed them to better recognize and articulate their symptoms, which in some cases was a positive experience, while others found it stressful. One patient responded that using the iPad was better than paper and pencil for their neuropathy. Another said working on the iPad made the process seem more like entertainment than homework.
A few participants wanted more color and more animations, plus there was at least one joking suggestion on how to make the app less boring — explosions.
Dr. Linder and her team received a Supportive Care Research Grant from St. Baldrick's in 2011. Now tablets are ubiquitous, but four years ago, when Dr. Linder first applied for the grant, iPads were still relatively new technology. She's grateful St. Baldrick's took a gamble and funded the study.
"We just really are so grateful for the donors who are giving the money and for the reviewers who put their confidence in us and trusted us with their money to be able to conduct the project," she said.
Support research like Dr. Linder's. Donate now.
Donate
Read more on the St. Baldrick's blog: