A child's eyes see the love in their parents' faces and the joy of their siblings. They see the vibrant colors in a box of crayons and the sparkle of rain on a flower. Sight helps kids navigate their classroom, their playground and their world. But what happens when pediatric cancer attacks that precious sense?
With retinoblastoma – an eye cancer in children that is usually diagnosed before the age of 3 years old – a kid can lose their vision to the cancer and their long-term health to the harsh treatment. They can even lose their lives.
That's what tumor immunologist Dr. Vanessa Morales-Tirado and her St. Baldrick's Summer Fellow, Zachary Goldsmith, are working to change.
Our Summer Fellow grants give students the chance to work in childhood cancer research labs with expert mentors. Think that's pretty cool? Then learn more about St. Baldrick's grants >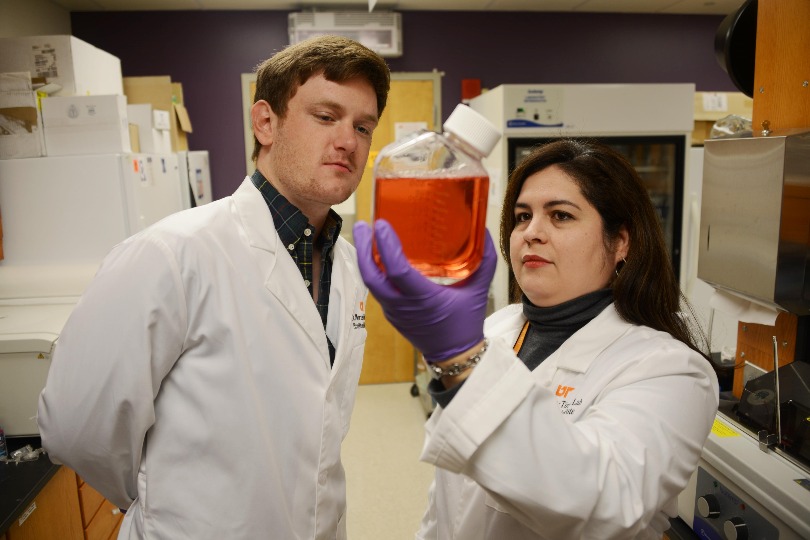 Dr. Vanessa Morales-Tirado, with the University of Tennessee, works with Zachary Goldsmith, a St. Baldrick's Summer Fellow and PhD candidate, in the lab.
Retinoblastoma is the most common cancer in kids that affects the eye, Dr. Morales-Tirado explained.
"Though it is not as fatal in the U.S. as it is in other countries, it is very important for us to disseminate our findings, because in the rest of the world – in developing countries – the fatalities are about 50 percent, because it causes metastasis," she said.
Treatment for retinoblastoma can be especially intense, because it's tough for doctors to get chemotherapy into that part of the body. That's a huge challenge, Dr. Morales-Tirado said, and means the chemotherapy must be super concentrated to have any effect. With this toxic solution pumped into kids as young as 5 years old and even infants, the impacts on their developing bodies can be devastating.
"Another problem that we have with the current therapies is then they destroy all of the good cells that are around the tumor. Then the kids have additional problems. Some of them lose their hearing or they develop secondary malignancies 10 or 15 years later," she said. "So, we wanted to develop other therapies in the lab to treat these kids in a very tumor-specific way."
That's what Dr. Morales-Tirado and Zach have been working on for the past three years.
"If we can target only the bad guys and then leave the good guys there to continue trying to fight with the immune system, then we don't need to use so many toxic and poisonous things on their bodies," Dr. Morales-Tirado said. "That can help them [the kids with cancer], because it will reduce the complications that they currently have."
Honored Kid Tacey Raye fought retinoblastoma soon after she was born and had both eyes removed by the time she was in first grade. Eight years after being declared cancer free, she's in treatment for cancer again.
In a valuable discovery, Dr. Morales-Tirado and her colleagues found that retinoblastoma cells are aided by the production of proteins that shield the cancer cells – like a bulletproof vest or a suit of armor – from anything that wants to kill them, including chemotherapy.
But what if those proteins could be silenced?
"It's like having a barrier and then removing that barrier," Dr. Morales-Tirado said.
It worked. During his St. Baldrick's Summer Fellowship, Zach proved that in a lab setting the therapy is safe for the cells around the tumor, which is essential for saving kids' vision, Dr. Morales-Tirado said.
"For us the priority is to save the life. But once we save the life, what we want to do is to actually preserve the eye. Then, after preserving the eye, if we can keep the vision for these kids, then that would be perfect," she explained.
Zach's role and the St. Baldrick's funding was critical to the success of this work, Dr. Morales-Tirado said. Progress was made quickly and if all goes well, Dr. Morales-Tirado is hoping the work can make it to clinical trials – and to kids with cancer – within the next three years.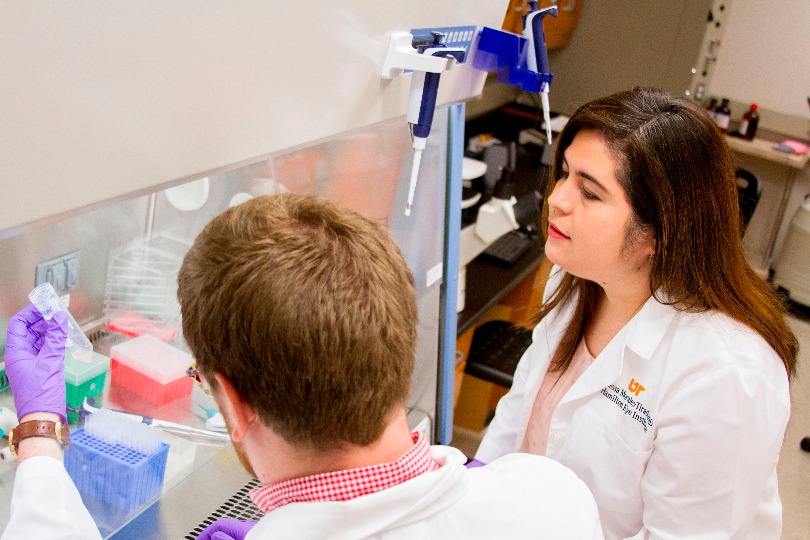 Dr. Morales-Tirado works with Zach in the lab on a targeted therapy for retinoblastoma.
Even more amazing? Thanks to the Summer Fellow funding, the childhood cancer research field just gained another bright young mind – Dr. Morales-Tirado's St. Baldrick's Summer Fellow, Zach.
"The Summer Fellowship from St. Baldrick's Foundation has firmly cemented my choice in pursuing pediatric oncology research as a career," he said.
This is the power of fundraising for childhood cancer research. The dollars that St. Baldrick's provides are extremely important, Dr. Morales-Tirado emphasized. This funding not only supports lifesaving work – it also builds the future of the childhood cancer research field by helping passionate young scientists, like Zach, get their foot in the door.
These dollars make a difference and Dr. Morales-Tirado wants donors to know that.
"We have to create consciousness about it and we have to educate people, so they can see what they are doing when they are providing these funds," she said. "It is really amazing how we can translate all of this into work in the lab."
Let's take childhood back from cancer. Fund lifesaving research today.
Donate
Read more on the St. Baldrick's blog: