Fund lifesaving childhood cancer research.   Donate
"Bald is beautiful" was the phrase of the day this morning on NBC's Today Show, as St. Baldrick's barber David Alexander broke a Guinness World Record for most heads shaved in one hour by one barber.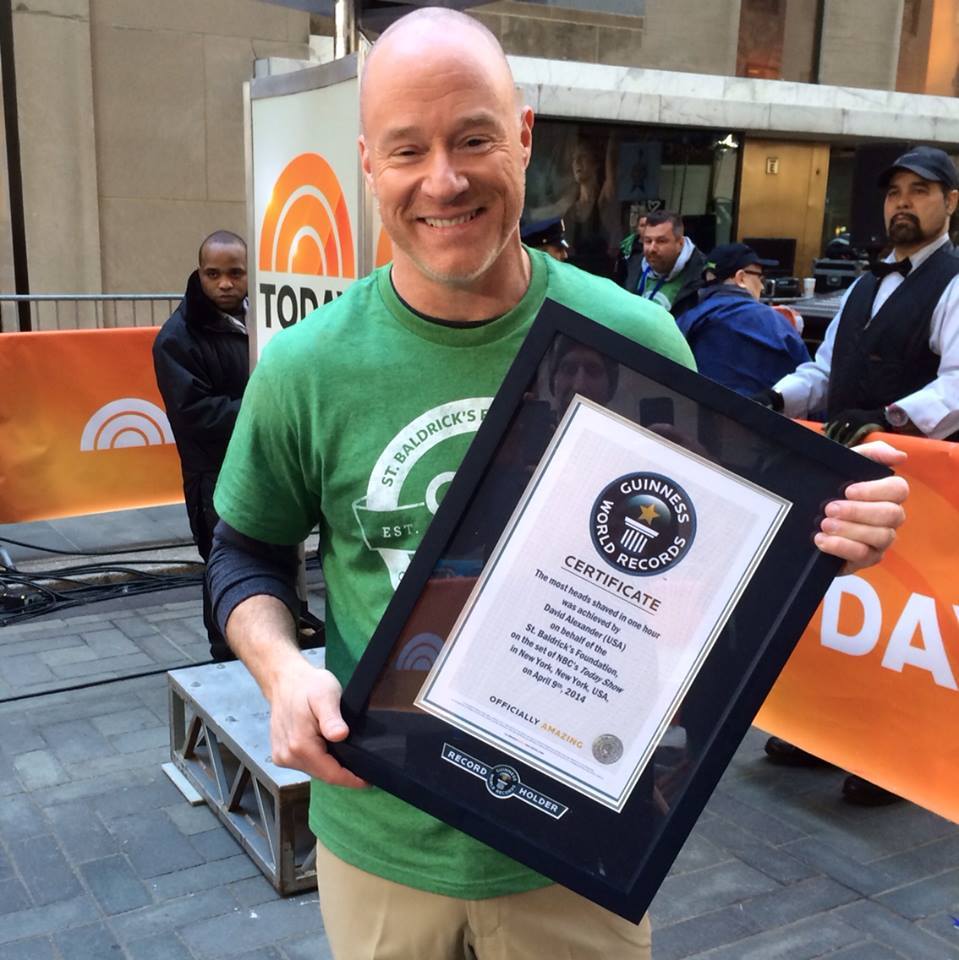 Officially amazing: St. Baldrick's barber David Alexander shaved 73 heads in one hour to set a new Guinness World Record on the Today Show.
David, the lead barber for Atlanta's Ri Ra Irish Pub event in March, traveled to New York City and shaved the heads of 73 volunteers who shaved in honor of kids with cancer. The event was captured live as part of the Today Show's "Spring Breakers TODAY" series.
The hour-long segment highlighted the St. Baldrick's Foundation's efforts to Conquer Childhood Cancers and featured the story of St. Baldrick's Honored Kid Joseph Maroney, who was diagnosed with acute lymphoblastic leukemia, or ALL, in November 2013.
Joseph remembers having pain in his legs before going to the hospital for treatment. "I couldn't play basketball," Joseph said. In March, Joseph's dad and his two brothers shaved at the St. Baldrick's event at Jackie Reilly's in Bethpage, New York, which raised over $102,000 for pediatric cancer research to help kids like Joseph.
The first shavee was St. Baldrick's own teal-haired Susan Heard, who shaved for the 15th time in honor of her son, David, who passed away from neuroblastoma, a type of childhood cancer, in 2011. Susan shaved with David's friend, Elliott Guido.
Tom, John, and Cage Lasley shaved together at the event, representing three generations of shavees:
The record-breaking 73rd head to be shaved was that of Bonnie Mulieri, a four-time shavee and 46 Momma. Her celebratory dance was captured on Vine (click here to see the clip).
Bonnie's daughter, Gina, is fighting medulloblastoma for the third time, and also shaved her head at the event.
A representative from Guinness World Records supervised the head-shaving event and presented David Alexander with a framed certificate to commemorate his new world record!
St. Baldrick's CEO Kathleen Ruddy shared her excitement in a blog post today. She thanked David and the shavees, who represent all of our dedicated volunteers, donors, researchers, and kids fighting cancer. "The kids we all fight for are the greatest heroes we'll ever know," she said. "But I've always believed that the kids inspire the best, from the best people, and the St. Baldrick's community proved that again today."
Donate to support lifesaving childhood cancer research or sign up to get involved with St. Baldrick's.
Donate
Get Involved
Read more about St. Baldrick's head-shaving events on the blog: