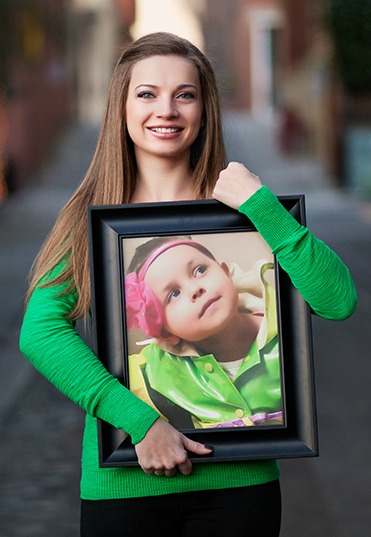 Supercuts manager Olga Howerton before shaving her head for St. Baldrick's. Olga raised over $26,000 for childhood cancer research to help kids like 4-year-old Emma, who was diagnosed with leukemia at the age of 2. Photo: Sasha Leahovcenco (www.sashaleahovcenco.com)
Supercuts manager 
Olga Howerton
is no stranger to a bald head. Olga has worked at Supercuts in Folsom, California, for over eight years, and for the past two years, she has volunteered at the
Roseville St. Baldrick's event
 as a barber. But this year, Olga decided it was her turn to take a seat in the barber's chair as a St. Baldrick's shavee.
When it was time to shave, "I was nervous. Really nervous," says Olga. "I didn't know how I was going to look with no hair. There's nowhere to hide." But once the barber cut off her 20-inch-long ponytail, Olga felt reinvigorated. "After that, I was like, just go for it! It was a really cool experience."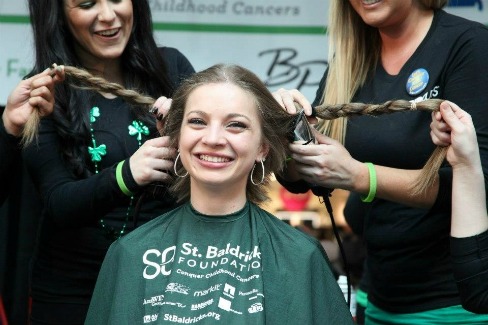 "I was nervous. Really nervous," says Olga about her head-shaving event.
Last year, while volunteering at the event, Olga met some
Honored Kids
from St. Baldrick's whose stories left an indelible mark on her. From that experience, Olga was inspired to shave her own head and raise money for childhood cancer research.
"Cancer is different for kids than it is for adults," says Olga. "Childhood only lasts a little while. Kids should get to have fun and enjoy themselves, not have to spend their time in a hospital."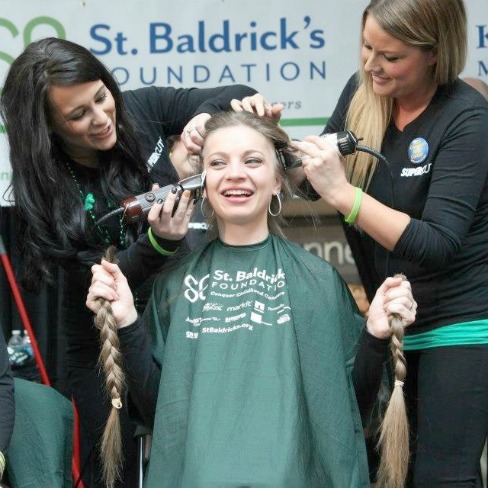 Olga holds her 20-inch-long braids. "It was a really cool experience," says Olga.
St. Baldrick's mission to cure childhood cancer is one that is close to Olga's heart, as her friend's daughter,
Emma
, was diagnosed with
acute lymphoblastic leukemia
at the age of 2. Emma is now 4 years old and in maintenance therapy, the last phase of leukemia treatment. Olga chose to shave in honor of Emma and for all
kids with cancer
, to help give them a better chance at life.
Olga spent the months leading up to the event drumming up support from family, friends, customers, and anyone willing to listen. By the time the head-shaving event rolled around on March 2, 2013, she had raised over $26,000, making her the top fundraiser at the Northern California event.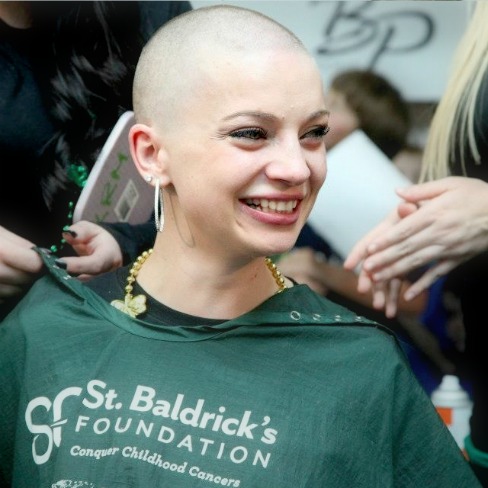 "After my shave, I was just rocking my bald head," says Olga.
Now, three months after the head-shaving event, Olga says she has been enjoying her new look. "After my shave, I was just rocking my bald head," she says. These days, "I'm wearing it a little longer on top and short on the sides. Everybody loves it." But does she miss her long hair? "Now I have fun, short hair. It's so much easier!"
The response from her customers has been positive, too. Whenever she tells her story, "People think it's amazing," says Olga.
So take it from a professional: a shaved head can accomplish great things. Thanks, Olga, for being a superhero for kids with cancer by taking your stylist and volunteer work to a whole new level!
Do something amazing. Learn more about becoming a St. Baldrick's barber, volunteer, or shavee.
Get Involved
Photo: Sasha Leahovcenco (www.sashaleahovcenco.com)