Honored Kid Amanda was just a year old when she was diagnosed with neuroblastoma and only a toddler when she died. This is why her dad, Ron Rozman, advocates for kids' cancer research — so other parents and kids don't ever have to endure the cruelties of childhood cancer. Read on for more about his exuberant girl, her tough fight and his advice on how you can become an advocate, no matter where you live.
Ron and Michelle Rozman cuddle and laugh with their daughter Amanda during a day at the park.
She loved to dance. Three-year-old Amanda twirling around and exclaiming, "Whee! Whee!" in sheer delight is a precious memory for Ron and Michelle Rozman.
It's one of many favorite remembrances of their then-only child who was diagnosed with stage 4 high-risk neuroblastoma when she was 16 months old.
It is these memories that now fuel Ron's dedicated efforts as an advocate for pediatric cancer research funding.
He has been to Washington, D.C. for Childhood Cancer Action Days three times, met personally with legislators, written dozens of emails and social media messages and speaks passionately about the need for more to be done.
And each time he tells Amanda's story.
"The first time was difficult, but it's gotten easier to share. I enjoy telling her story with the hope that another person can be convinced we need to do much more," Ron said. "My hope is that down the road other families won't have to lose their child to cancer."
Ron and Michelle play on the swings with Amanda.
Unexplained high fevers and Amanda's sudden refusal to stand up triggered tests that resulted in the devastating diagnosis of neuroblastoma. The tumor also had a certain genetic marker which translates into a very poor prognosis.
Amanda began treatment immediately at the University of California San Francisco Medical Center/UCSF Benioff Children's Hospital under the care of a team of national experts in neuroblastoma.
"We were amazed at how happy she was throughout treatment and that she wanted to play even when she was very sick. She had such a great attitude and was so sweet to everyone she met," Ron said.
Amanda also had a very strong will which benefited her greatly. Throughout her 3 1/2 years of battling the disease, Ron and Michelle learned that the treatment for neuroblastoma is among the most aggressive in all of clinical medicine.
Amanda was in remission for two years, but she relapsed in August of 2013.
"There is no standard treatment regimen for relapsed high-risk, stage 4 neuroblastoma, so, often decision making for the next treatment to pursue was left up to us" Ron said.
Hear what it's like to make these tough, life-or-death decisions from a parent who's been through it >
The Rozmans selected treatment protocols used previously in other children, as well as novel therapies – including an early clinical trial for CAR T cell therapy for neuroblastoma at Texas Children's Hospital.
Nothing worked.
Amanda's health began to fail and the disease began to progress rapidly. She passed away in May 2014 at the age of 4.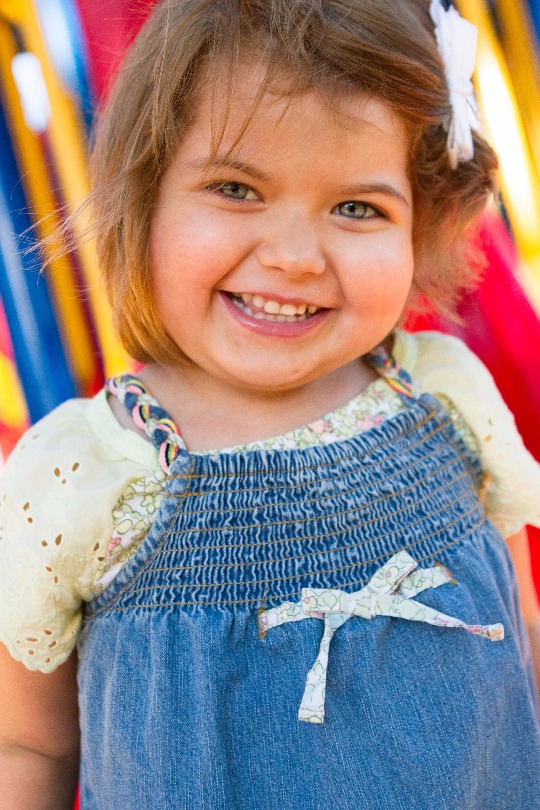 Amanda was full of joy, smiling even during the roughest days of treatment.
After her passing, Ron and Michelle wanted to establish a fund in Amanda's memory, where family and friends could donate to support pediatric cancer research. After doing their own research and talking to the doctors at UCSF, they found St. Baldrick's and set up the Amanda Rozman Pediatric Cancer Research Hero Fund. The Rozmans believe strongly that funding research will help save lives.
"Research is really the key to developing new treatments for pediatric cancers. New treatments are desperately needed," Ron said.
Amanda endured tough treatments with an irresistible smile. Honor Amanda's courage by giving to her family's Hero Fund >
Ron has always felt that advocacy was an important weapon in the fight against childhood cancer and had taken a stand for causes before. He knew the impact of making your voice heard on significant issues.
But this time it is very personal.
He feels the best way to influence members of Congress is "face-to-face" – to tell your child's story and build a relationship with them. Follow up communications can then be through emails.
That's why he participates in Childhood Cancer Action Days on Capitol Hill  every year.
Ron recalls one memorable moment in 2015 when he visited with Congresswoman Jackie Speier from California. Her health legislative aide insisted he meet with her and walked him over to the Capitol.
"Congresswoman Speier not only offered ideas of what more could be done but asked us what else we thought should be done to support childhood cancer," Ron shared.
During Action Days in 2015, California Rep. Jackie Speier (center) visited with Ron Rozman (right) and Robyn Raphael, a fellow cancer parent and the current director of corporate relations at St. Baldrick's.
When asked how parents can get involved in advocacy if they can't travel to Washington, he recommends looking for opportunities to meet with their legislators locally. Parents can also write emails or letters to share their childhood cancer story, addressing them to the congressional staff members they've met and including any pertinent legislative asks. Always include photos or links to social media.
Here are 5 ways you can speak up for kids' cancer research from the comfort of your couch >
Ron has this rallying cry for all parents:
"Children with cancer don't vote and don't have a voice in the American political arena. It is up to us as parents to be their voice and advocate for them. Real change happens when those who advocate strongly for their beliefs are heard by members of Congress."
While carrying Amanda's memory close to his heart, this father on a mission keeps on fighting the good fight and striving for the greater good, which is this – that other children, other families facing a future cancer diagnosis will one day benefit from life-saving research and the funding that made it possible.
You can be the voice for kids with cancer and their families. Join our advocacy network and Speak Up today.
Register
Read more about our advocates on the St. Baldrick's blog: