Today we're thrilled to announce an exciting new partnership — we're teaming up with Sport Clips Haircuts to conquer childhood cancer! Sport Clips has been a St. Baldrick's supporter for many years and has generously committed to donating $1 million over the next three years. Read on for the story of a Sport Clips stylist who has dedicated almost a decade to clipping for kids with cancer.
It was 2007 and the Trinity Hall event in Dallas, Texas, needed volunteer barbers. Keli Knappage, a stylist at Sport Clips, heard about it from a colleague.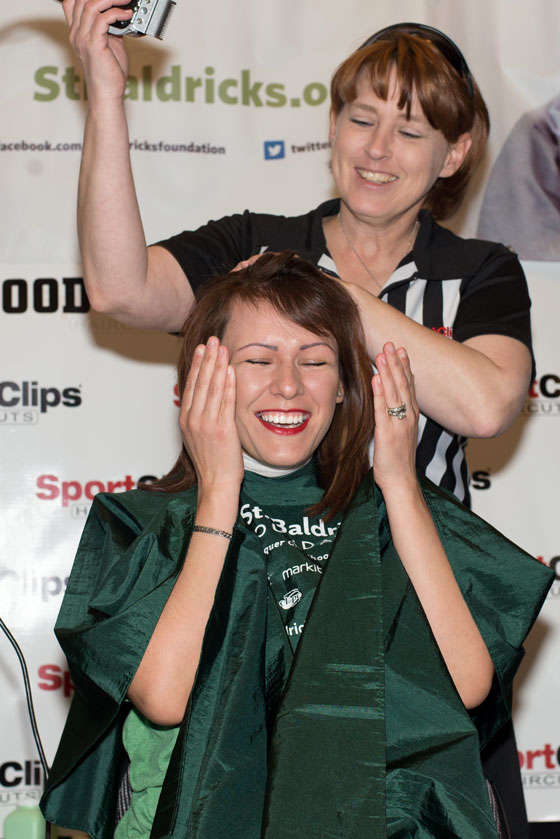 Keli has shaved heads at the Trinity Hall event since 2007.
"She called me and asked me, 'Hey, do you want to go help me shave some heads on this day?'" Keli recalled.
The longtime cosmetologist had never heard of St. Baldrick's, but whatever it was, the idea was intriguing. Soon enough, Keli was on stage shaving heads.
It was the start of a beautiful relationship.
"I love kids and being at that event and hearing their stories is what touched my heart," Keli said. " … Just listening to them pulled me in, and I knew at that moment that every year I will do this event."
Nine years later, Keli is still going strong, both with Sport Clips and St. Baldrick's. She is now a Sport Clips area manager and a barber coordinator for the Trinity Hall event.
She even braved the shave herself.
In her seventh year with the Trinity Hall event, with the support of fellow team members at Sport Clips, she shaved her head and raised $6,000 for childhood cancer research.
A post-shave Keli wields the clippers during another supporter's shave at the Trinity Hall event in Dallas.
Funding childhood cancer research is something Keli is behind all the way. For her, shaving heads is the least she can do to help.
"It's a lot, a lot of fun," Keli said. "I think volunteering with St. Baldrick's is the best thing I do all year."
With the new partnership between St. Baldrick's and Sport Clips, Keli will be seeing a lot more of her favorite childhood cancer charity in the salon.
As our very first National Partner, Sport Clips will be promoting St. Baldrick's in its almost 1,500 locations across the country and providing volunteer stylists to events that need them. Plus, Sport Clips will be hosting their very own head-shaving events.
When she heard the news, Keli was over the moon with excitement. She's eager to get involved in any way she can.
"I'm ready to go with this," she said.
Ready, set, go! Join us and help us clip our way to a world without childhood cancer.
Get Involved

Read more on the St. Baldrick's blog: