April Wall is a mover and a shaker. When she's determined to do something, she goes for it with all her heart — and this 9-year-old with cerebral palsy has a really big heart. Read on for more about April and why she went bald to combat childhood cancer.
April Wall has been a determined fighter since the day she came into the world. Born three months early and diagnosed with cerebral palsy, she's fought to move, to play, and to live like any other kid ever since.
So when the 9-year-old read a book about childhood cancer that touched her heart, she knew what she had to do. She had to fight for kids with cancer too.
"She was telling me, 'I'll just shave my head. It's going to be OK. I can be strong and brave and if kids make fun of me, it's OK. I can take it, to help other kids who are fighting this disease,'" her mom, Jill, recalled.
Shaving her head was a big decision for the girl, who's shy about the leg braces she wears to help her walk. She knew that shaving would make her look even more different, but she went for it anyway. It was for a good cause.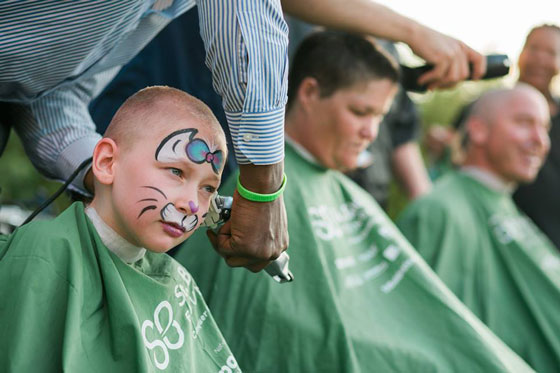 April at the end of her shave.
But she didn't approach shaving her head quietly. In a bold, lion-hearted move, April got up in front of all of her teachers and fellow students at school and announced her intention to go bald for kids with cancer.
"I wanted to help the families, kids, and others with cancer, so there will be a cure," she said.
And help them she did. With a stomach full of butterflies and her face painted with a cat's nose and whiskers, April shaved her long, blonde locks at the Loma Linda University event in Southern California.
"It was exciting but nerve-wracking all at the same time," April said.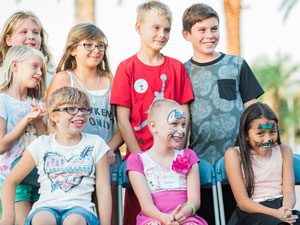 April and her team raised almost $8,000 for childhood cancer research.
With her team, dubbed "April Makes a Difference," the little girl with the big heart raised almost $8,000 for childhood cancer research, blowing past her $5,000 goal.
April's still fundraising! Make her day with a donation >
What's next for April? Next year, no matter how short her hair still is, she will "definitely" be shaving again, she said, and raising gobs of money.
"I want to raise a lot, lot, lot more," April emphasized.
But expect even bigger things from April, because this pint-sized superhero has big plans. When she grows up, she wants to be President of the United States. That way, she could decide where the money goes.
"I would give a good amount of funding to the cancer research labs, so they can find a cure," she said.
But until then, she has a message for all those kids fighting childhood cancer right now, from one fighter to another.
"There will be a cure. There eventually will be a cure," she said. "Until then, be strong."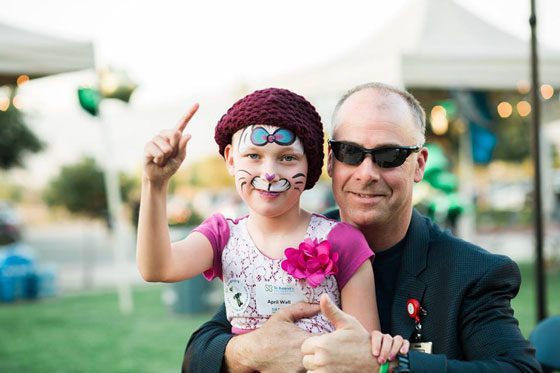 A proud, post-shave April shows off her new look.
If April can do it, so can you! Help find cures for kids with cancer — sign up to be a shavee℠ today.
Be a Shavee
Read more on the St. Baldrick's blog: