In January 2016, we announced the start of an unprecedented partnership between St. Baldrick's and Sport Clips Haircuts, which generously committed to donating more than $1 million over the next three years. Just a year and a half into our partnership, Sport Clips is taking childhood back from cancer in a big way.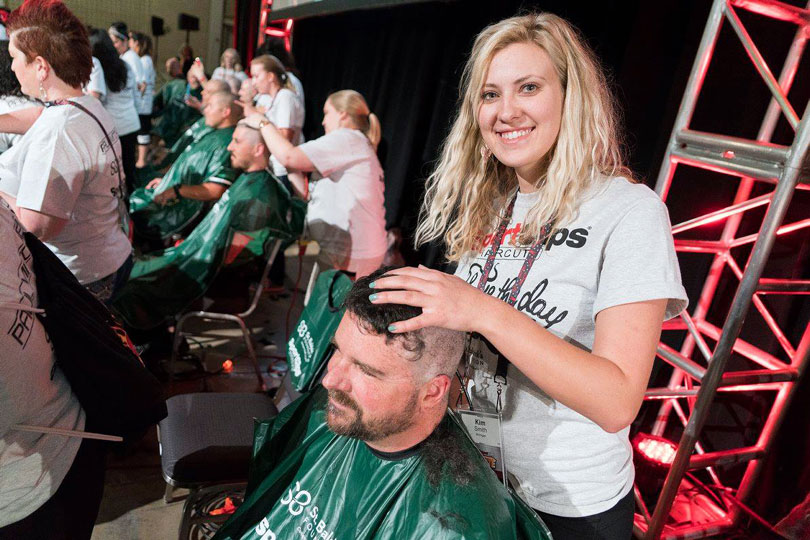 A Sport Clips barber smiles while shaving a participant's head during the Sport Clips partnership kick-off head-shaving event in Texas.
The people of Sport Clips are more than the talented hands behind the buzz, more than the conductors of the clippers, more than St. Baldrick's beloved barbers — they are our partners in conquering childhood cancers.
And they are all in — to the tune of nearly $900,000 raised for kids' cancer research in just a year and a half.
"When we were approached in 2015 to review St. Baldrick's outstanding contributions to childhood cancer research and to consider signing on as a national partner, it was simple decision – of course we would," said CEO Gordon E. Logan, explaining that the company was already established in all 50 states, plus they had loads of experience shaving heads.
"Many of our franchised locations were already participating in St. Baldrick's head-shaving events around the country and were eager to up our involvement to become a national sponsor," he continued. "Most importantly, this is an opportunity for us to join the fight against childhood cancer and connect with our local communities."
And they have certainly joined the fight. Sport Clips kicked off their involvement with a shave of epic proportions in San Antonio, Texas.
Read more about their record-breaking shave in San Antonio >
"More than 130 volunteers went bald that day, myself included, along with our company president and our VP of operations — my son," Gordon said. "We were thrilled to raise more than $110,000 for St. Baldrick's as a result of that one event."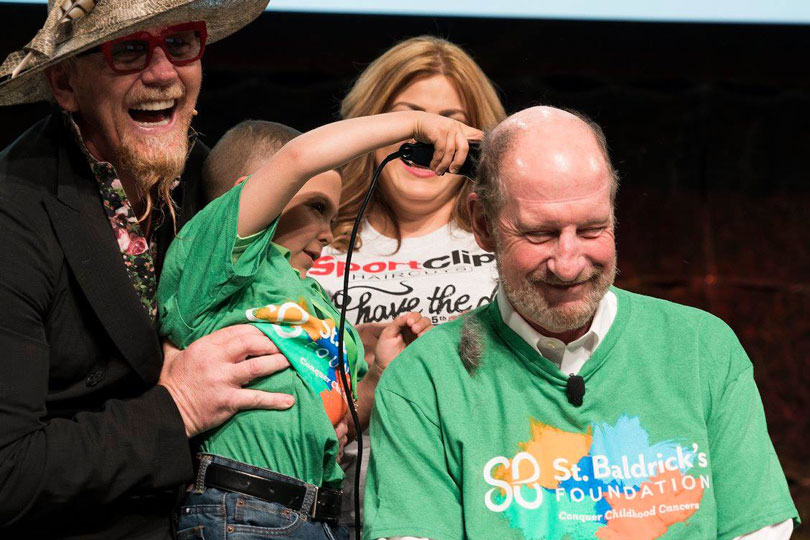 Honored Kid Derryk, the son of a Sport Clips stylist, shaves CEO Gordon Logan's head during their partnership kick-off head-shaving event last April.
Since then, Sport Clips has participated in 79 head-shaving events as barbers and even started a massive fundraising campaign featuring events all over the country. They have also included St. Baldrick's in their Haircuts with Heart program, which encourages team members to give back to charitable causes in their communities.
"St. Baldrick's Foundation is a big part of our Haircuts with Heart mission, and one that our team members find extremely rewarding to them personally," Gordon said.
From helping a little girl celebrate her remission at a NASCAR race to throwing a summer fundraising bash in Illinois, it's clear the people of Sports Clips are dedicating their talents, their clippers and their whole hearts to helping kids with cancer.
In turn, their philanthropy has both attracted dedicated team members to Sport Clips and set them apart from their competitors. As Gordon said, "People want to do business with businesses that do good."
But to the CEO of Sport Clips, those 'collateral benefits' are just icing on the cake.
"Giving the gift of hope and life to those who are affected by childhood cancer is reward enough," he said.
Join Sports Clips in giving the gift of hope to kids with cancer. Get involved today.
Get Involved
Read more on the St. Baldrick's blog: