Childhood cancer knows no borders – but neither does research. In fact, funding kids' cancer research saves the lives of kids across the globe. This International Childhood Cancer Day, meet Honored Kid Shauntelle, a 19-year-old from Ireland who left everything familiar behind so she could have her best chance at life.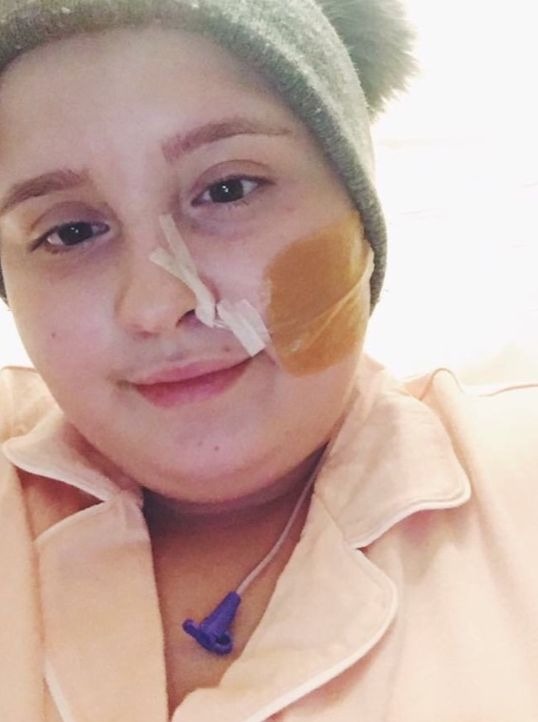 Thanks to a successful fundraising campaign, Shauntelle and her family were able to move from their home in Ireland to Houston, Texas for cancer treatment.
Honored Kid Shauntelle lives about an hour south of the city of Dublin in Ireland. Four years ago, when she was 15 years old, she noticed rashes popping up on her body. She thought she was scrubbing too hard in the shower or was allergic to her body wash.
"For a while, I just didn't think to speak up. It was a big pain and a big part of my life, but it was a bit embarrassing," Shauntelle said. "I wasn't sure if I was doing something wrong."
She wasn't doing anything wrong. Shauntelle had cancer, but no one knew it.
We fund research across the globe, because all kids with cancer need cures. See your impact on the St. Baldrick's funding map >
Things got worse. The lesions bled and the pain was excruciating. Soon, Shauntelle became thirsty all the time. She'd down five gallons of water a day and hide water bottles in her bed.
"That sounds absolutely crazy. You would think that's mental, but it consumed me," she said. "I would drink all day and all night."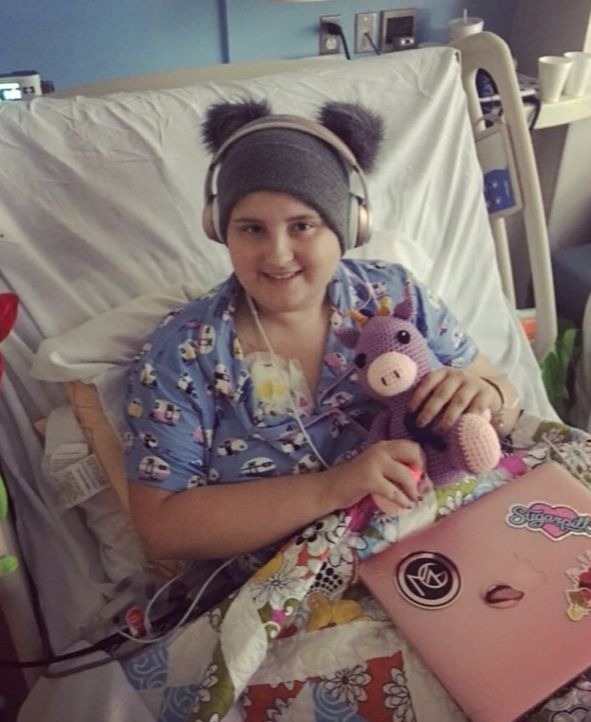 While in the hospital, Shauntelle wears the brave smile that she's known for.
The teenager endured months of antibiotics, steroid creams, and doctor visits – including a visit to a psychologist who thought Shauntelle was compulsively drinking water to cope with anxiety.
Finally, in May 2015, one intrepid dermatologist hit the books to figure out what was wrong with the 16-year-old. Unsatisfied with a blanket diagnosis of an 'inflammatory disorder,' this doctor searched until she found something that fit.
"She came into me one day and said she had been researching a book on rare disorders," Shauntelle recalled. "She said, 'Do you drink a lot?' And I was like, 'All the time!'"
The doctor ordered an MRI. That's when they found a tumor on Shauntelle's pituitary gland. It was stopping the gland from producing hormones that signal the kidneys to keep water in Shauntelle's body. That's why she was thirsty all the time — because of this tumor, she was constantly dehydrated, no matter how much water she drank.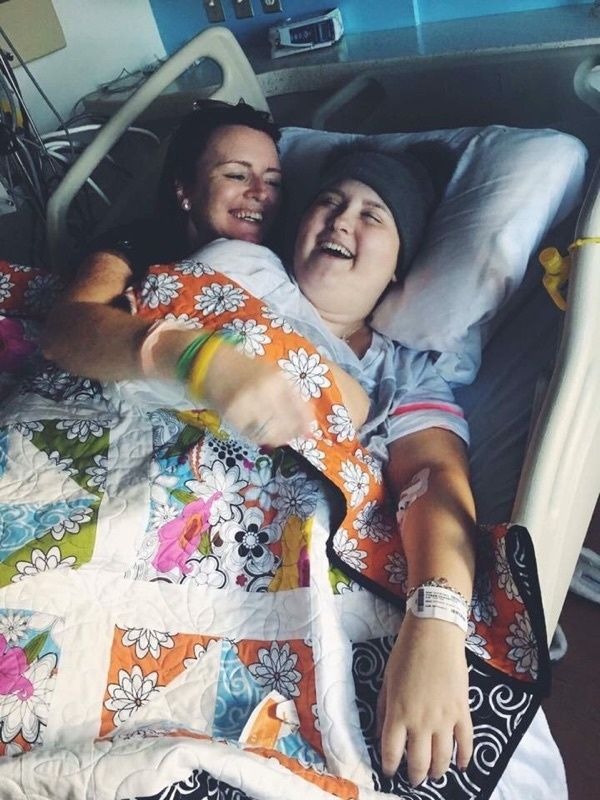 Shauntelle and her mom, Leona, cuddle. Leona left her job in Ireland to move to Houston, Texas with Shauntelle, so her daughter could be treated by experts who are familiar with her particular cancer.
This tumor often occurred with a rare type of cancer called Langerhans cell histiocytosis (LCH). LCH is caused by an overproduction of Langerhans cells, which are white blood cells. These cells build up and clump in the body, forming tumors and damaging organs.
"She put two and two together and decided to take new biopsies and send them off to be stained and checked for this really rare cancer," Shauntelle said.
On May 29, 2015, Shauntelle was diagnosed with that rare cancer.
"That was great to know that I wasn't crazy," she said. "In a way, I was glad that I was diagnosed, because I didn't want it to be just an inflammatory disease, where I never knew what it was and never know what to treat it with."
In August, Shauntelle started chemotherapy treatment at the Irish hospital. That's when Shauntelle's mom, Leona, started communicating with an expert at Texas Children's Hospital, Dr. Kenneth McClain.
Dr. McClain is the head of the Histiocytosis Program at the hospital and works with Dr. Carl Allen, a St. Baldrick's researcher who studies LCH with help from the St. Baldrick's Innovation Award.
Learn about Dr. Allen and how St. Baldrick's supports his innovative research into Shauntelle's disease >
Shauntelle and her mom smile with Dr. Carl Allen, a St. Baldrick's researcher who studies LCH, and Shauntelle's doctor, Dr. Kenneth McClain.
Unsatisfied with her spotty progress and with Shauntelle's life at stake, Leona, Shauntelle, and her two siblings left Ireland and moved to Houston in spring 2017, so the 19-year-old could be cared for by Dr. McClain at Texas Children's Hospital.

Now, the tumor in her brain is inactive, the cancer in her gastrointestinal tract is nearly gone – except for stubborn disease in her colon – and her skin has cleared.
Dr. McClain is hopeful that she will be cured by the summer, though that's still an open question, he said. But maybe then she can go home.
"She has good times and bad times depending on how she feels from the side effects of treatment and whether her friends are here," he said. "Her mother, siblings, and grandmother have been amazingly strong for her and carried her through the sad times very well. She seems to be ok with living in this country and enjoys some of the new experiences."
Shauntelle stands with her 7-year-old sister, Sophie, her 11-year-old brother, Stephen, and her oncologist Dr. Kenneth McClain, director of both the Histiocytosis Program and the Pediatric Lymphoma-Histiocytosis Fellowship Program at Texas Children's Hospital.
Shauntelle has found an outlet and community in her Houston church, but she does sometimes get homesick. Unlike cool, green Ireland, it's so hot in Houston, she said, and she misses her cousins and extended family.
Her uncle passed from cancer recently and Shauntelle was sad that she couldn't attend his funeral in Ireland, because she was far away. He would always tell her that she was brave.
"That's the one thing I feel like does stick with me, that bravery has helped me through a lot. Even when I'm scared, I feel like if I just smile, I can get through it," she said. "I feel like a smile can get me through anything, because I'm being positive. I think that's just kind of my way."
Let's take childhood back from cancer. Fund lifesaving research today.
Donate
Read more on the St. Baldrick's blog: