Sara Ferrante was diagnosed with a rare form of childhood cancer when she was just two months old. Now she is 25 years cancer free and works as a registered nurse.
by Sara Ferrante
My name is Sara, and I am 25 years old. For the most part, I am an average woman in her mid 20s. I work. I pay bills. I spend time with my friends and family on the weekends. But there is something else that most people can't see from the outside. I am a childhood cancer survivor. And this year, I am 25 years cancer free.
When I was 2 months old, I was diagnosed with hepatoblastoma, a rare form of childhood liver cancer. After nine rounds of chemo and a surgery where they removed 80% of my liver, I was cancer free.
As a child, I was embarrassed to tell people that I was a cancer survivor. I didn't fully understand how miraculous it was that I not only survived, but that I have very few long term effects of my treatment. I hid my scars and never spoke about it. It wasn't until I was in high school that I changed my mind.
When I was 16, my mother took me to the hospital for my follow-up appointment just as she did every year. When we got to my floor, a nurse came running up to my mom and gave her a huge hug. They talked as if they had known each other forever, but I had no idea who she was.
My mom told me that this woman was one of the nurses who took care of me when I was being treated for cancer 16 years earlier. I couldn't believe they recognized each other after 16 years, and that they talked like long lost relatives.
When we left that day, my mom told me that it was people like her that had helped me to live. Sure, the doctors and surgeons were amazing, but it was the nurses who had been by my side and took care of me every day. They were the ones who kept me and my parents going every day.
That day stuck with me. I found it incredible that one person could affect a family so deeply. It was then that I decided I wanted to become a nurse. I owed it to other families to give what those nurses had given to my family.
Sara with Ryan, another hepatoblastoma survivor, at Sara's 25 year survivor celebration.
Today, I am a registered nurse, working for the same pediatricians that were my doctors when I was sick. I remember my history every day, knowing that it could be any kid whose life changes forever, and they deserve the exact same care that I had when I was young.
This summer, my parents held a party celebrating my 25th year cancer free. One of the best moments of the day was meeting Ryan. Ryan is a 10-year hepatoblastoma survivor. I met his mom on a Facebook group for hepatoblastoma families and invited their family to celebrate with us because I had never met a survivor who had the same type of cancer as me. It was such a gift to meet Ryan and his family, someone who shares my same history, has the same scars, and is part of an exclusive group, just like me.
As I celebrate my 25th year being cancer free, I am proud to call myself a nurse and an advocate for children with cancer. I am proud to say I work with kids every day. And I am most proud to call myself a survivor. I have connected with families of cancer patients and survivors over the years, and they continue to remind me why I do what I do, why I am who I am.
At 25 years old, I still have a long way to go. Here's to 25 more!
September is Childhood Cancer Awareness Month. Donate to childhood cancer research today, and help more kids grow up to live healthy lives after cancer.
Donate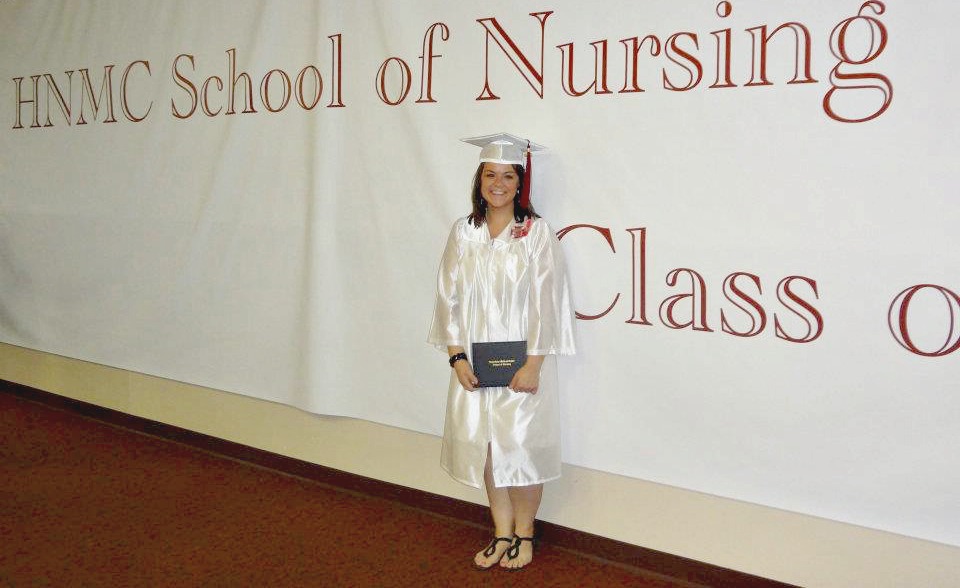 Sara graduated from nursing school in 2012 and today works with the doctors who helped her through cancer treatment 25 years ago.