On Saturday night, something magical happened. About 200 people gathered on the CBS backlot in Studio City, California to take childhood back from cancer and to honor a very special boy. Read on for more about this unique Do What You Want fundraiser, its 10-year-old VIP and the surprise that didn't leave a dry eye in the house.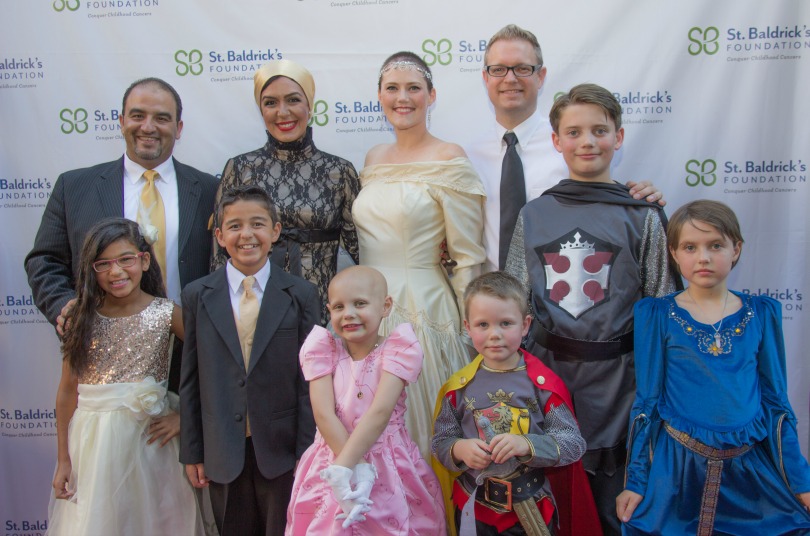 Zein and Hazel's families pose together at the St. Baldrick's Ever After Ball. Lauren (on top, third from left), Hazel's mom, organized the event.
It all started with a red carpet.
And who was one of the first to step onto it? The VIP of the St. Baldrick's Ever After Ball — Honored Kid Zein with his family.
Learn more about Zein's childhood cancer journey >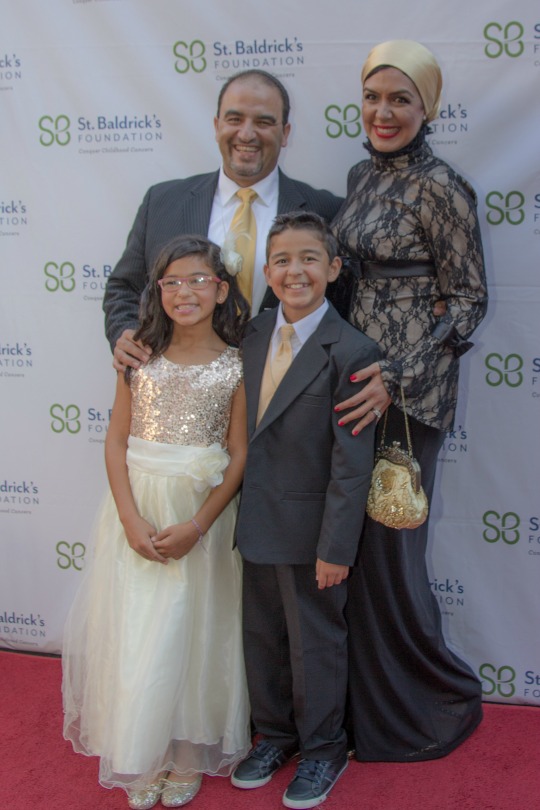 Top from left to right: Zein's dad and mom, Tamer and Radwa. Bottom from left to right: Zein's sister Malak and Zein.
His best bud Honored Kid Hazel was there along with him, dressed appropriately in a pink princess dress to fit the medieval theme.
(Plus, Hazel is a princess in real life — the princess of our hearts, of course. She certainly captured the heart of emcee of the evening Vinny Fasline, a comedian and childhood cancer survivor.)
This unique Do What You Want fundraiser was organized by Hazel's mom Lauren, who wanted to give back to childhood cancer research – research that had saved her daughter's life after she was diagnosed with neuroblastoma.
Soon, everyone started arriving, including actor Tyler Posey.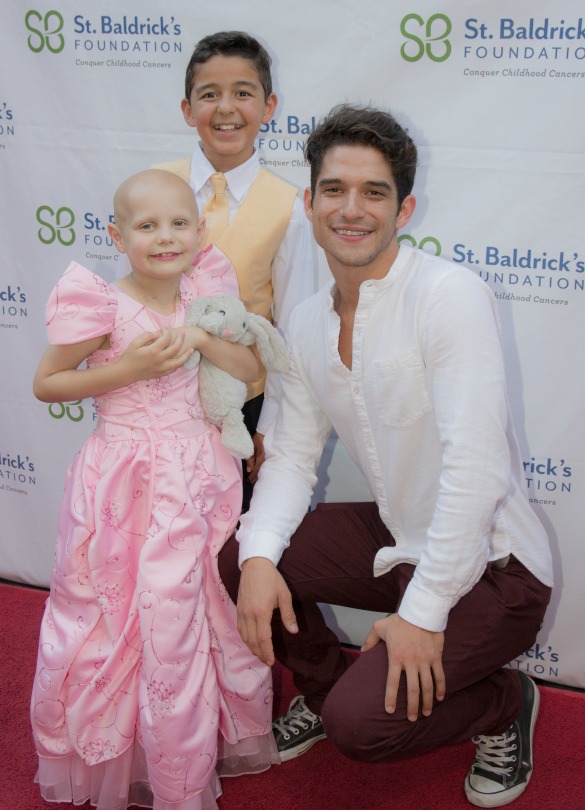 Hazel, her bunny Cindy, and Zein smile with Tyler Posey.
The star of television show Teen Wolf was promptly grilled by Hazel and Zein. Do you have pets? How'd you get famous? Who's your hero?
Then it was time for the childhood cancer conquering show to begin.
After a welcome from emcee Vinny Fasline, St. Baldrick's CEO Kathleen Ruddy spoke to the crowd.
"With your support, researchers have discovered new, less toxic treatments, developed new drugs to fight cancer and, perhaps the most exciting breakthrough, have started to develop ways to harness the body's power to have a child's own immune system attack the cancer," Kathleen said to the crowd. "As we sit here tonight, we know that these milestones are indicators of progress, but aren't nearly good enough. We do not have time, and we cannot rest, because Zein, Hazel and every child fighting cancer needs us."
Kathleen spoke about Zein and about his cancer journey. Then, in honor of Zein's family, she shared something she just learned; it was an Arabic word that was uniquely appropriate for the Ever After Ball — 'sadaqah.'
"In the Muslim faith, 'sadaqah' is the belief that you can help treat the sick through acts of charity," she said. "When you make a gift in honor of someone fighting a disease, you offer that gift in their name and ask for healing. I was struck that this is such a profound way to allow someone to be a part of the family's experience both tangibly and spiritually. On behalf of all the children who will benefit from the research we will fund with the money raised tonight, I thank you for your 'sadaqah.'"
That speech was just one beautiful moment in a memorable night that brought the attendees to laughter, to tears and to their feet clapping.
There was entertainment from comedians and magicians, glitz and glamour, a delicious dinner, a silent auction and beautiful desserts. St. Baldrick's researcher Dr. Araz Marachelian spoke about the incredible work being done for kids with neuroblastoma, like Zein, thanks to St. Baldrick's and donors like those in the audience.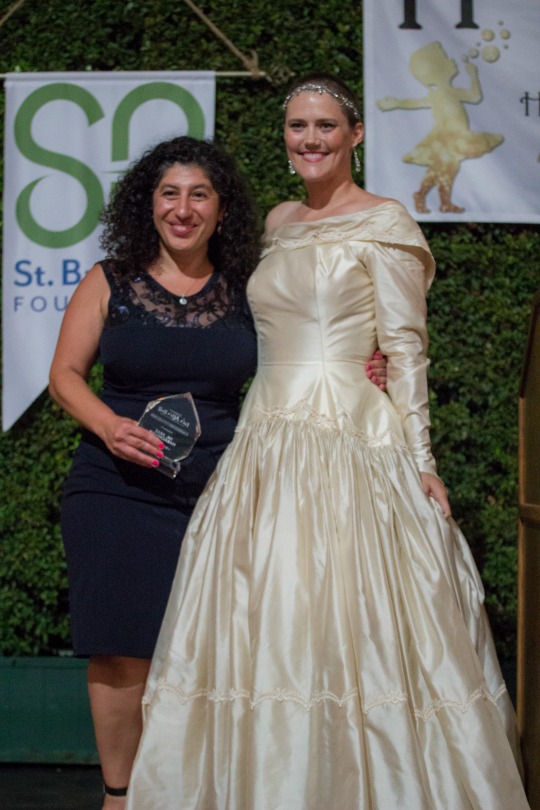 Neuroblastoma researcher Dr. Araz Marachelian (left) and Lauren during the Ever After Ball.
At one point, the Honored Kids and their siblings ran around with buckets swinging from their hands and asked for donations. Participants dropped in dollars and donation cards to help fund lifesaving childhood cancer research.
But there was one moment that stood out.
At the beginning of the night, Zein's family and friends took to the stage and donned barber's capes in preparation for a beautiful and bald act of charity — and a surprise that hit everyone in the feels.
The shavees were Zein's dad Tamer Youssef, Zein's uncles Fouad El Gohari and Ahmed Musiol, and Zein's former school principal Jeff Sipos.
Before they rocked the bald, they had a little trick up their sleeves.
The stylist turned on the clippers and buzzed a letter into the hair on the back of each of their heads. When the four men turned around, their heads spelled, 'Zein.'
Overwhelmed by the unexpected gesture, the boy burst into tears. His dad hopped off the stage to hug his son tightly.
Then the men shaved their heads to raise funds for lifesaving childhood cancer research, because that's what the St. Baldrick's Ever After Ball was all about — raising the funds to find the most promising treatments and the cures for kids like Zein and Hazel.
It's research that will take childhood back from cancer.
Help all kids with cancer live happily ever after. Start your own Do What You Want fundraiser today.
Start your Fundraiser
Read more on the St. Baldrick's blog: