Pediatric pathologist Dr. Erin Rudzinski  is looking at rhabdomysarcoma on a molecular level, but her research has big implications for kids with this cancer. Read on to learn how this St. Baldrick's researcher at Seattle Children's Hospital is helping kids with cancer get the treatment they need.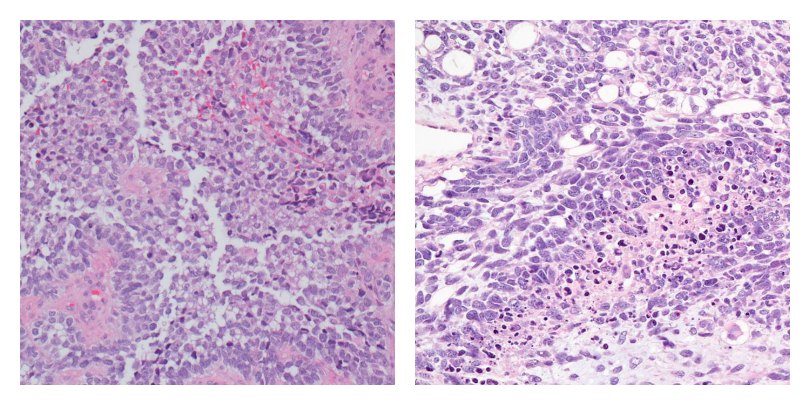 These are images of classic alveolar rhabdomyosarcoma (right) and embryonal rhabdomyosarcoma (left).
Kids with cancer go through a lot.
First there's the cancer itself. Then there's the treatment — intense chemotherapy, radiation, and sometimes surgery. For survivors, challenges remain. Damage from the treatment, like heart problems and deafness, can follow them for the rest of their lives.
Dr. Rudzinski's research will change that reality for some kids with rhabdomyosarcoma, the most common soft tissue cancer in children.
There are two kinds of rhabdomyosarcoma: alveolar (ARMS) and embryonal (ERMS). It's key to correctly identify precisely which form a child has. Because ARMS is so aggressive, kids with that type get more extreme treatment than children diagnosed with ERMS. The intensity of that therapy can then cause more harmful side effects.
Dr. Rudzinski found that it isn't just this classification that matters the most for prognosis — it's deeper than that. In ARMS, it is a mutation, or fusion, on the molecular level that really matters.
"So if you have alveolar, but you're fusion negative, you do really well still," she said. "So that group of patients doesn't need to be treated with the really aggressive and intensive chemotherapies that the other alveolar patients need to be treated with."
Essentially, her findings could make therapies more precise for kids with this type of cancer. Kids with the mutation could be easily identified as high risk and would get the intensive therapy they need. At the same time, doctors would avoid overwhelming the developing bodies and brains of kids with lower-risk tumors with too much chemotherapy.
"So in the future, what an oncologist chooses to do — how they treat the degree of risk — will be based on fusion status," she said. "That will allow more refined treatment which will prevent toxicity from overtreatment."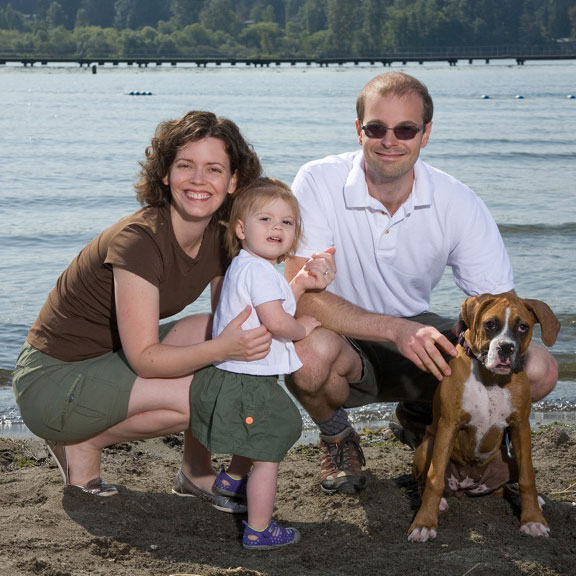 Outside of the lab, Dr. Rudzinski relaxes with her family at Juanita Beach in Kirkland, Washington.
She said St. Baldrick's funding was instrumental to her research.
"I can honestly say it's been the foundation of developing my expertise … my start in the research field," she said.
Next month, Dr. Rudzinski will be seeing, firsthand, how research funding like hers comes to be.
Her hospital, Seattle Children's, is hosting its first head-shaving event. She is looking forward to it and said that maybe someday she'll even screw up the courage to shave. (We'll hold you to that, Dr. Rudzinski!)
For now, Dr. Rudzinski encourages her friends and family to get involved by telling them about the impact St. Baldrick's makes.
"You don't have to worry about where your money is going or what's happening with it," she said. "It's truly going to people who are doing good work and making changes."
Need proof? Just look at her work.
Support the research of scientists like Dr. Rudzinski and help Seattle Children's Hospital reach its $10,000 fundraising goal. Donate today!
Donate
Read more on the St. Baldrick's blog: