Just mentioning herpes might make some people a little nervous, but in this story, herpes is the good guy. Read on for more about St. Baldrick's Scholar Dr. Gregory Friedman's work on a genetically altered version of the virus that could be the next targeted therapy for kids with brain tumors.
BREAKING NEWS: An innovative therapeutic tool developed by Dr. Friedman has proven to be safe in kids with high-grade gliomas, according to recently released clinical trial findings. Crafted from the herpes virus that causes cold sores, the genetically modified virus has already shown promise in killing cancer cells and stimulating the immune system to attack the brain tumor – with one patient still showing progress more than a year after treatment! In the next phase of research, Dr. Friedman will study how safe the viral tool is when combined with one low dose of radiation, which is expected to boost the immune system and help the virus replicate.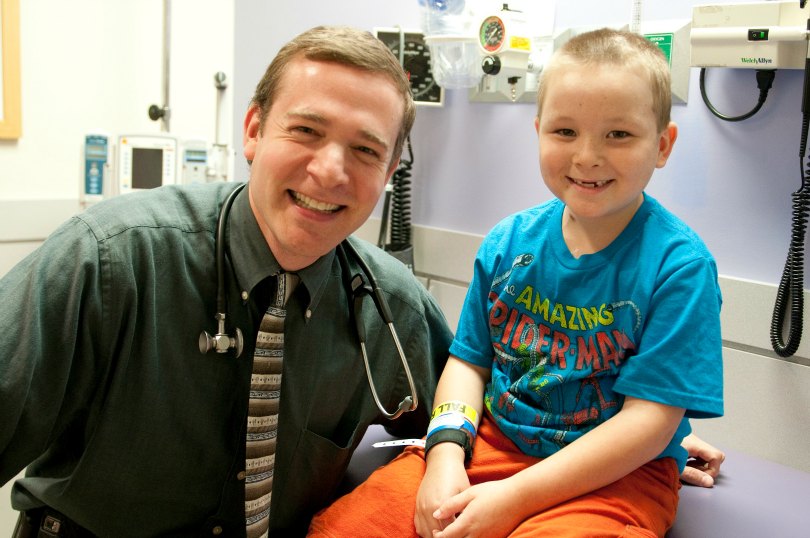 Dr. Friedman smiles with a young patient in an exam room at Children's of Alabama.
St. Baldrick's Scholar Dr. Gregory Friedman discovered that the herpes simplex virus, with a few modifications, will kill pediatric brain cancer cells — without causing cold sores.
"Normally, the herpes virus can kill both normal cells and cancer cells. That's when you get a cold sore, for example. That's cells being injured and killed. By removing a specific gene, it can't replicate and kill normal cells, but is able to still kill cancer cells," he said.
In fact, the lab-engineered virus also stimulates the immune system.
"So, what you get is a one-two punch of the virus and the immune system targeting cancer cells," he said.
How effective is this engineered virus? In lab tests, it's extremely effective. Working from the University of Alabama at Birmingham-Children's of Alabama, Dr. Friedman tested the virus against medulloblastoma tumors, the most common malignant brain tumor found in children.
"Patients with this tumor type have a great need for novel, targeted therapies. Currently these patients are treated with a combination of surgery and radiation and chemotherapy, which can all be quite damaging to the developing brain of a child," he said, adding that patients who do survive can develop long-term side effects, like hearing loss and cognitive issues.
He found that medulloblastoma, even the more treatment-resistant type, was highly sensitive to killing by the modified herpes virus. So were what he calls "cancer stem cells," which are thought to be the root of recurrence.
"I think of these cells like a queen bee in a hive. The queen bee gives rise to worker bees, just like cancer stem cells give rise to other tumor cells. You can take out as many worker bees as you want, but if you don't take out the queen bee, the hive will regenerate," he said.
Dr. Friedman is about to hit a milestone with this work. He's bringing these findings to a phase 1 clinical trial, which will test the therapy to make sure it's safe.
Dr. Friedman holds a photo of Michael Orbany. Dr. Friedman's grant was made possible with generous support from the Miracles for Michael Fund, a Hero Fund created to honor Michael's memory and relentless spirit.
Dr. Friedman understands that the use of herpes virus can make some people nervous. But herpes is the hero in his work — an ideal weapon against cancer.
"Most people don't want herpes virus injected into their brain. That sounds scary to people, but what's unique about it is that the virus is so well-known," he said. "It's been studied for such a long period of time that not only are treatments available for it, but also the various genes and how to manipulate the virus to make it safe for normal cells, but deadly for cancer cells, is known. That part is unique about it."
Herpes simplex virus is also a large virus, making it possible for researchers to add and subtract genes to make the virus target cancer and leave healthy cells alone.
But there's another aspect that makes herpes an ideal cancer killer — Dr. Friedman found that it doesn't discriminate.
"It tends to be just a generalized killer of tumors, so we plan down the road to also have trials using the virus outside the brain in solid tumors," he said.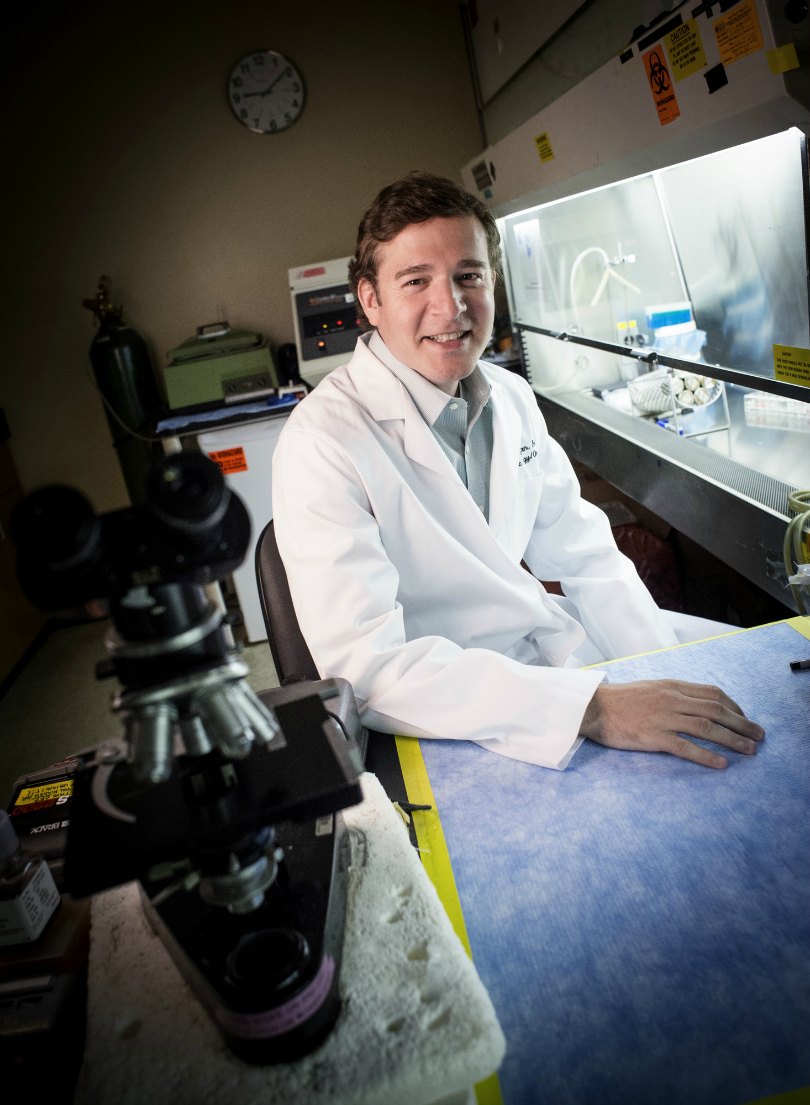 Dr. Friedman poses in the lab.
In 2006, Dr. Friedman started in the lab with no research experience under his belt. The first external grant he received as a young investigator was from St. Baldrick's — that grant was his "first big chance," he said, explaining that he was then able to get further support for his work, including a grant from the Department of Defense.
"All those grants and having the time necessary to do the research and to really translate this from the lab to the clinic — none of that would have been possible without that St. Baldrick's support," he said.
St. Baldrick's funds the most promising research to help kids with cancer — check out this video to learn more >
That first signal of support from St. Baldrick's was vital to helping Dr. Friedman get where he is today — bringing his work out of the lab and to the kids who need these targeted therapies.
"I think that's one of the goals of St. Baldrick's … moving therapy from the lab to the clinics to hopefully benefit the patients," he said. "We're right on the cusp of doing that."
Help researchers like Dr. Friedman find new, lifesaving treatments for kids with cancer. Give today.
Give
Read more about the research we fund: